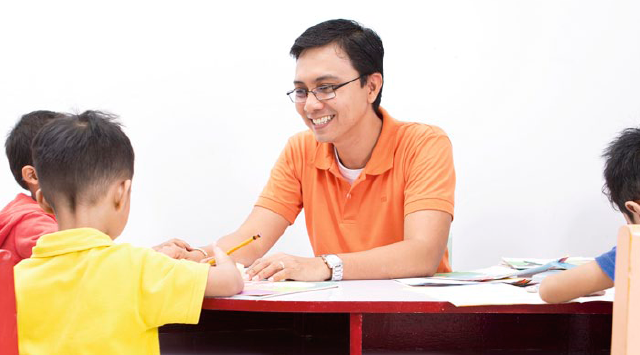 Not wanting to teach like the rest of his family, Ethelbert de Leon took up IT in college. But after 11 years of working in the IT industry, he quit his high-paying job in 2013 and bought an educational center franchise, ending up exactly in the field he had tried to avoid.
ADVERTISEMENT - CONTINUE READING BELOW
"It started with the desire to home-school our children, which my wife and I couldn't do then since we were still both in the IT industry," recalls de Leon, "Teacher Teng" to his students and co-teachers. He chanced upon Eye Level, a learning center concept from South Korea, while looking to enroll their eldest daughter, now 6 years old, in supplementary classes.
While de Leon and his wife Karen liked the Eye Level program, the learning center didn't have a branch near their home in Dasmariñas, Cavite. "We decided to bring it here," he says, adding that the decision answered two of their prayers—to have their own business, and to be able to home-school their children.
Taking the risk
It was a tough decision for the couple. "I knew it would initially be a sacrifice for us, because income from a business is not as certain compared to a monthly salary," says de Leon. Still, he took the leap, tapping family savings to finance the business. "My mother, a retired assistant principal, appreciated that I was coming back to education," he adds.
ADVERTISEMENT - CONTINUE READING BELOW
The center broke even on its second month. They only employed two teachers, including de Leon, who chose to waive his salary at first. The center gained a good reputation and the number of its enrollees grew, even during the off-peak season, thanks to referrals from parents. "We tried several marketing activities, but nothing really beats word-of-mouth and referrals from parents," he says. By the end of 2014, the de Leons' Eye Level branch was already one of the brand's best-performing centers.
ADVERTISEMENT - CONTINUE READING BELOW
More to come
De Leon plans to open three more branches in Cavite over the next six years. He just opened his second in Molino in Bacoor last March, and he's positive that operations will break even in two months. It helped that Eye Level cut the franchise fee in half, and shouldered the cost of the signage and billboard.
Beyond the financial rewards, de Leon believes he has found his true calling. "The passion is there to educate young people. It started with this desire to home-school our kids, but now it translates to educating other children," he says.
***** 
Franchise package
Franchise fee: P112,000
Starting capital: P500,000 for a 50-sqm space
Contract term: 5 years
Inclusions: License to use trademark, name, logo, and teaching methods; site selection; staff training; system-wide advertising; local marketing support; standard operations implementation
*****
This article was originally published in the June 2015 issue of Entrepreneur magazine. To subscribe, click here.  

Photos by Heidi Aquende
ADVERTISEMENT - CONTINUE READING BELOW