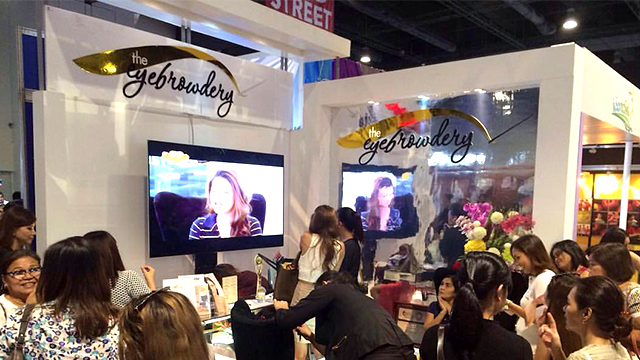 Klarisse Yu Tabao was already a CEO at 20-years-old.
Fresh from college, the Business Administration graduate was given the chance by her parents to show her ropes in the real world with a manpower business.
"It was so overwhelming, I will get calls in the middle of night for some administrative problems," she said.
ADVERTISEMENT - CONTINUE READING BELOW
Within a year, Tabao left the company.
"I felt I wanted to pursue something that is close to my heart: fashion and beauty," Tabao said.
In searching for what will be the next big trend in the industry, Tabao noticed her mom's persistent complaints on her discoloring eyebrow tattoo.
After a few months, she was on a plane to Singapore.
"I researched about eyebrows and learned there's a new technology on it in Singapore, so I studied there and brought it here," Tabao said.
A "kikay" at heart, Tabao enrolled herself at Aesthetics International Academy at the city state, where she studied eyebrow, eyeliner, and lips embroidery—a growing trend in the industry.
By October 2015, The Eyebrowdery was born.
Eyebrow embroidery, a fairly new beauty trend, first caught up in Malaysia and Singapore as the world's fascination on a woman's arches grew in recent years.
Unlike tattoos, embroidery uses vegetable-based dye to color the skin with a fine blade. While tattoos make one bleed, this procedure has no downtime and with The Eyebrowdery, the session lasts for three hours. There may be slight peeling after a week, but other than that, the whole procedure is pain-free.
ADVERTISEMENT - CONTINUE READING BELOW
"It doesn't discolor to blue, green or red and lasts for three to five years. Almost all of my clients get their [eyebrow] tattoos redone because they don't like the look of it anymore, with this you can have it retouched in a few years," Tabao said.
ADVERTISEMENT - CONTINUE READING BELOW
The 26-year-old entrepreneur trained all of the clinic's specialists, even sometimes doing the procedure herself. Since opening her first branch in San Juan City, Tabao has earned a steady following of clients, with most asking if the business is up for franchising.
Tabao was hesitant at first since she is fairly new to the game. "But then I realized, if there's a market, why not?" Tabao said.
Today, Tabao's first independent venture is ready to grow as it looks on expanding in Metro Manila and in key cities nationwide, including Cebu and Davao. The franchise package starts at Php 400,000 which includes training, support system, advertising and operations support.
While Tabao's move to quit from her first company was risky, the success of The Eyebrowdery fueled her belief that no business is quite as special as something that one is passionate about.
"When I go to work now it's like it's not a job. I enjoy going to work every day and even look forward to it," Tabao said, " I guess it's because I like beautifying things and making people feel good about themselves."
ADVERTISEMENT - CONTINUE READING BELOW