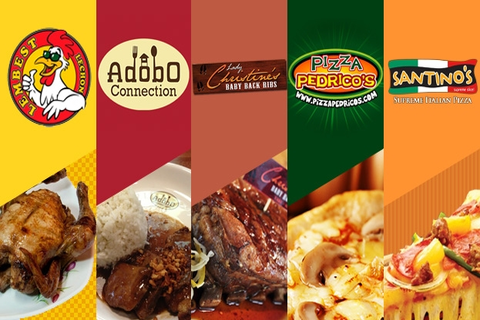 <>It is logically innate for Filipinos to love good food. And they know how to reward food businesses the best: through constant patronage and brand loyalty that in turn translates to greater revenue and profitability. Thus, most businessmen would agree that any business in the food and restaurant industry would always be lucrative if properly and effectively managed.
Do you plan to get into the food industry but are hesitant because you think you lack capital as well as enough confidence to manage a fastfood, restaurant, or foodcart business? You should consider taking any of these food franchise opportunities. Most of these franchisors not just offer attractive franchise packages and promising menu; they also offer guidance through constantly monitoring performance and offering training sessions so owners and their staff could better manage each store. 
Lembest Lechon
Because Filipinos naturally love
lechon manok
, it is just logical that there would always be enough room for more
lechon manok
businesses in the market. The first Lembest Lechon store was established in November 2009 in Caloocan City. The owner, Lembert Benedicto, thought he should not put his store in a community that is already dominated by the more popular
lechon manok
competitors. Since then, the business has grown and has gotten into franchising, making it spread into many other areas across Mega Manila and southern Luzon.
With an initial capital requirement of about P400,000 to P500,000, Mr. Benedicto assures that return on capital could possibly be faster than expected. Potential monthly income of each franchisee could be about P30,000 to P150,000. One of the first franchisees of the business was able to generate his full ROI in just 10 months. That is how promising a Lembest Lechon franchise is.
Click here to check out Lembest Lechon's online directory listing.
Adobo Connection
When Jerome Uy, Meredith Ngo, and Kellda Centeno founded Adobo Connection in November 2010, they knew that they can't compete head on with the fastfood giants. That was why they decided to make their new food business different by offering varieties of
adobo
, the main dish that is considered as a universal comfort food of Filipinos wherever they may be.
The fastfood chain requires hefty capital, though. An initial capital outlay of around P4 million to P6 million is required. It includes a franchise fee worth P650,000. The company even trains the manager and staff of each store because it aims to make each franchise as successful as the rest of Adobo Connection locations.
Click here for Adobo Connection's online directory listing.
Lady Christine's Baby Back Ribs
Lady Christine's Baby Back Ribs was established in 2011. Its founders, the business tandem of Dr. Joebert Gimeno and Dr. Christine Estacio (both in the medicine practice), chose Kawit, Cavite to be the business' breeding ground. From there, they intend the restaurant to establish presence in other markets across Luzon and eventually nationwide through adopting the franchising business model.
Initially, the restaurant was designed to be a take-out counter targeting households that want to enjoy mouth-watering baby back ribs without the usual hassle of food preparation. After the formula had proven to be a success, the business owners decided to transform the business into a restaurant without compromising the original reasonable pricing scheme.
Initial capital requirement is from P500,000 to P1 million, depending on the type of franchise to be taken. Of course, a franchised restaurant outlet is costlier compared to a simple takeout counter.
To visit the online directory listing of Lady Christine's Baby Back Ribs, follow this link.
Pizza Pedrico's
For almost a decade now, Pizza Pedrico's has been dominating the market for foodcart pizza businesses. It can be considered as a certified franchising success with its more than 300 food carts and kiosks that are strategically scattered nationwide.
Jimini Foods Inc's Kerwin Tansekiao, the brand's managing director, hit it at the right spot when he created a unique concept when the business started in November 2004. Each box of Pizza Pedrico's contains four varieties of pizza: cheese, ham and cheese,
chorizo
and cheese, and sausage and cheese. Of course, Filipino consumers instantly fell in love with the idea of enjoying four different types of pizza in a box.
Those who plan to buy a franchise of the business may prepare a capital of around P400,000. The franchise package may include the food cart, initial supplies, basic equipment, utensils, and marketing materials.
Find the online directory listing of Pizza Pedrico's here.
Santino's Pizza
The younger sibling of Pizza Pedrico's, Santino's Pizza, is an ideal franchise opportunity for starters. Since its launch in December 2012, the business has grown tremendously and now has over 50 outlets nationwide. Revenue potential is quite high because its menu easily pleases food lovers and the pricing scheme is very competitive, at just about P25 per slice.
The franchise requires P280,000 in capital for a two-year franchise contract. On top of that, the franchisee should also pay a refundable deposit fee of P50,000 and a monthly support fee of P5,000. 
To check out the online directory listing of Santino's Pizza, click here.
ADVERTISEMENT - CONTINUE READING BELOW