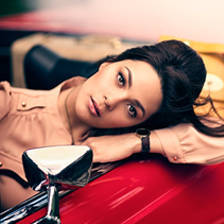 A love for clothes and fashion led Lyn Agustin and Corcor Bitong to set up their own business. Calling it Bayo, the sisters started out with a simple made-to-measure dress shop in Makati City.


But when their demand and clientele grew, Agustin and Bitong decided to expand to ready-to-wear clothing in 1992. Together with their husbands, the siblings established Lyncor Inc., a manufacturing firm, and began to market their women's clothing designs in earnest.


ADVERTISEMENT - CONTINUE READING BELOW
"We opened our first mall branch at Robinson\\\'s Galleria in 1992," shares AJ Jocson, Bayo\\\'s marketing officer. In just three years, the company earned enough to establish five more branches across Metro Manila.


[related|post]In 2001, Bayo started to offer franchises. "When we started franchising, we already had a comprehensive module and operation manual to serve as a guide to franchisees," Jocson says. The company did this, she adds, to extend its reach to provincial areas.


"Then, we only had one franchised outlet in Metro Manila [at Starmall in Las Piñas City] and a company-owned branch in Bacolod City, the owners' hometown," Jocson adds. Bayo now has a total of 58 branches, 18 of them franchised and the rest company-owned.


Franchising an outlet of Bayo requires about two to three million pesos for an average area of 100 square meters. The amount covers the franchise fee, store construction, licenses and permits, point-of-sale systems, fixtures, initial inventory, marketing costs and a revolving fund for operations.


ADVERTISEMENT - CONTINUE READING BELOW
Bayo helps its franchisees all the way, from setting up the store to actual operations. Explains Jocson: "We will assist franchisees in selecting a profitable site. Once the site is approved based on Bayo's selection criteria, we shall also assist in design implementation as well as the construction of the store."