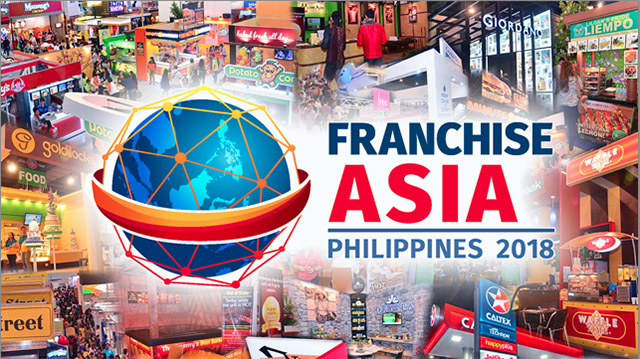 From July 20 to 22, the biggest franchise show in Asia is opening its doors at the SMX Mall of Asia. With just a few days left before Franchise Asia 2018, here are a few tips to make sure you get the most out of this once-a-year franchise event:
ADVERTISEMENT - CONTINUE READING BELOW
1. Start with the Food Park & Innovation hub on the 2nd floor
This year's Franchise Asia boasts the biggest ever Franchise Food Park & Innovation hub with hundreds of new franchise brands and dozens of regional booths showcasing the best of the Philippines. Come to the food park early before it gets packed.
2. Skip the queue by pre-registering or going directly to the second floor to access extra registration terminals
Not only can you access the Food Park quicker, the second floor also hosts dedicated lines for pre-registered guests and extra registration counters for faster entry.
3. Get free entry to the Expo by pre-registering online or bringing a BPI Card
Get free entry by pre-registering online. Walking in on the day itself not only will take longer, but will also cost Php100. BPI clients can also get free entry by showing their cards during registration.
ADVERTISEMENT - CONTINUE READING BELOW
4. Come in with an empty stomach (especially if you're looking for a food franchise)
With hundreds of food brands exhibiting, and a whole food park of new and unique brands, visitors to Franchise Asia will be spoiled for choice. Make sure you make room to try the various concepts in the Expo.
5. Book seminars in advance
Simultaneous seminars happening will happen throughout the three-day expo, so various learning opportunities are available. Business owners can learn How to Franchise Your Business, while potential franchisees can learn best practices on How to Invest in the Right Franchise. You can also meet international master franchise brands in the Master Franchise Business Matching.
6. Have an industry & investment capital range in mind
With over 700 brand choices, it's important to start narrowing it down early on. Try to think of an industry you're more passionate about: Is it Food? Retail? Service? Health? Education? In addition, start having an investment range in mind before stepping into the show. Is it a kiosk-type franchise (around Php500,000 and below) or larger kiosks and stands (Php500,000 to Php1.5 million)? Are you looking for in-line stores (over Php1.5 million) or international brands (over Php10 million)? Franchise Asia offers business opportunities in every industry and every investment level.
ADVERTISEMENT - CONTINUE READING BELOW
7. Bring calling cards
So that you don't have to continuously fill in forms, bring calling cards with up-to-date contact details, which you can easily give to brands who you want to hear from.  
8. Visit the financing, technology, location and other partner booths
Franchise Asia is a one-stop shop for everything you will need. Aside from franchise opportunities, you have financing partners such as  BPI Ka-Negosyo loans, technology partners such as PLDT SME Nation, mall and location partners to help you find the right locations, marketing and media partners to help your business grow and many more.
Bonus Tip: Sharpen your business skills by attending the International Franchise Conference (July 18 to 19) before the expo
Whether you're already a business owner, a would-be franchisee or an MSME just starting out your business, the International Franchise Conference is a unique opportunity to learn from top leaders in the F&B, retail, marketing, digital, Human Resources and finance industries. With over 50 speakers and 1,000 delegates from over a dozen countries, it's the perfect venue to learn, to network and to accelerate the growth of your business.   
ADVERTISEMENT - CONTINUE READING BELOW
Entrepreneur Philippines is a media partner of the event.
The Franchise Asia International Conference is happening on Jul 18 & 19 and will be followed by the International Franchise Expo on Jul 20 to 22 at SMX Mall of Asia. It is organized by the Philippine Franchise Association and co-presented by BPI Family Ka-Negosyo & PLDT SME Nation For more information, visit https://franchiseasiaph.com, or contact the Philippine Franchise Association at (+632) 579-4841 or 0999-8833732  
*****
Chris Lim is the Chief Marketing Officer of Francorp Philippines (francorp.com.ph); President of U-Franchise Sales & Management (www.ufranchiseasia.com); and Chairperson and Director for Special Projects, ASEAN integration-Philippine Franchise Association.