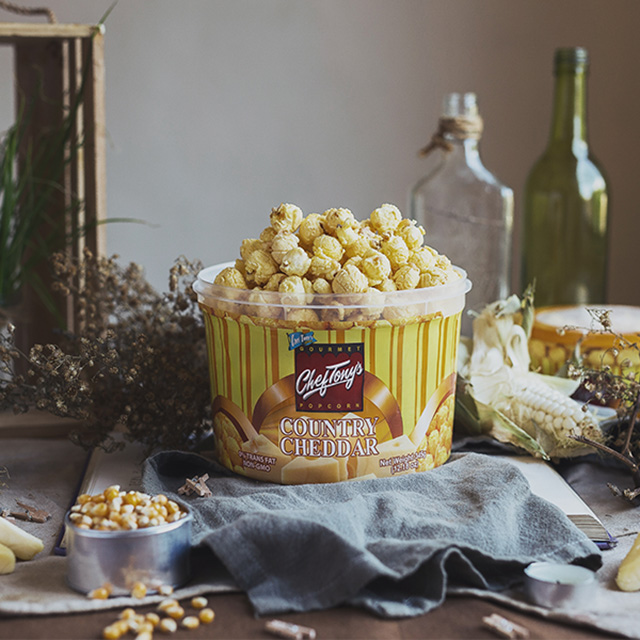 Chef Tony's Gourmet Popcorn started out as a snack sold to cemetery crowds during All Saints Day
In the Philippines, November 1 is All Saints' Day, also known as undas. On this day, thousands of Filipinos flock to the cemeteries to remember and honor their dead. This deluge of people provides ample opportunity for entrepreneurial folks to peddle their wares—from candles, flowers, cold beverages and even snacks.
Chef Anthony "Tony" Vincent Elepaño's family is no stranger to the hectic nature of undas—after all, the family owns a cemetery in Calamba, Laguna. On November 1, 2005, the family set up a small snack cart in the cemetery and sold caramel popcorn for Php25 per bucket. It proved to be a hit—in just one day, the family sold 4,000 buckets of caramel popcorn and took home Php100,000.
Chef Tony, a Singapore-trained chef and, by then, a budding restaurateur, knew that they struck gold. When gourmet popcorn became a huge food trend worldwide in 2016, Chef Tony's Snack Foods already had a massive head start as the country's first homegrown gourmet popcorn company.
Selling "Tubs of Happiness"
From one kiosk back in 2006, Chef Tony's has since grown to 25 company-owned outlets nationwide. Its products are also sold in major malls and supermarkets such as S&R Membership Shopping, SM Department Stores and Supermarkets, Landmark, Shopwise and Wellcome, among others.
What's the secret to Chef Tony's continued success? "We don't just sell gourmet popcorn—we sell 'Tubs of Happiness,'" says Alex Lopez, sales and marketing director at Chef Tony's Snack Foods. These healthy and flavorful "Tubs of Happiness" are a product of more than 12 years of continuous product innovation and market testing.    
From caramel, which made Chef Tony's a household name, Chef Tony's has since developed different flavors ranging from the standard cheese and chocolate, to the more adventurous red velvet and green tea, among many others.
ADVERTISEMENT - CONTINUE READING BELOW
Chef Tony's has since developed different flavors ranging from the standard cheese and chocolate, to the more adventurous red velvet and green tea and many others
Popcorn, by itself, is already a healthy snack alternative. Yet, Chef Tony's goes the extra mile by using only the finest natural ingredients for its gourmet popcorn—no preservatives and artificial flavors here. And for more guilt-free snacking, Chef Tony's products have zero trans-fat and are also gluten-free.
"We continue to bolster our signature product, the gourmet popcorn. We have also diversified to other healthy, corn-based snacks to cater to different markets and varying tastes," adds Lopez. These products include Chef's Kettle! Popcorn, a brand of sweet-and-salty kettle corn in a bag, and Pop Corners, a brand of air-popped flavored corn chips.
Spreading the happiness worldwide
Chef Tony's popped corn products are loved the world over. Currently, they are being exported to countries such as Hong Kong, China, Japan, Thailand, Singapore, Vietnam, Australia, Costa Rica, and Saudi Arabia. Chef Tony's has also expanded in the region by putting up stores in Indonesia, Thailand and Singapore.
Given the demand for healthier snack alternatives, especially for gourmet popcorn, among millennials worldwide, there's still more room for growth for Chef Tony's. "In the Philippines, gourmet popcorn is still a blue ocean market—as it stands, Chef Tony's has no direct competition in the local market except for imported snack brands," observes Lopez.
To further speed up its growth, and to reach more local and international markets, Chef Tony's has opened its beloved gourmet popcorn business for franchising. "We believe that franchising is a great way to expand the business with the help of partners who share our love for the brand," says Lopez.
Lopez adds that, for aspiring franchisees of Chef Tony's, no specific demographic profile or previous business experience is required or preferred. "Brand love is all that matters," he says. "Our goal is for this brand to grow exponentially and make it easier for hard-working, aspiring franchisees to have their own Chef Tony's branch by offering our franchise starting at Php500,000.
ADVERTISEMENT - CONTINUE READING BELOW
For Chef Tony's franchise details, visit this link.
Like Chef Tony's Gourmet Popcorn, your business can also grow from one to many! Attend our Franchise Your Business Seminar and hear it straight from the top franchise developers and consultants in the country. To know more about this seminar, visit http://francorp.com.ph/how-to-franchise-your-business-seminar, or contact 0917-8099043 (Globe); 0949-8817102 (Smart).
*****
Sam Christopher Lim is the Senior Vice President for Marketing and Strategy of Francorp Philippines; President of U-Franchise Sales & Management; and Chairperson and Director for Special Projects, ASEAN Integration of the Philippine Franchise Association.