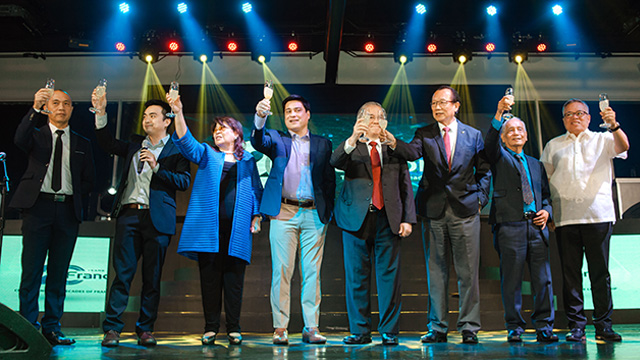 Officers of Francorp with Sen. Miguel Zubiri (center) at the 20th anniversary event
From virtually a non-existent franchise player in the 1990s, the Philippines has today become not just the franchise hub of Asia, but has also cracked the top five franchise markets in the world. With over 1,500 franchise brands, and a diverse market that spans across service, retail and food, the Philippines continues to be a thought leader in franchising globally.
ADVERTISEMENT - CONTINUE READING BELOW
But the roots of this transformation came from a simple phrase in an industry study back in 1993. "Our love affair with franchising began in 1993 when we came across a Philexport USAID-funded study that said 'franchising will be the next fastest rising industry,'" Francorp CEO Bing Limjoco recounts. "Back then, not many people in the Philippines were aware of what franchising was. Samie Lim, Manny Siggaoat and I were already active members of the Philippine Retailers Association and this concept sparked our interest so much that it triggered the groundwork towards franchise-related activities." 
To test the interest of entrepreneurs when it comes to franchising, seminars and educational activities were organized. "We even started a franchise seminar in 1994 held at the Holiday Inn Galleria. It was so fully packed, standing room only, with 350 participants…that we had to turn down some who still wanted to attend."
But for an industry to take shape, it was critical to create an eco-system that would nurture and grow the industry, so the first step was creating an industry association that would be the voice of franchising. Samie Lim, founder and chairman emeritus of the Philippine Franchise Association, shares, "Because we believed that in order to have a voice and create the infrastructure for franchising, we needed to band together. So we registered the Philippine Franchise Association in 1995 with 15 business owners as incorporators. Today, the association has over 600 brands who contribute 70 to 80 percent of the total franchise sales in the Philippines."
ADVERTISEMENT - CONTINUE READING BELOW
Beyond creating an association, it was critical that services were created to help transform businesses into professional, world-class franchises. "Since we knew very little about franchising, we searched long and hard for consultancies we can work with, from Europe, Asia and the US," Limjoco adds. "After a long search, we decided to work with the franchise consultancy firm that helped in Jollibee's expansion—Francorp. Francorp in the US is the oldest and most respected franchise consultancy firm. It has 27 offices worldwide, covering 45 countries."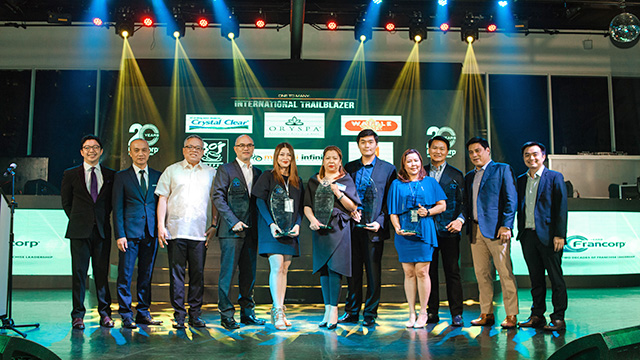 ADVERTISEMENT - CONTINUE READING BELOW
The industry had a rocky start, as when Francorp Philippines started operating in 1997, the Asian financial crisis hit. But as a true testament to the power of franchising, a handful of SMEs trusted and used franchising to come out of the crisis bigger and stronger. "Many mom-and-pop stores whose hands we held during their baby steps in franchising are now international brands to reckon with. In our own small way, we are thankful that they entrusted us with growing their brands."
To complete the eco-system, banks such as BPI Ka-Negosyo and industry partners such as PLDT-SME Nation helped create a full network of support that has helped the industry grow by leaps and bounds.
"When we were starting, we strived to learn the best practices in franchising from the more mature franchise markets around the world," Lim shares. "It is heartening to note that now, we are the ones teaching and sharing our know-how with the world when it comes to franchising. We are now considered as the franchise hub of Asia, with the biggest number of internationally Certified Franchise Executives outside the US, and (we're in the) top five in the number of franchise concepts."
ADVERTISEMENT - CONTINUE READING BELOW
This year, Francorp is celebrating its 20th year in the Philippines. "We are proud to say that after 20 years, Francorp has become an enabler and multiplier—having served some 500 clients in various stages of their growth, helping generate over 250,000 jobs and being awarded as the International Master Franchise of the Year in the Franchise Excellence Awards," Lim says. "More importantly, Francorp is proud to have helped plant Filipino franchise brands in every ASEAN country and in every continent around the world except Antarctica."
What's next for the industry? For Lim, it's continuing to push a singular vision. "Moving forward, we would like to see the day when Filipino franchise brands will become one of the top foreign exchange earners in the country. Exporting a franchise business is more valuable and sustainable than just exporting a few seasonal products. We hope to see more Filipino franchises expand their footprints outside the country and for the Philippines to be the number one in the ASEAN region in terms of number of exported franchise brands."
ADVERTISEMENT - CONTINUE READING BELOW
***** 
For over 20 years, Francorp continues to help thousands of businesses scale up through franchising by helping entrepreneurs create detailed operations manuals, professional business plans, franchise legal agreements and conducting regular How to Franchise Your Business Seminars.  For more information contact Francorp Philippines at (02) 638-3149, (+63917) 835.55.30, email info@francorp.com.ph, or visit francorp.com.ph. 
Chris is the Chief Marketing Officer of Francorp Philippines; president of U-Franchise Sales & Management; and chairperson and director for special projects, ASEAN integration Philippine Franchise Association