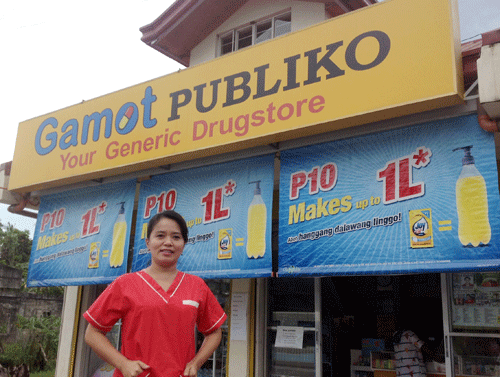 <>
My husband and I have been employed for many years now and just like any Filipino family, we wanted to have our own business to help us financially. We thought that the best time for us to start a business since we are still young and had the time and energy to pursue a new challenge in our lives.
We initially started by building a store structure in our property in Quirino province, at that time we did not know yet what kind of business we would put up. By studying our community, doing research and asking our friends for possible business opportunities, we were able to shortlist the pharmaceutical business as a potential business. This eventually lead us to the option of franchising a drugstore because we were looking for a good support system for our first business venture.  
We looked into several franchising companies that offered a drugstore business, it was very important for us to stick to our budget while deciding which franchise to get. Fortunately, Gamot Publiko's affordable investment perfectly matched ours. On top of that, we also enjoyed the support Gamot Publiko provided from start-up until we are fully operational.
ADVERTISEMENT - CONTINUE READING BELOW
With our personal work experience and Gamot Publiko's efficient business system, we were able to manage the store in Quirino while pursuing our respective careers in Manila. My husband and I also share tasks for the store, he takes care of the inventory, sales monitoring, accounting and documentation while I take care of customer service, staff management and training. This set-up works perfectly for us. It helped that our staff was able to learn and understand the franchise system easily.
So far, our experience as first time entrepreneurs has been worthwhile. Aside from the financial return, the hard work, business learning and discipline we have now is something we want to impart to our children and it is definitely useful in our future plans.
Beverly Marinas is a franchise owner of Gamot Publiko Your Generic Drugstore in Gunadaway, Quirino. For more information about Gamot Publiko, click here.