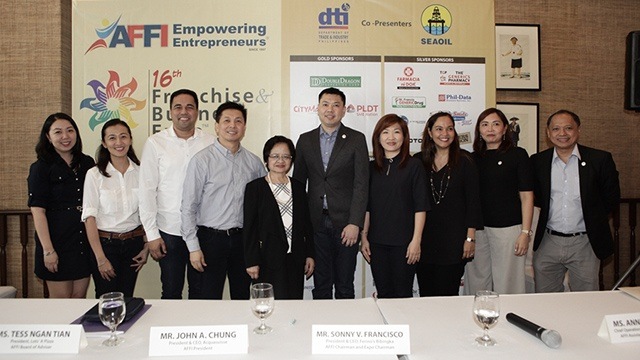 The 16th edition of the Franchise Business Expo this year carries the theme "AFFI@20: One with ASEAN." The annual franchising event will stage various seminars on entrepreneurship, starting on September 29, 2017 at the World Trade Center in Pasay City.
Organized by the Association of the Filipino Franchisers Inc. (AFFI), the seminars are part of the three-day expo that will showcase over 300 brands that are open for franchising opportunities for aspiring entrepreneurs. Entrepreneur Philippines is one of the event's media partners.
ADVERTISEMENT - CONTINUE READING BELOW
For Php500, the expo's attendees may join one of the eight seminars during the three-day event, which will be conducted by some of the country's most successful entrepreneurs.
On September 29, Friday, Eric Caeg, CEO of business coaching firm Retail Academy Philippines, will lead two sessions on sales staff training and personality development for store leaders.
Aspiring and current franchisees have the chance to consult their business troubles with renowned franchising consultant Armando Bartolome, who heads GMB Franchise Developers during the second day of the expo. His client portfolio, which includes Mang Inasal, Potato Corner and Generika Drugstore to name a few, speaks of his expertise in the industry.
Those who are part of the workforce but are hoping to be their own boss will learn a thing or two from Ink-All-You-Can Founder Jerry Illao's talk also on September 30. Illao will share how he grew his thriving business after being an employee for years. Now also an established business consultant, Illao will discuss the different marketing strategies that entrepreneurs must employ on Facebook.
ADVERTISEMENT - CONTINUE READING BELOW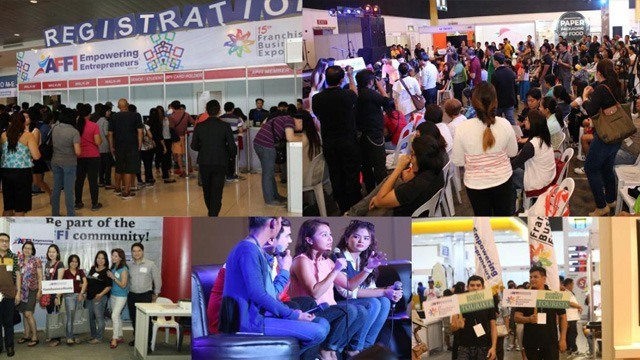 Meanwhile, those who wish to head their own food franchising concepts may benefit from Tokyo Tempura founder Jorge Wieneke's seminar on business and product development on Sunday, October 1.
AFFI President John Chung said this year's expo is in line with the region's strategy on MSME (micro, small and medium enterprise) development, known as the "7Ms Towards Shared Prosperity in ASEAN," which includes mindset, mastery, mentoring, markets, money, machines and models.
ADVERTISEMENT - CONTINUE READING BELOW
As one of the biggest franchising associations in the country, AFFI's goal is to contribute further to job creation and development. As of June 2017, members of AFFI collectively provide jobs to 200,000 employees.
"For 20 years, AFFI has been a constant champion of Filipino SMEs. The founders, who are now pillars themselves in the business and franchising community, envisioned the association to be the voice of entrepreneurs in this country. We want to continue fulfilling that vision in the coming decades," Chung added.
*****
Elyssa Christine Lopez is a staff writer of Entrepreneur PH. Follow her on Twitter @elyssalopz