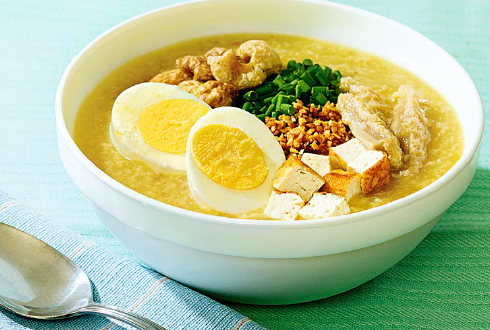 Beverly and Sherwin Aquino literally shed blood, sweat, and tears to build Lugaw Queen. When they first set up shop in 2007 in San Pablo City, Laguna, they ran the business practically on their own. While still holding down day jobs, they would wake up at the crack of dawn to buy ingredients, do the prepping and cooking, and man the store which was open 24/7.

The pace came at a cost. "There was a day, I was so tired, I tripped and fell. I hurt myself pretty badly," recalls Beverly.

Seeing his wife bleeding, Sherwin urged Beverly to close shop. She refused. "We were already doing well," she says.

Now, Beverly and Sherwin don't work such punishing hours anymore.

The business now has 16 outlets, seven of which are company-owned and nine franchised. Another five franchised outlets are set to open this year. Not counting employees in franchised outlets, Lugaw Queen now employs 120 people.

Not bad for a business that was built with just P1,100 in capital.
ADVERTISEMENT - CONTINUE READING BELOW


Secret ingredient to success
Key to Lugaw Queen's success is that it pays close attention to its target consumers: the C and D market. That's why prices are pegged at an affordable P15 to P38, depending on the topping. The plain lugaw costs P15, and the special—with ox tripe, chicharon, and egg—costs P38. The Aquinos have also introduced rice meals priced between P49 and P59.

Lugaw Queen branches have an open setup—that is, without doors or windows—also for the same reason. "The open setup is more welcoming to the C and D market," says Beverly, noting locations that are enclosed and airconditioned tend to turn off the C and D crowd, as they would think the food would be expensive.

Valuable lesson
One thing Beverly has learned about their market is that they won't bet their hard-earned money on new items, so customers are offered free samples. "If an item doesn't click, then we remove it from the menu. I don't really have a choice. You have to give what your customer wants."

It has been eight years since the Aquinos started Lugaw Queen. Beverly recalls that when they first started, other lugawan sprouted around them. But one by one, their competitors closed shop. "That's how we thought of the name, Lugaw Queen," she says. "When our competitors started folding, somebody said, 'Ikaw na talaga ang reyna.' In the end, we were the only one left standing."



Photo by Louie Aguinaldo
Food styling by Ma. Luisa Jimenez
ADVERTISEMENT - CONTINUE READING BELOW
This article was originally published in the April 2014 issue of Entrepreneur magazine. Subscribe to the print or digital version here.