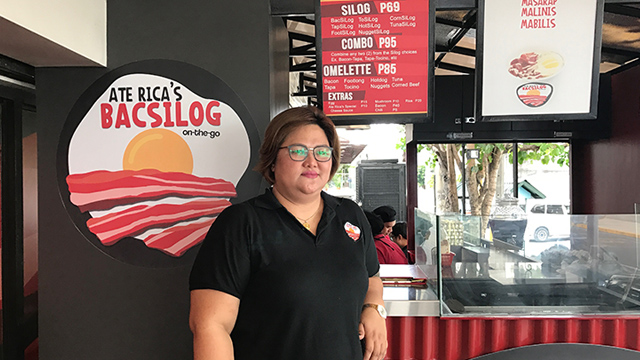 After leaving her job in a bank, Rica Peñalosa put up a makeshift stall and sold rice meals. Today, Ate Rica's has 14 branches in Metro Manila
Rica Peñalosa used to be one of the thousands of so-called "endo" or end-of-contract employees who moved from one job to another every five months as companies terminated their employment to avoid regularizing them. The Duterte administration is trying to stamp out the illegal labor practice, which companies resort to in a bid to save on health and retirement benefit costs.
ADVERTISEMENT - CONTINUE READING BELOW
Though a college graduate of an information and technology course, Peñalosa had a hard time getting a regular position, forcing her to work as a contractual support staff in several banks. By the time she was in her early 30s, she decided it was time to work overseas.
"Working as a contractual employee got tiring for me," Peñalosa shared in an interview with Entrepreneur Philippines. "Imagine having interviews every six months and then not having enough pay."
In 2006, while waiting for her work visa to Dubai, she put up a makeshift food cart at the back of De La Salle University (DLSU)'s Taft Avenue campus, which happens to be near where she lived.
Armed with a capital of Php20,000 from her father, the former office worker started selling rice meals to students along Agno street, which links the backdoor of two DLSU academic buildings. She not only braved the scorching Manila heat but also the intermittent police operations against sidewalk vendors,
ADVERTISEMENT - CONTINUE READING BELOW
The strategic location of the strip made it a go-to location for hungry students looking for cheap grub during breaks.
But what made Peñalosa's stall menu stand out from the rest was her simple yet innovative dish of BacSilog, comprised of plain rice, fried egg and bacon topped with melted cheese. The meal's sinfully delicious flavors were good enough to pull in students, but what made them loyal customers was the price: just Php38 a cup.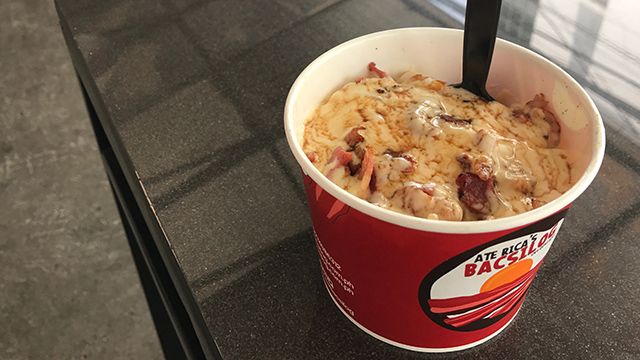 ADVERTISEMENT - CONTINUE READING BELOW
Bacsilog, comprised of rice, egg and bacon topped with cheese, is the bestselling item of Ate Rica's food stall
"Tapsilog (beef tapa with egg meal) is already common, you can find it in almost every corner eatery. But bacon with egg, it was not something that many offered, mostly because they think it's expensive. But I made it affordable for a student's budget," she shared in Filipino.
In her first year, she only had three items on her menu: Bacsilog, Tapsilog and Tocilog (tocino with egg). Yet the simple menu was enough for her to gross around Php3,000 to Php6,000 every day as she sold around 100 to 150 cups.
With those numbers, she managed to recover her initial capital within six months. She decided to forego her plans of becoming an overseas worker.
However, while the money was good, it also meant working long hours. "I would open my stall at 7 a.m. and close at 7 p.m. When it rains, then there's a strong chance that most of my goods will go unsold. Worst case scenario would be the police coming for stalls like me since I didn't have a proper permit," she shared. "It was hard."
ADVERTISEMENT - CONTINUE READING BELOW
Despite the challenges, Peñalosa persisted. She was earning more than her monthly salary when she was a contractual employee, which was around Php12,000 to Php15,000. Being her own boss also empowered the former contractual employee.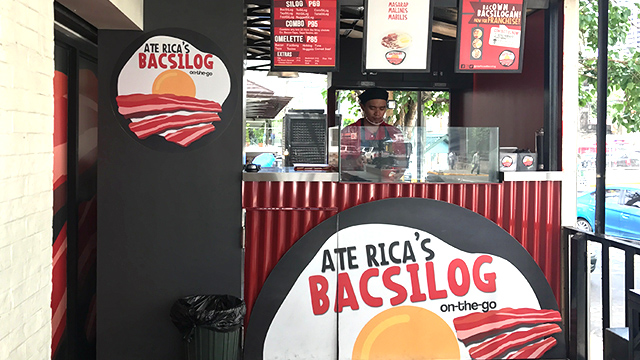 ADVERTISEMENT - CONTINUE READING BELOW
Ate Rica's Bacsilog now has 12 franchised branches in Metro Manila, most of which are located near schools
So, when a landowner along Agno Street opened a food court and leased spaces for food stalls, she reserved a place and moved her food court inside.
After two years of playing cat-and-mouse with the police, Peñalosa opened her first stall in Agno Food Court, complete with all the official permits. In 2008, her business finally had a name, Ate Rica's Bacsilogan.
Becoming a formal business hiked her costs—she now has to pay rent and taxes—forcing her to raise her prices. For example, her famous Silog deals now retail for Php69 each.
Fortunately, that did not dampen demand from students. In fact, her gross sales even grew larger, as she sold around 500 to 600 rice cups a day. On a good day, that's more than Php40,000 worth of sales. And her expanded menu gave her a chance to introduce special meals that sell for as much as Php90.
ADVERTISEMENT - CONTINUE READING BELOW
With a growing loyal following, Peñalosa soon accumulated enough savings to expand to another location. In 2015, she opened a new stall inside the car park of the University of Santo Tomas (UST).
"At first I didn't like to try my chances in a different area because I wanted to focus in La Salle alone since I've been doing well there for the longest time, so why risk it?" she recalled. "But when I saw the potential location of my stall near UST, I immediately claimed it. I knew it would be a hit."
But it was not until 2017 when she finally decided to really scale up the business. After receiving several queries for franchising, Peñalosa sought legal help from one of her most loyal customers in DLSU, Dino de Leon, to help her craft a franchising program.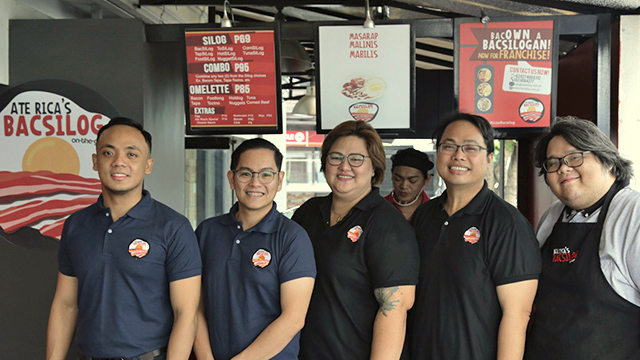 ADVERTISEMENT - CONTINUE READING BELOW
The team that launched Ate Rica's Bacsilog franchising program. From left: Dino de Leon, Carlo Flores, 

Rica Peñalosa, Leon Flores and Pads Enriquez

De Leon, who is now a lawyer, used to eat regularly in Peñalosa's stall at Agno as a student, enough for him to form a friendship with the stall owner. So when the opportunity to become a business partner of Peñalosa arose, De Leon did not hesitate to help a longtime friend.
"At first she was just asking legal questions but eventually, she invited me to become a business partner so we can make commercial decisions together," De Leon shared. "So by April 2017, we built a corporation. I also tapped my two other friends who are experienced in their fields, Leon Flores as a chief marketing officer and Carlo Flores as chief financial officer." They also have another Lasallian in their team, Carlo 'Padz' Enriquez as Chief Operations Officer. 
ADVERTISEMENT - CONTINUE READING BELOW
The five partners formed a corporation, Baconnoisseur Corp., which would not only operate Ate Rica's Bacsilog outlets but, more importantly, franchise it to other investors. Four months after, the company opened its first franchised branch. As of May 2018, Baconnoisseur Corp. has a total of 12 franchised outlets, with three more in the pipeline.
At Php450,000, Ate Rica's franchise package includes initial supplies, a stall for a two-square-meter space, a CCTV, a point-of-sale system, griller and more. By keeping it below Php500,000, the franchise package attracted even average employees.
The DLSU alumni's affinity with the brand also helped the team to sign up franchisees immediately. At least 80 percent of their franchisees are former students in DLSU Taft. Most of the franchised stalls are located near schools, too.
"We want to become a major player in the food franchising industry in three years' time. By 2020, we want to have 150 tech-enabled stalls nationwide," De Leon said.
ADVERTISEMENT - CONTINUE READING BELOW
Having competent and experienced business partners allowed Peñalosa to dream bigger. By the end of May, she would be celebrating her 12th year in business. In retrospect, Peñalosa, now 46, admitted she never thought her stall cart would last, let alone become a franchised business.
"Imagine, I even got pregnant at 40. It was hard to do business, but I wanted to prove that I can go places, even without going abroad," she said.
*****
Elyssa Christine Lopez is a staff writer of Entrepreneur PH