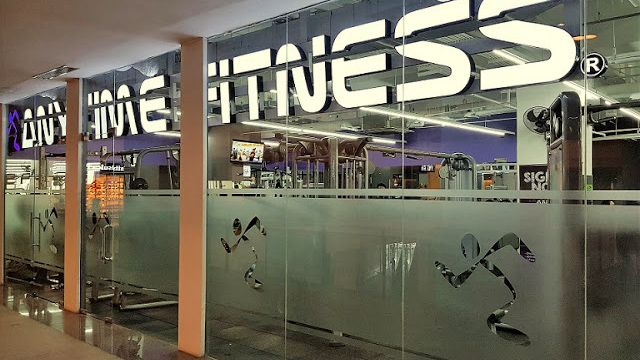 Mainard Sahagun was all smiles at the opening of Anytime Fitness at the second floor of Glorietta 5, Makati City on Tuesday, October 17. It is the fifth branch owned by the 34-year-old former tennis coach from Australia and three other partners, and the 50th branch overall in the Philippines. Sahagun said he plans to open a few more in the coming months.
ADVERTISEMENT - CONTINUE READING BELOW
"I was looking to open in Australia, but the brand is already maxed there," he told Entrepreneur Philippines. "So I came here."
Sahagun opened his first Anytime Fitness branch in the Philippines in 2015. With no prior experience in fitness, he said he decided to buy a franchise of the 24-hour health and fitness club after doing some research into the brand.
"Anytime Fitness was ranked number one in Entrepreneur Magazine's global franchise list (in 2015 and 2016)," he said. "I did a little bit of research. It was an informed decision. And I knew how good it was going in other countries. Filipinos are always up late; they like to have dinner late, we have a lot of call centers here. For me, it was a no-brainer."
"We started in Singapore in October 2013," said Maurice Levine, master franchiser of Anytime Fitness in Asia, who was also present at the Glorietta branch opening. "We started franchising in February 2014. Fast forward to today, we are now the number one gym business throughout Southeast Asia and China in just about three and a half years, with over 180 locations spread around seven countries. And growing so fast."
ADVERTISEMENT - CONTINUE READING BELOW
Levine explained the phenomenal growth of Anytime Fitness by saying the brand is filling a gap in the market. Despite the prevalence of what he called "amazing, salubrious, big box" gyms in central business districts that cater to a certain group of clientele, there are still a lot of community areas especially in Asia that are underserved.
"The thing that beats everything about the gym industry is convenience," he said. "So if you can be walking distance to where people live, and then you can be open 24 hours, seven days a week, and you can provide a vehicle where one key opens the door to every gym, you win.
"So a gap, fulfilled. That and clean bathrooms," he added with a chuckle.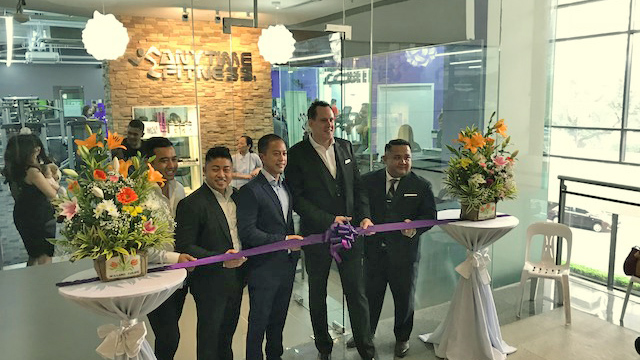 ADVERTISEMENT - CONTINUE READING BELOW
Mainard Sahagun (third from left), franchisee, and Maurice Levine (fourth from left), master franchiser, of Anytime Fitness at the grand opening of the health and fitness club in Glorietta
Anytime Fitness is also benefiting from the franchise model. Founded in Minnesota in the United States in 2002, the company now counts over 2.5 million members in 3,500 branches in 23 countries. In Asia, only six out of the 180 branches are company-owned. The rest are franchised.
Levine, who oversees the growth of Anytime Fitness from his base here in the Philippines, revealed that the upfront cost to own a franchise in Asia is $60,000. Franchisees are also charged a monthly fee of $1,895 plus a "global access control reciprocity key" of $2 per member per month.
"That's it," he said. "We don't take a percentage of your revenue or turnover, unlike most franchises. One part of the monthly fee goes to the brand—establishing your identity, training and so on. And the other goes to support ongoing logistics and various other things. We also have what are called C2Is or 'coaches to inspire.' They come into the gym and work with each of the franchisees. And then we have a learning development team, support infrastructure and gym expertise that money can't buy."
ADVERTISEMENT - CONTINUE READING BELOW
According to Sahagun, depending on the size of the location, it costs about Php16 million to Php17 million to open an Anytime Fitness branch.
"But then it's a very good ROI (return on investment)," he said smiling. "It's a very good business model."
Sahagun said that when he opened his first branch in Nuvali in Sta. Rosa Laguna, it broke the record for the most pre-sale memberships out of any Anytime Fitness location in the world. "You're supposed to sell for two months before you open; it's membership-based," he explained. "The previous world record was held by Spain at 808, and then the US at 758. We opened with 945 members. The founder even flew in and presented us with an award. That was so surreal. So I knew I was on to a very good thing."
Levine, who owns an Anytime Fitness franchise himself, added that so far, the company has a zero percent default rate. "No gyms have closed in Asia as a consequence of liquidity issues," he said proudly.
ADVERTISEMENT - CONTINUE READING BELOW
The one in Glorietta is the 50th Anytime Fitness branch in the Philippines
For sure, Anytime Fitness is riding the continued growth of the worldwide fitness industry, which, according to Statista, generated revenues of $83.15 billion in 2016. Levine said the company's growth is outpacing even that of more established non-fitness brands like Dunkin' Donuts and Subway.
ADVERTISEMENT - CONTINUE READING BELOW
"Globally, about 60 percent of our franchisees own multiple gyms," Levine said. "What happens is a franchisee buys a gym, and then he does so well that he buys another and another and another. What's really amazing is that the number of experienced gym operators, for example in the Philippines or in other gym markets, is zero. In other words, none of our franchisees have had any experience; they're doctors, lawyers, accountants. That's the franchise model."
In addition, Levine said some people are using the franchise model as an investment opportunity. "Yesterday in Taiwan, I spoke to a franchisee who owns I think five gyms and he had an investor meeting, and he invited many people to help him open up another 100 gyms. We have this guy Luke, who opened 18 gyms in the Philippines—he's not a gym guy, he's a lawyer. He will now have, by the end of next year, 30 gyms. He got a consortium of investors together (to help him do it)."
ADVERTISEMENT - CONTINUE READING BELOW
Levine added that he expects to have a total of 100 franchises sold in the Philippines by the end of 2017. Sahagun, for his part said that, after the one in Glorietta, he is planning to open three more branches in the country in the coming months, as well as the first Anytime Fitness gym in Thailand.
"I'm going to be the first (franchisee) in Thailand," he said. "It'll open next month. I have a few opening there so, after that, we'll see how it goes."
*****
Paul John Caña is the managing editor of Entrepreneur PH