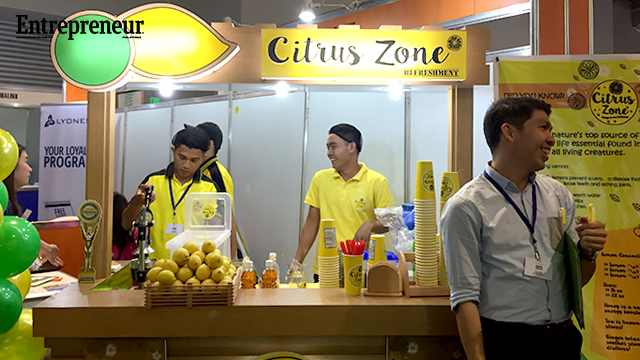 This is how Citrus Zone Proprietor Don S. Cenita nursed his broken heart as he put up his own first business late last year with two other friends, Joanna Dalmacio and Raica Mosquerra.
Drinking lemon water was one of the things he and his previous beau shared as a common interest, as means to lose weight. But sadly, life had other plans for the two.
ADVERTISEMENT - CONTINUE READING BELOW
"Yung kaasiman ng buhay mo, patamisin mo na lang ng lemon juice," Cenita quipped. "From your hugot, make something out of it!"
And cope he did.
While Citrus Zone only has one branch in SM Megamall as of the moment, the public's reception has been unprecedented that the three founders are left overwhelmed.
The business concept is simple: the stall offers two types of juices, lemon juice and lemon honey, which retail for as low as Php 39 for a 16-ounce cup of the former. Unlike other juice bars and stalls, the staff whips the concoction in front of the customers themselves, without any added concentrates.
Hotel and restaurant management graduate Dalmacio and food technician Mosquerra whipped up the secret mixture.
Even with less than a year in business, Citrus Zone is already slated to open their second branch in SM North Edsa before the year ends, this time with more offerings.
ADVERTISEMENT - CONTINUE READING BELOW
"We are planning to open a kiosk type and add food in the menu, like lemon bars and cakes," Cenita told Entrepreneur.com.ph.
The proprietor credits the young and lean team for the business' success, especially when the three founders still have day jobs to keep up with. Dalmacio and Mosquerra have a printing business while Cenita is a human resources professional.
"Openness and proper delegation of tasks are key in keeping a business successful," Cenita said. "We still try to learn the business every day. It's really just time management."
Cenita also commends his staff's active participation in brainstorming, sometimes even suggesting initiatives on how to handle the business better.
"We're lucky to have a supportive crew, especially when this is just the first time we're handling a business. They are very trustworthy," Cenita said.
Citrus Zone is currently open for franchising. Total packages start at Php 280,000 to Php 330,000 which includes trademark usage, staff training and a week's worth of inventories, to name a few. 
ADVERTISEMENT - CONTINUE READING BELOW
*****
Photo by Elyssa Christine Lopez