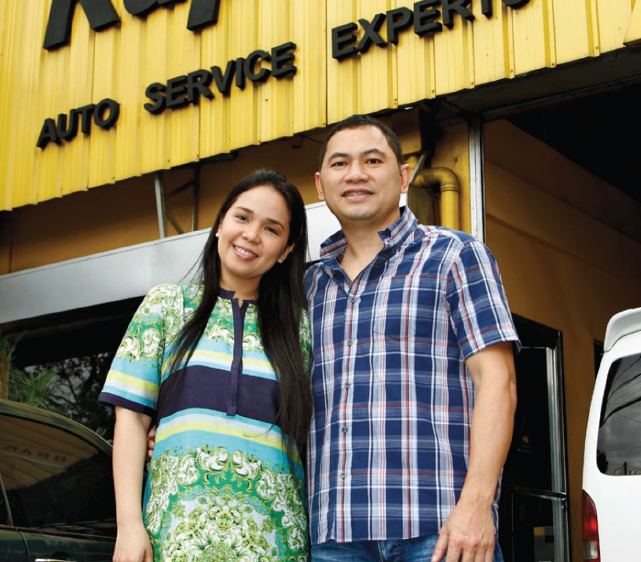 It was supposed to be a good year for husband and wife Luigi and Bea Fernandez when they opened their second Rapidé outlet in Quezon City in 2009. But Typhoon Ondoy happened.

"Who would have expected Ondoy to happen?" asks Bea. The couple opened the new outlet only a year after launching their first in Marikina, which took a heavy hit from Ondoy as floodwaters washed away equipment, spare parts, and even computers, printers, and documents. "That was one of the most challenging things that happened to us, because it was really back to zero," says Bea, who was managing the two outlets at the time, while Luigi was working abroad as a telecoms engineer.
ADVERTISEMENT - CONTINUE READING BELOW

With the cost of repairs, it was as if they were starting anew, says Bea. But they refused to give up the Marikina shop. They relocated the shop to a bigger space, also in Marikina. "It is twice as big as our previous shop. Here, we can service more cars," she says.

Earnings from their Quezon City outlet, which was spared by the typhoon, coupled with the money Luigi continued to send home, helped them put the Marikina branch back on its feet within six months. 

Now on their sixth year running the business, the couple is looking to add another branch, especially since Luigi is back in the Philippines for good. "The main thing is the location. Even if you are an expert, if you are in the wrong location, the business will not prosper," he says.

Luigi decided to come back as he felt the business was doing well, although the earnings might not be as big as his salary abroad. He's also hands-on with the business, with Bea by his side. "In business, you really have to put in time and effort to learn the system. You have to monitor it on a daily basis.  
ADVERTISEMENT - CONTINUE READING BELOW


Rapidé  Auto Serive Experts(02) 890 0451; (02) 895 9487
Franchise package total investment: P5M to P7M for a 5-year contract depending on size and location of store
This article was originally published in the February 2015 issue of Entrepreneur magazine. To subscribe, click here. 
Photo by Vincent Coscolluela