A food cart is a business you can start on small capital, ranging from P30,000 to a maximum of P300,000, says Josm Rosuello, president of the Foodcart Association of the Philippines (FOCAPHIL). Industry estimates show that the country\\\'s 800 different food cart formats--from pearl shakes, baked goods, siomai, fish ball, squid ball, to rice in a box--rake in more than P1 billion in sales every year.
The food cart business has other advantages: It is manageable and portable. With a simple four- to 10-product menu, it is not as messy to manage as a full-service restaurant. And if the business does not work out in one location, you can easily move it to one with more foot traffic.
Proof of its ease of set up is the over hundreds of food cart businesses all over Manila in the last few years. And because it is this viable, we enumerate the elements that have been making this a hot business:
 
ADVERTISEMENT - CONTINUE READING BELOW

THE CART
As a basic component of the business, the cart is a mobile, self-contained kitchen. It usually contains a griller or fryer, utensils, and storage space. And because it is also a self-sufficient unit that must push its products, the cart must have a signage--preferably in bold colors and in big print. The minimum P30,000-starting capital will get you a small, wooden cart with a signage (P10,000 to P12,000), fryers and grillers (P10,000), and initial inventory and packaging for selling fish balls and squid balls (P10,000). The capital requirement goes up correspondingly if you want sturdier, stainless steel carts with fancy food preparation equipment like broilers and blenders, and costly storage like refrigerators and freezers.
Ed Dugang, whose CEP Steel Fabrication Works makes food carts, says location is a factor when choosing the material for the cart. For instance, stainless steel, which can withstand the elements, is best for outdoor business sites. If you gross P2,000 a day, which is not an unreasonable projection if you have a good location, you can recoup your investment in less than two months.


ADVERTISEMENT - CONTINUE READING BELOW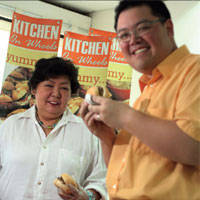 THE LOCATION
As in any retail business, where you place your cart is as important as what you sell. Mark So, Businessmaker Academy chief operating officer, says malls are great locations for food carts, but he cautions against putting one up at the mall food court, "because you would be competing with others who have a complete arsenal of a commissary."
ADVERTISEMENT - CONTINUE READING BELOW
Also, the Mass Rail Transit (MRT) and the Light Rail Transit (LRT) stations are not always ideal locations for a food cart. "Do not automatically equate foot traffic with sales, as people here are always in a hurry to get to their destination; they don\\\'t notice what is around them," So says. Remember to factor in the public\\\'s mindset and buying capacity for locations in or near public transport stations. Rent at public transport stations goes for P150 to P200 per day while mall space for food carts costs around P25,000 a month.
Schools, where you have a captive market, are also a good location for a food cart business. So, whose family operates Kitchen on Wheels inside Xavier School and St. Jude Catholic School, says rent inside school canteens is around P1,000 per day--quite steep for a two-hour-a-day, 20-day monthly operation. "But you have around4,000 prospective customers and this may already compensate for your rental cost," he says. So says schools are picky when choosing concessionaires. "They bid out to prospective concessionaires in the middle of the school year and award them before March ends," he shares.


ADVERTISEMENT - CONTINUE READING BELOW
THE PRODUCT-LOCATION MATCH, RIGHT PRICING, AND CUSTOMER RETENTION STRATEGIES
Like all businesses, you have to have the right product, at the right price, and the right location to sell it to attract as many customers and keep them coming back. So says pre-packed, ready-to-go food like sealed pastries should sell well at bus and jeepney terminals. Aside from being handy, he says customers won\\\'t be turned off by the idea that their food is exposed to the smoke and fumes at these transport stations. On the other hand, a cooking cart is ideal in enclosed locations where customers can appreciate how their food is prepared. Rice in a box, popcorn, and waffle are among the products ideal for a cooking cart.