<>
When one thinks of Jamaica, panoramic beaches, reggae music, and, well, Bob Marley usually come to mind. But Jamaica is also famous for its "jerk" style of cooking, wherein meat is dry-rubbed or marinated with a hot spice mixture before being grilled or barbecued.
ADVERTISEMENT - CONTINUE READING BELOW
This cooking style along with reggae music eventually found their way to the island of Guam, where Jamaican Grill was born. Known for its jerk chicken and pork ribs, Jamaican Grill not only boasts of the fusion cuisine of Jamaica and Guam, it also promotes the enjoyment of reggae. After 22 successful years in Guam, this barbecue restaurant chain is finally setting its sights on the Philippines as its first foreign market.
The best of Jamaica, Guam and the Philippines
 For Frank Kenney, president of Jamaican Grill Restaurants, it makes a lot of business sense to expand to the Philippines. Aside from the close proximity and the cultural similarities between Guam and the Philippines, Jamaican Grill has also seen its fair share of Filipino customers since it opened in 1994, what with Filipinos comprising around 35 percent of Guam's total population.
"Our Filipino guests insist that Jamaican Grill would work well in the Philippines," said Kenney, especially since its main menu offerings of grilled chicken, roast pork and fish are staple foods for most Filipinos. Needless to say, Jamaican Grill has been tested on a Filipino market even before it reached our shores—it even has a localized menu which already features adobo ribs and tuna sisig.
ADVERTISEMENT - CONTINUE READING BELOW
"There is no other restaurant company that takes the best island flavors of Jamaica, Guam, and most recently the Philippines to create exciting taste combinations that are totally unique," added Kenney. Aside from the food offerings, the restaurant is peppered with Filipino touches, as some of its featured fruits and store furniture are imported from the Philippines.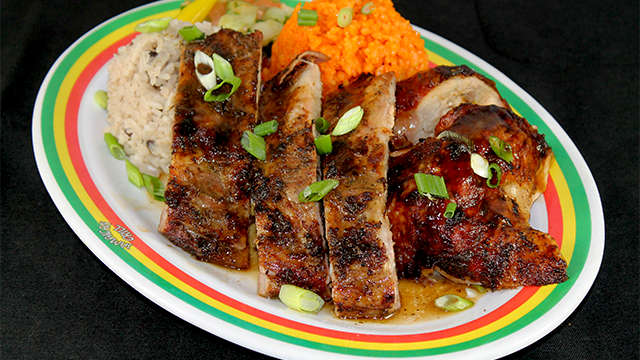 ADVERTISEMENT - CONTINUE READING BELOW
Franchise partners wanted
Currently, Kenney is on the lookout for potential franchise partners in the Philippines. He believes that Jamaican Grill's success in the country starts with finding the right franchise partner, who can then help make the necessary changes for the barbecue restaurant chain to better suit the local market.
Kenney realizes that Jamaican Grill's success with the Filipino community in Guam might not necessarily equate to immediate success in the Philippines. "It will take much hard work and dedication, supporting our potential franchisee in a way that will reduce the risks associated with the venture," he said. 
"We believe in Jamaican Grill, and we believe in the Philippines as well. Lord willing, there is a fit here. And if both parties mutually live up to their responsibilities, the result could prove quite lucrative in the years to come," said Kenney.
If you want to discuss franchising with Kenney himself and know more about Jamaican Grill, you can meet him on July 22 or 27 while he is in Manila. To book a meeting slot, contact Velle at (02) 634-0586, or write to [email protected]">[email protected] */ // -->.
ADVERTISEMENT - CONTINUE READING BELOW
*****
Sam Christopher Lim is the senior vice president for marketing and strategy at franchise consultancy Francorp Philippines; president of U-Franchise Sales & Management; and chairperson and director for special projects for Asean integration at the Philippine Franchise Association.
Photos from Jamaican Grill of Guam