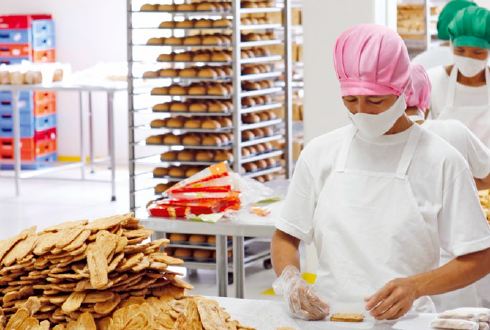 Magic Melt Foods Inc. knows how to put a unique twist to most aspects of its business. Cases in point: its flagship product—the melt-in-your-mouth ensaymada (brioche)—comes in flavors its competitors do not offer: chocolate, yema, macapuno, mango, pandan, pineapple, salted egg, strawberry, and ube. It leaped from being a small-scale bakeshop that offers one product to building a worldclass, industrial-scale food manufacturing facility with over 30 products that offers toll packing to boot. Its manufacturing practices comply with global standards, which few local food companies can claim.

Most noticeably, too, this Cebu-based enterprise founded by Wilson Lumakang in 1999 has deviated from the usual expansion path. It has started franchising locally only a couple of years ago even though the brand has had a large following in the Filipino communities in the United States, Canada, Dubai, Hong Kong, and Singapore for several years.

Experimental exporting

Carolynne L. Go, chief executive officer and sister of Lumakang, says the company started as a small specialty bakeshop with a few company-owned carts selling only one product—ensaymada—in various flavors. It was only in 2004 that the company introduced its line of pasalubong (otap, rosquillos, biscocho, and others), distributed to supermarkets in Cebu.

The company's first attempt at exporting was in May 2005, when a US-based family friend of the Lumakangs went to Cebu for a vacation. He was engaged in Filipino food distribution in California and "he expressed interest in buying Filipino biscuits. He made a trial order of one 20-foot container of assorted biscuits, which we shipped one month later," says Go.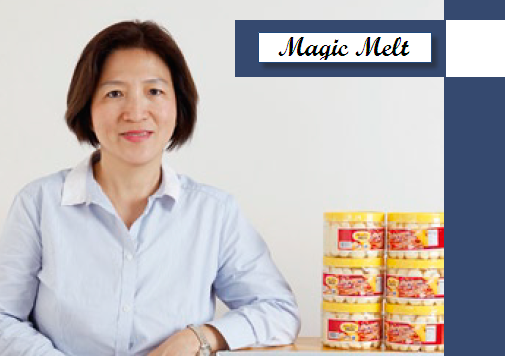 It took six months before this friend—their first overseas customer—ordered the next container. Then, other distributors became interested after they saw Magic Melt products in the shelves of Filipino supermarkets and grocery stores in the US.

One year after, a distributor in Canada started ordering the biscuits when he saw that they sold rapidly in the US. "We sold only one 20-foot container when we started exporting in 2005. Now our export volume is 10 times that," Go shares. In fact, it is now common to see boxfuls of these products being loaded into humongous 40-foot reefer vans for shipment abroad.

Yet Magic Melt is not an 'accidental exporter.' It had a propitious start but opportunity analysis and perseverance played major roles, too. When the owners saw that the local orders did not fully use up the capacity of their bakery, even though it had a setup capable of mass production as well as a quality monitoring system, they pursued international expansion despite the challenges.

"It was difficult to get distributors interested in our products because our brand was new and not known then in the market. We approached several distributors and accepted even small orders—sometimes just a few boxes— just to be able to test the market ," says Go.

"One has to be patient because the development in export market is slow, but once you have gained acceptance, the volume could be big," adds Go, who joined many food fairs and trade shows to be able to meet distributors.

The company now has 10 overseas distributors who deal with small retail stores. Sales of Magic Melt in Hong Kong and Singapore are growing, and it has recently tried tapping the South Korea and Middle East markets, too.

On local front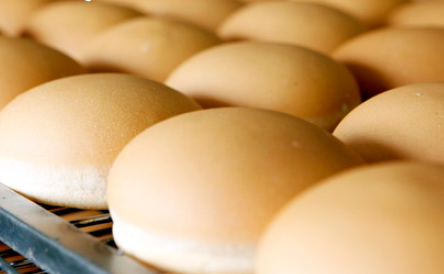 Even if its international distribution is impressive, Magic Melt's local sales still comprise its bigger business. It positions its products as having that distinct, sweet-creamy taste Filipinos crave in pastries and delicacies, and more and more folks around the country are biting into the idea as evidenced by the enterprise's growth.

The original bakery sat on a 500 sq m property in Labangon, Cebu City. In 2008, the company built a commissary in Pasig City to ensure fresh and sufficient supply of its products in Mega Manila. In 2009, it opened a 1,500 sq m state-of-the-art facility in Bancal, Lapu-Lapu City near the Mactan airport.

Simultaneously growing with Magic Melt's production plant is its product line. Aside from its carrier products of ensaymada and ubiquitous Cebuano pasalubong of otap and rosquillos, Magic Melt now also bakes cakes, egg pan de sal, cupcakes, brownies, hopia, polvoron, bread loaves, barquillos, asado bread, and more.

Its short-term plan is to develop healthy products to cater to nutrition-conscious customers. For starters, it offers health breads such as wheat bread, almond multigrain, and oatmeal multi-grain loaves. In the long run, it plans to venture into snacks and convenience food.

Magic Melt also differentiates itself from competitors by harping on the quality, safety and affordability of its products. Magic Melt complies with the standards of HACCP (Hazard Analysis Critical Control Point) system and GMP (Good Manufacturing Practices), and most of its products are halal-certified. It also claims to be the first food manufacturing company to receive the Sure Seal, a certification for online businesses in the Philippines that promotes safe trade on the web. Sure Seal is endorsed by the Department of Trade and Industry.

Means for expansion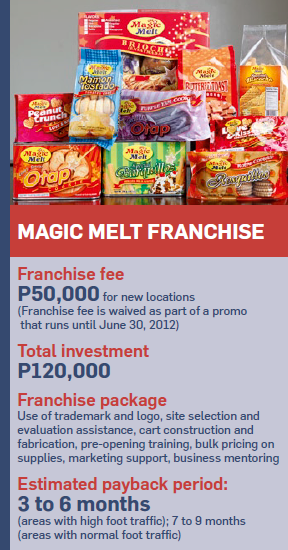 Satisfied that it is fulfilling its goal "to bring Filipinos closer to home through our authentic Filipino delicacies," Magic Melt widens its reach using two other business propositions: franchising and toll packing.

Since 2010, it has been aggressively pursuing franchising across the Philippines. It already has 11 franchisees (in Manila, Bataan, Tacloban, Cebu and Davao), four company-owned carts, and three company-owned stores selling Magic Melt products. The turnkey food cart business package requires a minimum of 4 sq m commercial space in high-traffic areas, and promises quick return on investment as well as startup, opening, and continuing support.

The company is also helping other small businesses with its toll packing services. Go explains: "We produce food products using the private label of our customers. For instance, we are currently supplying one supermarket chain in the United States with our mamon tostado. We produce the product, but we put them in bags provided by our customer. We can supply to major supermarket chains that have their own house brands."

Magic Melt takes pride in its mission and dream to satisfy every Filipino's cravings. Whether the craving is for delectable pastries and delicacies, or for possible business partnership through franchising, overseas distributorship, or toll packing, the company in a good position to fulfill it.
ADVERTISEMENT - CONTINUE READING BELOW
This article was originally published in the March 2012 issue of Entrepreneur magazine. Subscribe to the print or digital version here.     
Photos: Miguel Nacianceno