<>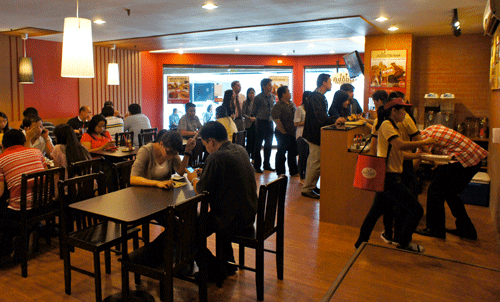 It's daunting to start a new business whether it's a franchise or an independent endeavour. There are a lot of factors to consider from cost to product quality. Employees also need a lot of training to be up to snuff. They need to be able to represent your brand and deliver good service. However, these considerations are dwarfed by the matter of location. Where you place your business will determine its over-all trajectory in the long haul. If you end up establishing your business in the wrong place, it will spell trouble that can't be easily fixed without a huge loss. After all, moving is no picnic.

ADVERTISEMENT - CONTINUE READING BELOW
Adobo Connection , a restaurant chain established by two daring graduates of Harvard Business School , has blossomed from 18 branches to 51  branches over the course of one year. They are proud to claim the title of "Pinakamasarap na Adobo in the Metro" courtesy of GMA network during a blind taste test. It's amazing to see how far they've come since opening their first branch back in November 2010. Filipinos adore adobo as a national dish. If you don't serve up quality, they're sure to shun your restaurant. Adobo Connection is definitely doing something right when it comes to the recipes they bring to the table. However, those are not trade secrets they can share. Instead, they seek to help fellow entrepreneurs by discussing how important it is to know where to open your business.

For example, they look at their past experiences with previous branches before new ones. "Adobo Connection has already proven that the concept works well in areas like business districts, major malls and near big colleges and universities," says Managing Director, Kellda Centeno. "Minimum space requirement is 80 square meters." It's important to know how much space you're going to need in order to perform adequate food preparation as well as seat all your customers. She adds, "On a side note, we have 51 stores open or under construction. Forty-one are open." Adobo Connection has been performing admirably in terms of growth and still hasn't stopped growing.

ADVERTISEMENT - CONTINUE READING BELOW
But what if you intend to have your business in a rented mall space? "Renting a space inside the mall comes with a bigger rental cost as compared to a non-mall location," warns Centeno. "Malls usually charge a percentage of sales rent aside from the common area maintenance and security charges. Malls also have limited operating hours as compared to non-mall locations.  However, most malls can assure you of good foot traffic and marketing support that can lead to higher sales than non-mall spaces.  Outside the mall, rent charges are usually less than malls making your profit margins higher, but foot traffic isn't always as high as mall locations.  Whether it is a mall or non-mall location, we evaluate the location based on factors like foot traffic, target market and the competitiveness of potential neighbors."   

As of now, Adobo Connection aims to expand its reach in the Philippines, using the same formula that's already given them success in their other branches. "In the Philippines, Adobo Connection is concentrating on expanding the brand within Metro Manila, Southern Tagalog and Central Luzon.  We are also targeting major cities like Cebu and Davao," says Centeno. "We are also testing the waters in Union City, California later this year."  Look out for a new Adobo Connection near you. Perhaps you might even follow in their footsteps soon with your own promising venture.

ADVERTISEMENT - CONTINUE READING BELOW
Are you interested in opening an Adobo Connection franchise? For more details, click here .