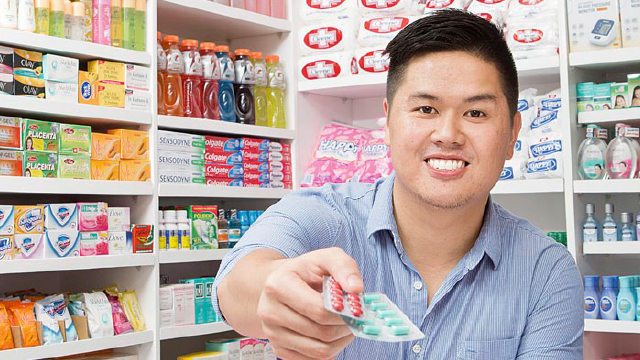 At only 33, John Paul "Jon" Bantigue has a lot on his plate. He owns seven outlets of The Generics Pharmacy (TGP) and manages 20 TGP stores for the family business Medica Industriya Inc. He also runs hair salon chain Azta Urban Salon and Japanese restaurant chain Hanako. 

Bantigue started out with just one TGP outlet, but decided to buy more when the first few branches became profitable. "The Generics Pharmacy was really a pioneer in that segment, and we were one of their early franchisees," he recalls.

On average, Bantigue recoups investment within eight months to two years, depending on the store location. 
ADVERTISEMENT - CONTINUE READING BELOW

Keeping up with the times
But much has changed since Bantigue started in 2008, when the generic medicine retail boom was still in its infancy. Now, there are 23 generic medicine retail franchises, with TGP having more than 1,800 branches. "There will be saturation one way or the other, and you really have to innovate in order to keep up with the competition," he says. 

Beyond keeping a watchful eye on the competition, investing in the right people and systems has allowed Bantigue to manage multiple businesses with ease. "You just can't do it alone—you have to have a management team under you, especially in the operations," he says. 

Reliable management information and reporting systems are crucial to shore up internal controls and guide decision-making. "How can you make important business decisions if your data is not complete, or not even organized?"

The right people and systems
Having the right people and systems, for instance, helps deter fraud, perhaps the leading problem for retail stores. Systems are needed since newer and smaller stores can have up to P400,000 worth of inventory, while bigger stores can have up to P1.3 million worth of inventory. 

For the coming year, Bantigue says that, instead of building new stores, he will focus on training staff. Although certain items sell themselves, like medicines and toiletries, proper product merchandising and excellent customer service still make for good business. "At the end of the day, it's really about our people and what they do inside the store," he says.
ADVERTISEMENT - CONTINUE READING BELOW
*****
Franchise package
Total investment: P600,000 to P800,000
Contract term: 3 years
Inclusions: Start-up and pre-opening assistance; site evaluation assistance; store design and construction assistance; operations manual; training; guidance and education on generic medicine; uniform; and advertising support. 
*****
This article was originally published in the April 2015 issue of Entrepreneur magazine. To subscribe, click here.  
Photo by Heidi Aquende