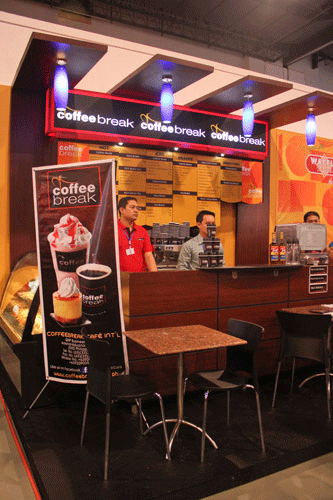 Franchising has undoubtedly been a popular and profitable way to make the shift from employee to entrepreneur. There are approximately 125,000 franchised outlets in the country as of May 2012. But what determines franchise success? The support of the franchisor is crucial to the success of a brand on top of good old-fashioned hardwork by the franchisee. Keeping communication lines open between the  franchisor and franchisee is also crucial. If you are thinking of getting a franchised business, be on the lookout for industry events where you can see and compare many brands all under one roof. One of the major industry events of the year is the Franchise Asia Philippines 2012 where we saw established and new franchise brands come into the market.
ADVERTISEMENT - CONTINUE READING BELOW
After success in Iloilo, Coffeebreak is now setting its sights on the Manila market and other nearby areas. The brand made its name by selling great coffee with pastries, pastas, sandwiches and pizzas at affordable prices.  The company is a member of the Specialty Coffee Association of America.
Are you interested in a Coffeebreak franchise? For more details, click here.
Photo by Majoy Siason
Check out other new brands:
Ultra Mega Wholesale & Retail Mart