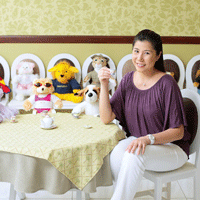 Belinda Dy and her seven-year-old daughter were on a vacation in the United States back in 2004, when they chanced upon a store that allowed customers to create their own stuffed toys.
The little girl, who became enamored with the plush teddy bears on sale and the very idea of creating her own toys, then wished that the very same store existed back home. Dy then realized that that simple wish could in fact become reality.
In addition, the idea of importing the business concept of Animaland Entertainment Inc., the company behind the "create your own stuffed toy" store she and her daughter visited, and tapping into the gift-giving culture and close family ties of Filipinos appealed to Dy.
She then started negotiations with the Las Vegas, Nevada-based company precisely for this purpose. After more than a year of rigorous negotiations and with an initial capital of P1 million, the Animaland brand was finally brought to the Philippines by Dy, who then became president and general manager of Animaland Stuffery Inc., the company granted the Philippine franchise to sell stuffed toys using the Animaland brand.
ADVERTISEMENT - CONTINUE READING BELOW
"My daughter was so thrilled when she knew Animaland would come to the Philippines, and so were her friends and classmates," says Dy, a Management Economics graduate of the Ateneo de
Manila University.
Dy says: "Animaland is a corporation whose board of directors are all equally passionate and excited about the concept of being able to spread love and joy through the stuffed animals lovingly created by each of their customers." Animaland Stuffery tested the Philippine market in 2005, with its first outlet at Makati at the Rockwell Powerplant Mall.
Since it was then nearing Christmas, that first outlet was a huge hit from the start, with people in search of Christmas gifts flocking to the store. Animaland Stuffery now has branches all over the metro. It has also ventured into franchising with franchised outlets at Parkmall and the Ayala Center, both in Cebu City.
Animaland Stuffery has also successfully brought the brand overseas, under a special arrangement with the U.S. company, operating two sites overseas and opening a third very soon. "Animaland Saudi Arabia was established in 2007, followed by Animaland Bahrain in 2008," discloses the
entrepreneur who also took up Fashion Design and French History at Parsons School of Design in Paris, France. "Soon, we'll also open one in Singapore."
ADVERTISEMENT - CONTINUE READING BELOW
All of Animaland products are available either in carts or typical inline stores. In-line stores refer to fully enclosed stores that are permanently installed within a shopping mall. Aside from the cuddly stuffed toys, among Animaland's head-turners are animal skins, wishing stars, birth certificates, animal outfits and exclusive condo boxes.
The condo box, explains Dy, is a carrying case for his or her newly created stuffed animal. Customers may also buy furniture for their "baby", including beds, sofas and couches, cradles and swings. Accessories, like ribbons, underwear, shoes, socks, and even a voice recordable chip, are also available. As to how the business is currently faring, Dy says: "It continues to warm the hearts of many, while we (owners) enjoy a booming business after more than three years of operations."
Interested in opening an Animaland Stuffery shop? For more details, click here.