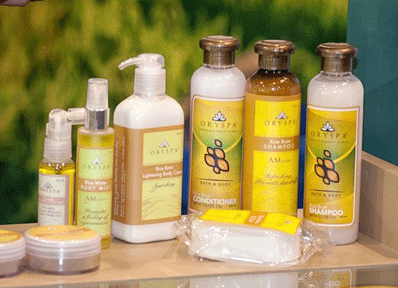 The Philippines is among the world leaders in creating franchise concepts.  Here we take a closer look at the Oryspa franchise model which takes a typical business concept and gives it their own spin.
Oryspa: Unlocking the benefits of rice bran
Its name sounds like any other day spa out there, but Oryspa doesn't offer massages or treatments. Instead, the business based in Calamba, Laguna supplies spas with the massage oils, balms, and other supplies they need to treat weary and aching bodies, and makes them with an underrated ingredient: rice bran.
ADVERTISEMENT - CONTINUE READING BELOW
Rice bran is a byproduct of the rice milling process (which converts or "polishes" brown rice into white rice) and, according to scientific studies, contains over 100 known vitamins, minerals, and antioxidants. The high levels of oleic acid in rice bran also help it to be absorbed better by the skin—making it an ideal ingredient for massage oils and an organic alternative to the synthetic oils used by most spas and massage centers. Sherill Quintana, her husband Edwin, and business partner Dorothy Jay Ann Ramos—all natives of Calamba, in the heart of Laguna's vast rice farmlands— knew about rice bran's benefits because their company Kutitap Aromatherapy Crafts made and supplied spa essentials for various international clients.
"We've been an SME (small and medium enterprise) manufacturer since year 2000 and a supplier to exporters and institutions," says Sherill, Oryspa's CEO. Kutitap, however, faced a crisis when their clients shifted their sourcing to other countries. She answers these questions about the franchise:
ADVERTISEMENT - CONTINUE READING BELOW
1. What makes your company a model of franchising success?
"We've been doing mall retail for eight years before we went into franchising. However, realizing that duplicating success is an entirely different business, we sought expert help in our franchising system. The Oryspa franchise is about a homegrown brand that is backed up by 11 years of research, training, and well-learned experiences. We try ideas, new products, and selling techniques first in company-owned outlets before we implement them with franchised outlets."
2. What is a model franchisee to you? What qualities should a good franchisee have?
"An Oryspa franchisee should be an advocate of natural products and has that desire to uplift the Philippine economy by patronizing homegrown products. One prerequisite is that he or she tried Oryspa products and loved them. " To ensure the duplication of business success, the franchisee should be teachable in terms of operational guidelines, but has a keen sense of his or her local market. A hands-on franchisee is  ideal. Having business experience is a plus.
ADVERTISEMENT - CONTINUE READING BELOW