With its store design and uniforms harking to major league baseball, you'd think that Taters Snack League is an American food franchise. That's because founder Annie Tanchanco positioned the brand that way when she started it back in 1994.

Initially selling snacks such as popcorn, peanuts, and French fries, Taters eventually expanded its offerings to include hotdogs, burgers, and healthier fare such as tofu chips and tuna mushroom sandwiches.

Ready for global foray

But more than the concept, Tanchanco wanted to make sure the brand had what it took to go global. In fact, this was what pushed Tanchanco to take part in the Philippine Quality Challenge, a national award program under the Department of Trade and Industry aimed at honing the competitiveness of homegrown small to medium enterprises in terms of management, customer and operations focus, and business results.

Taters snagged the award in September, with scores that put it at par with global food players. "I've always had a vision of taking Taters globally, and I think having that award is really going to equip us to handle a lot of the opportunities abroad," says Tanchanco, who's looking to grow the brand not just in the Philippines, but also overseas. So far, Taters has 23 outlets nationwide.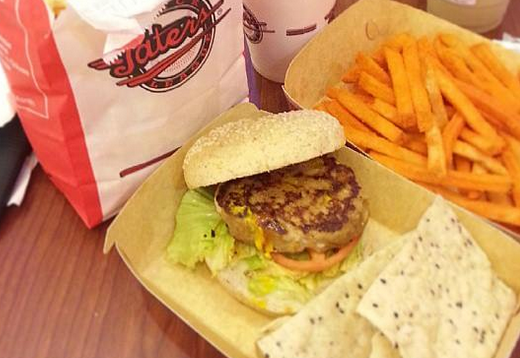 On its toes

Tanchanco, though, is being selective in choosing franchisees, having had her fair share of bad experiences with former franchisees. Now, she wants partners with 'the heart for the brand' and won't compromise on quality. "Finding a partner is like finding a husband. It is very difficult to see if you're compatible, but, once you find the right formula, then the growth is definitely going to happen."

In the next five years, Tanchanco is also looking to grow Chimara, the neo-vegan café concept currently managed by her son Brian, also Taters marketing head.

And while other homegrown franchisors may dread the coming ASEAN economic integration, Tanchanco welcomes it. "The competition will keep us on our toes."





ADVERTISEMENT - CONTINUE READING BELOW
Photos from Taters' Facebook page

-------------------------------
Taters Enterprises Inc.
tatersgroup.com
(02) 798-5000 to 02
TEI Center, 3536 Hilario St., Palanan, Makati City 1200
tei@tatersgroup.com
-------------------------------
This article was originally published in the December 2014/January 2015 issue of Entrepreneur magazine. Subscribe to the print or digital version here.