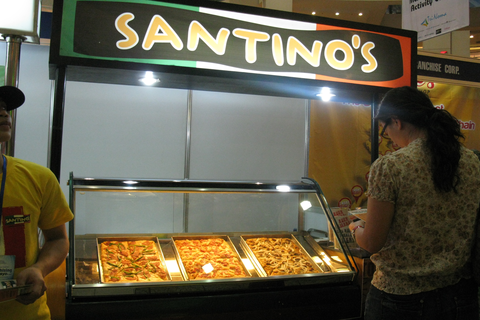 <>Are you among those who are trying to find ways to start a business with a reasonable capital requirement and little management experience? If you don't have a business plan yet but want to jumpstart your entrepreneurial journey, you should consider food cart franchising.
With so many food cart franchise options available, however, it can be quite a challenge to choose the best and most suitable one for you.  One you should take a close look at is the Santino's Supreme Slice Pizza cart concept, which has become very popular and has been growing very rapidly since its launch in December 2012.
Santino's Supreme Slice Pizza carts cater to consumers living a fast-paced lifestyle, who find their selves needing to eat their snacks or meals in a grab-and-go fashion.  These include professionals, students, commuters, and others who want their food fast, healthy, delicious, and affordable.  Santino's Supreme Slice Pizza serves these consumers' pizza cravings by offering them a variety of all-supreme pizza slices that are made from only the best-quality ingredients, served fresh almost instantly at a very affordable price of just P28.
Santino's Supreme Slice Pizza carts are an ideal option for busy and high-traffic locations such as malls, transport terminals, markets, pedestrian junctions, schools, and the like, where superb-tasting, no-wait pizza will best be appreciated by consumers.
Pizza Pedrico's Food Corp
While the Santino's Supreme Slice brand was launched only in 2012, it is backed by almost two decades of experience and success in the fresh-frozen pizza segment as it comes from Pizza Pedrico's Food Corp. (PPFC), the same company that owns and manages Jimini Whole Pizza and
Pizza Pedrico's
, both long-standing winners in the pizza business.  Jimini Whole Pizza is the pioneer fresh-frozen pizza in the Philippines that was established in 1996, and is widely-distributed in supermarket chains and served in Jimini Whole Pizza kiosks today.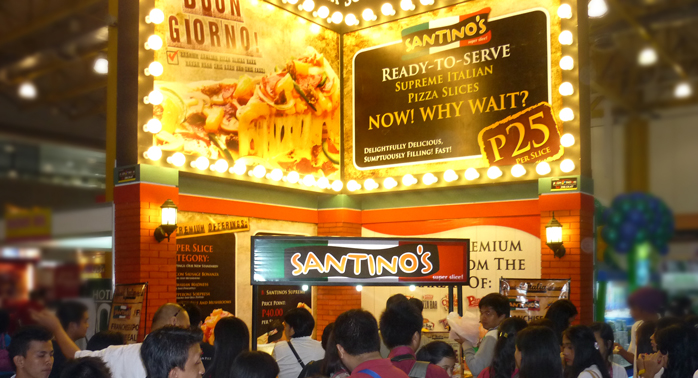 Pizza Pedrico's has been delighting Pinoys with their Pizza Paboritos in a four-pizza-in-a-box concept since 2004, now served in over 100 pizza carts and 800 counter-top serving stations all over the country.  As a Santino's Supreme Slice franchisee, you are sure to benefit from PPFC's expertise in pizza-making and franchising, which has consistently been recognized and awarded in the Entrepreneur Philippines' Franchise Awards since 2010.  It was recently inducted into the Franchise Hall of Fame of Entrepreneur Philippines magazine.

Formidable expertise
How can PPFC's many years of expertise in this field benefit you as a franchisee?  For one, you will be ensured of product quality, freshness, and consistency as all Santino's Supreme Slice products come from the company's Bureau of Food and Drugs (BFAD)-certified commissaries.  Santino's Supreme Slice Pizza store operations and processes have also been streamlined so that each store is very simple to operate, ideal even for entrepreneurs with little actual business experience.  Products are delivered to each store fully-assembled for easy baking, requiring very minimal on-site preparation.  Inventory control and sales and profitability monitoring is made easy by the company's simplified pricing, selling, and sales recording system.  
Ready to foray into the lucrative pizza stand franchising business?  Check out the online directory listing of Santino's Supreme Slice Pizza and see for yourself why you should sign up to take advantage of this newest food cart phenomenon. Follow this link.

ADVERTISEMENT - CONTINUE READING BELOW