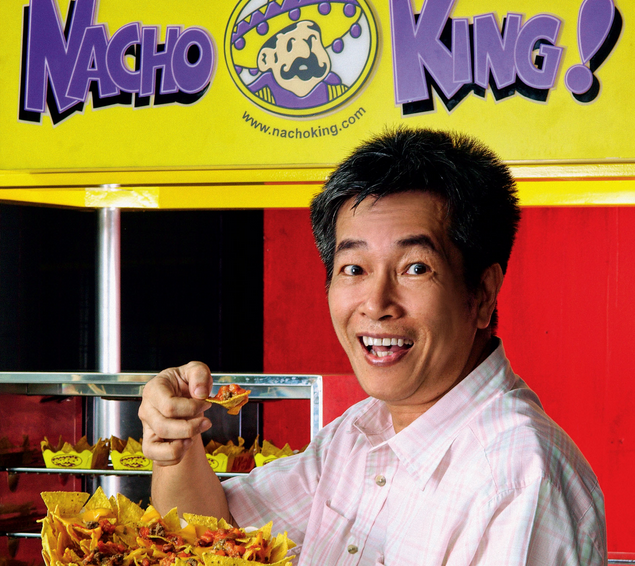 The 1990s was the time when the Philippines got hit by the great Mexican craze. Out of the blue, anything Mexican became "in"—from telenovelas and Latino and Latina singers to food spiced with jalapeño peppers. Indeed, this fascination with things Mexican was what inspired entrepreneurs Teddy Manotoc and Michael Singh to put up Nacho King.

Manotoc and Singh, who had both studied abroad and had both seen the market potential of Mexican food, put up less than P50,000 in startup capital and opened their first Nacho King cart at SM North EDSA in Quezon City in 1994. They initially targeted moviegoers looking for a convenient, easy-to-eat snack.

Nacho King immediately became so popular for its authentic Mexican-style nachos, tacos, and salsa that the company started franchising the business a year later. Nachos are tortilla chips topped with melted cheese and other savory toppings such as hot peppers or refried beans; tacos are fried tortilla folded or rolled and stuffed with a mixture of seasoned meat, cheese, and lettuce; and salsa is a spicy sauce of tomatoes, onions, and hot peppers.

By 2004, there were as many as 150 Nacho King carts all over the country. They came in several variants: mall-operated stalls, small-kiosk types, even bicycle-mounted stores.

By early 2000, the company pursued an even more aggressive expansion program, putting up separate stand-alone restaurants called Tortilla Fusion at Greenbelt 1 in Makati City and at Robinsons Galleria in Quezon City.
ADVERTISEMENT - CONTINUE READING BELOW
Serious challenges
But a series of adverse developments stalled Nacho King's expansion. First was the continuing increase in mall rentals; it hit the company so hard because mall-operated franchises formed the bulk of the company's outlets at the time. Second was the fading away of the Mexican craze, bringing consumer interest in Mexican foods down with it. As Arcadio Santos, general manager of Nacho King, points out, "Mexican food isn't really that ingrained in the Filipino palate unlike Italian food, which is very popular."

This waning interest in Mexican food, coupled with the hard times, made a lot of people switch to cheaper and more familiar food. As a result, many of the Nacho King franchises closed down. "The rent kept on getting higher and the point was reached where only the mall owners were making money," Santos recalls.

When Santos took over management of Nacho King in 2007, in fact, fewer than 10 Nacho King outlets were still operating and all of the Tortilla Fusion stand-alone restaurants were gone.

To revive the brand, Santos changed the company's marketing strategy. He began to directly supply nachos to food outlets like Jollibee and SM movie houses. Afterwards, he came up with a "minicart" Nacho King franchise, which was essentially a store package that offered only the bare essentials to sell nachos. This package, which eliminated the franchise fee and charges only modest royalty and supply payments, initially cost only P22,000 (now P50,000) compared to the P100,000 franchise for the standard mall-type cart. It targets students, overseas Filipino workers, and first-time businessmen who want to put up a business.
ADVERTISEMENT - CONTINUE READING BELOW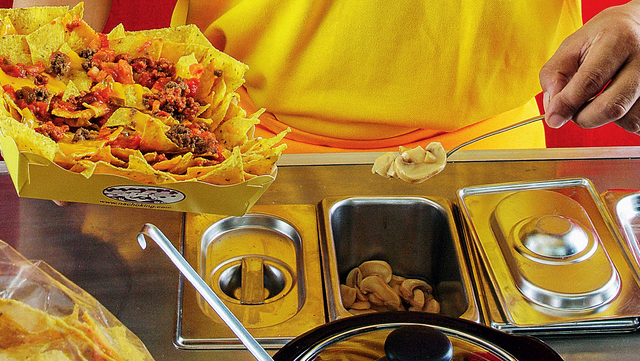 Modified franchise strategy 
After introducing this new franchise package in 2009, Nacho King was able to grow the number of its outlets from less than 10 to 15. Santos says the minicart franchise is proving to be attractive to startup entrepreneurs because of the uncertain economic conditions. He explains: "If you look at other franchises, their franchise fee is around P100,000. If you lose that amount, that would really hurt your pocket. This wouldn't be the case when you had shelled out a much smaller amount."

Even if Nacho King offers a lower-priced franchise, however, Santos clarifies that this does not mean that it welcomes practically anyone who wants to take out a franchise. "If we accepted everyone, we could easily expand to more than a hundred outlets, but we want to screen every applicant carefully," he says.

Santos says that as Nacho King rebuilds its franchise, the company is taking extreme care to maintain the brand's image. It gives particular emphasis to the fact that Nacho King products are all-natural and made with quality ingredients and that they don't use extenders. "All our nachos are made from real corn, not just flour, and that's what gives them their unique taste," he says.

Today, Nacho King offers three franchise types: the counter-top package costs about P50,000; the flexi package can be availed at about P107,000; while the standard/kiosk package costs about P407,000. All options take a three-year contract term, renewable for another 3-year term upon approval by the management. Investment can be recovered in as short as four months to about a year from startup.  
ADVERTISEMENT - CONTINUE READING BELOW