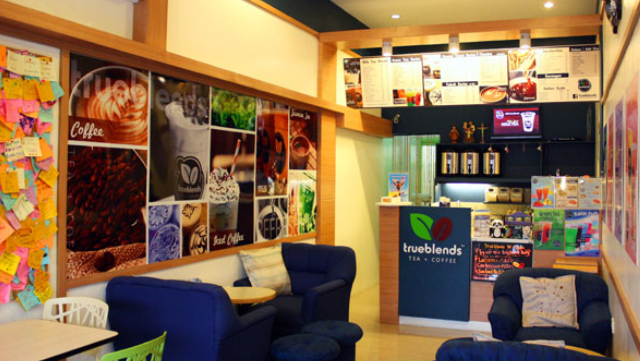 As a pre-med student but a few years ago, Joyce Co-Yu would turn to coffee for a jolt of energy to tide her through long study hours. She would go to several coffee shops and try out various concoctions but would always end up with her favorite mocha frappe. 

Joyce had no plans of opening her own coffee shop, but she started thinking about it after attending an expo, where she chanced upon a supplier of coffee products similar in quality to the popular brand she loved.

After three years of looking for a good location, Joyce saw an opportunity in 2009 to open her coffee shop, which she called True Brew, at the Ateneo de Manila High School in Quezon City. 
ADVERTISEMENT - CONTINUE READING BELOW

Brewing new products
A year after opening shop, Joyce experienced a difficult pregnancy and asked her brother Jeff Co, recently returned from China, to help out. He suggested selling flavored milk tea in addition to the coffee products they already sold. 
"When I was in China, I tried the different drinks and wanted to have them back here. So, when I was attending the shop, I thought, why not make milk tea? No one [else] offered it then," recalls Jeff.

Joyce notes that they are milk tea veterans in the country, as the drink would not be widely accepted locally until 2011. 

Jeff, who's in charge of R&D, often asks the help of the Ateneans in developing their products. "Before actually adding milk tea to the menu, we had the students try it and tell us if it was good enough to sell."

Aside from the milk tea blends, green tea, and Yakult series, they came out with a "cheese cloud series" with ten base flavors, which drastically increased their sales. 


ADVERTISEMENT - CONTINUE READING BELOW
At your service
Eventually, the siblings realized that they needed to expand outside the school, as Christmas and summer vacations would come around and their staff was left with no work. They then branched out to a food court at a call center in Taguig City. 

"With the good feedback for our milk tea drinks and coffee varieties, we got inquiries regarding franchising," says Joyce.

Given the trademark requirements, they changed the name True Brew to True Blends and launched their franchising business at the Manila Foods and Beverages Expo (MAFBEX) in 2011. 

To date, True Blends has seven franchise outlets in Baguio, Dagupan, Las Piñas, Parañaque, Makati, and two in Pasig. In addition, there are five company-owned outlets, two in Ateneo and the rest in popular malls and call centers in Eastwood, Quezon City and Taguig City.

As the business grows, True Blends intends to provide more distinct and creative selections in its menu with the help of dedicated baristas. 
ADVERTISEMENT - CONTINUE READING BELOW
*****
Photos from True Blends' Website and FB account