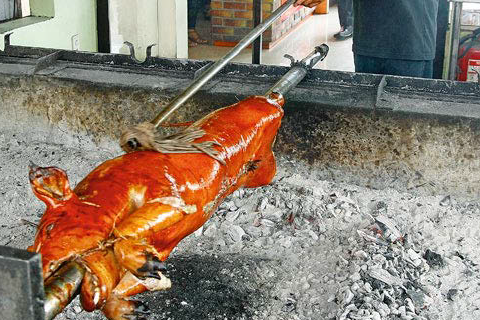 Jose Mari Medina has always loved lechon. And during the six years he was living in the United States, he craved it, but couldn't find any. When he returned to the Philippines, he found himself sampling and comparing all the lechon he could get his hands on. His conclusion: "Lechon from native pigs are still more delicious."

So when he started Lechon City in December 2012, the restaurant not only served all things lechon, but it also upped the ante by using only organic native pigs. Commonly known as baboy ramo, these pigs are usually black or brown in color, as opposed to the pale, pinkish species.

Medina built a farm in Tanauan, Batangas to ensure that his restaurants have a steady supply of organic pigs. The pigs are fed thrice a day with fruits and vegetables, such as watermelons, eggplants, tomatoes, and cabbages, among others. Instead of cement flooring, the pigs lie on a bed of rice hulls "to bring them back to their natural habitat." "Our hogs are happy and healthy," which makes for good lechon, says Medina.

They also don't spend much for medicine and other injectables for the pigs. Native pigs are at home in our type of environment, so they rarely get sick," he adds.

Lechon City started franchising in October 2013, barely a year after opening. "We made sure that we [had] our own farm and commissary before going into franchising," Medina notes.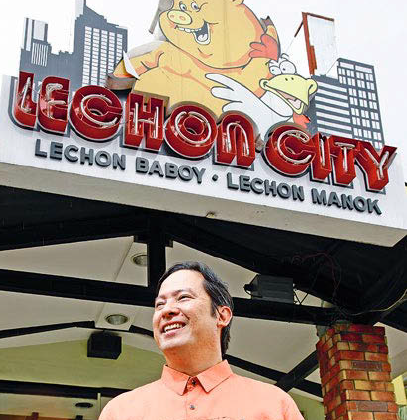 As part of its marketing strategy, Lechon City even makes a show of roasting the pigs: At every restaurant, a display window is set up where the roasting is done, allowing diners and even passersby to watch.

The staff starts preparing and roasting the pigs at 3 a.m., says Ivy Obrino, operations manager. They even hired a lechonero from Cebu to make sure the product is good.

While Lechon City gets a lot of orders on a daily basis, it also caters to hotels, country clubs, and events. "Since we have our own farm, we can keep the prices low," notes Medina: The small lechon, which can feed 22 to 25, costs P5,800, while the mega lechon, which can feed more than 80, costs P9,800.

Lechon City has one franchised and three company-owned outlets. It's eyeing 20 franchisees by the end of the year. "We are targeting Metro Manila and nearby provinces only since we don't have the capacity to go nationwide yet," notes Medina, but that might change in the next three years.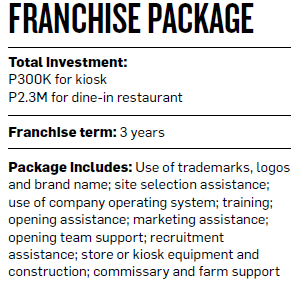 "It's not only the restaurant. We also need to partner with local farmers and have a commissary near the branches. We can teach them how to take care of the native pigs and then we'll buy the pigs from them. That way, we'd also be helping the locals."

Photos: Jun Pinzon

ADVERTISEMENT - CONTINUE READING BELOW
This article was originally published in the May 2014 issue of Entrepreneur magazine. Subscribe to the print or digital version here.