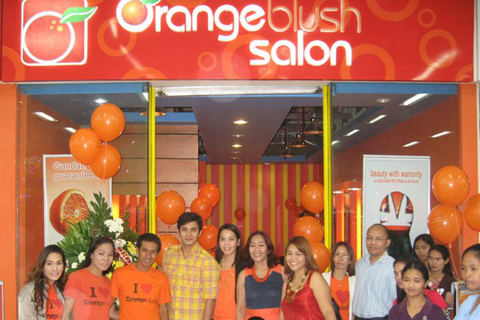 <>
The beauty industry is booming here in the Philippines. Filipinos want to look good. Ride this new wave to success by starting your own salon business. Joby Linsangan Moreno of Orange Blush Salon has advice to share for those looking to start their journey in the business of beauty. 
"It's all about having a good foundation," Moreno says. He notes that a basic knowledge on operations is  a given but there must also be an interest in beauty and salon services. "They must have a strong sense of leadership to operate a service-oriented endeavour since the success of operations shall depend on the salon team."
When it comes to location, Moreno advises to consider  the market that the salon targets to serve. Within communities or inside malls with high foot traffic are often accessible and visible locations. It's all about being seen and being easy to come back to. As for space, Moreno recommends an area with a minimum of 15 to 20 square meters  and a maximum of 50 square meters. There needs to be enough space for customers and employees to be comfortable but not too much that you strain your budget and end up with excessive space that isn't adequately put to use. Don't forget to consider your rent, as premium locations most often dictate how much a space will cost.
ADVERTISEMENT - CONTINUE READING BELOW
Of course, a good salon space is nothing without the people running it. The staff at Orange Blush Salons are some of the best, thanks to the strict requirements they must follow before going on the job.  All of Orange Blush Salon's staff attend salon-related activities and programs such as monthly trainings on new products and services as well as a monthly evaluation and practical examinations. This ensures that the business's high standards are being met.
And how do they deal with the math to net profit when it's time to charge customers? Pricing is all about knowing how much you need to sustain your salon while adding just enough to profit without burdening the customer's pockets too much. "By computing overhead expenses, advertising, operating costs, and miscellaneous expenses, we come up with the proper pricing," explains Moreno. Customers want to get a good deal but you have to make sure you're also making enough to keep up high quality in your establishment. As a general rule, Moreno advises start-up entrepreneurs to have enough capital to be able to put up the salon and cover the first year of operations.
ADVERTISEMENT - CONTINUE READING BELOW
Orange Blush Salons branches in Nueva Ecija, Pangasinan, Tarlac, Cabanatuan, Bulacan, Pampanga, Batangas, Quezon City, Mandaluyong, Pasig, and Makati. Orange Blush has plans for further expansion and is open for franchising. View their listing to see how you can get started in the salon business.