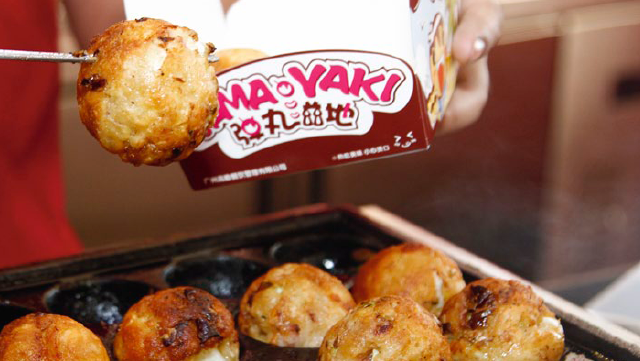 Here's a business opportunity with balls—literally.
Consider Filipinos' natural love for street-style food and fascination with all things Japanese, and it's easy to see why Tamayaki, a takoyaki (octopus ball) franchise from China, stands out in a sea of specialty food establishments.
The Philippines got its first taste of Tamayaki's offerings in 2013, when the Uy sisters—Justine, Jamie, Julanne, and Jorina—opened a branch in San Juan. Jorina discovered the brand when she visited China in 2010. "It became her favorite, which is why she really wanted to bring the brand to the Philippines," says Justine.
ADVERTISEMENT - CONTINUE READING BELOW
Today, Tamayaki has more than 200 branches worldwide. The Uy sisters have opened four outlets in the country so far. "We're positioning it as a premium brand of takoyaki, with bigger servings and more unique fillings beyond the usual octopus and vegetables," adds Justine.
New flavors to enjoy
Realizing that there's only so many times the average customer would want to go back for the octopus balls, Tamayaki puts a unique spin on the Japanese street favorite by offering up a dozen variants, like Asian chicken teriyaki, Korean BBQ, grilled steak, and ham and mozzarella, just to name a few.
The Uy sisters also decided to offer flavors with a Filipino twist, like mussels and cheese, adobo, and smoked mackerel. The brand also offers milk tea in 34 different flavors, along with ramen and Japanese rice meals. "Filipinos are always looking for rice meals," Justine points out.
Tamayaki's store design and ambiance is hip and trendy. With its lively and eye-catching color scheme and anime-inspired mascot and decorations, Tamayaki has a look and feel that appeals to young food enthusiasts always looking for the latest gastronomic trends in the metro.
ADVERTISEMENT - CONTINUE READING BELOW
Franchising opportunity
Tamayaki Philippines offers franchising packages to entrepreneurs who are interested in taking the Filipino concept of "food tripping" to the next level. "Total investment will be approximately P800,000 to P1 million, depending on the size and location of the outlet, and the franchise fee is already included," says Justine.
The contract is good for five years. And with a minimum space requirement of six square meters for a kiosk, Tamayaki Philippines feels it would be easy to set up near schools, mall food courts, and in areas where young people hang out.
***** 
Franchise package
Franchise fee: P300K
Total investment: P800K to P1M
Contract term: 5 years
Inclusions: License to use trademark, name, and logo; training; opening support; advertising and marketing support; recruitment and site selection assistance; two weeks inventory; leasehold improvements; signages; and kiosk, among others.
This article was originally published in the March 2015 issue of Entrepreneur magazine. To subscribe, click here. 
ADVERTISEMENT - CONTINUE READING BELOW
Photo by Vincent Coscolluela