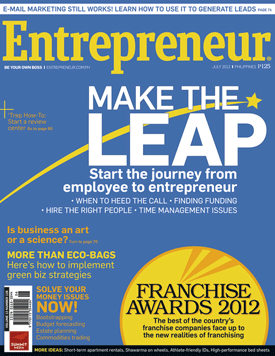 The month of July means half the year is already over. Have you achieved all the things you set out to do for 2012? Its never too late to change. Check out our July issue on how to make the leap from employee to entrepreneur. When should you heed the call? Where do you find funding and how do you hire the right people? Read the answers to that and more.
ADVERTISEMENT - CONTINUE READING BELOW
July is also our franchise issue when we name the best brands in the industry and how they rise up to the new realities of franchising. This year our Hall of Fame awardee is education company, Kumon Philippines. Why consider a franchise? According to the Philippine Franchise Association franchised businesses have a 90 percent success rate compared to just 25 percent for startups.
In our \\\'Trep How-To section find out how to manage a review center. This type of business addresses a real need so it can be lucrative for those who can master the trade. We also included a checklist that includes all the essential facilities and equipment for your center.
The popularity of using social media for your business has not made e-mail marketing obsolete. It is still an effective way to get your message across. Read our Tech article on how to build your list, and avoid being marked as spam.
ADVERTISEMENT - CONTINUE READING BELOW
Don\\\'t forget to grab a copy of our July issue out in bookstores and newsstands this week.