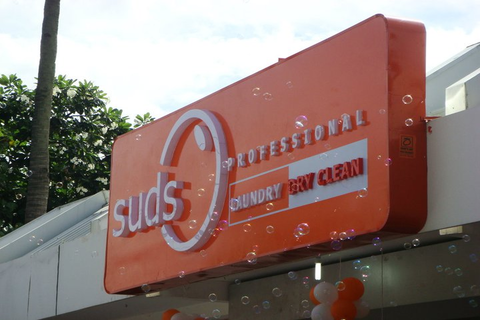 <>Suds Laundry is one of the most trusted and most popular brands for laundry services. When its owner and franchisor Caloy Ang started the business in 2003, he didn't expect it to get this big. Moreover, he revealed that it was never part of his original business plan to offer it up for franchising.
"That time, the leading laundry service franchises were folding up one by one," he said. When he did a thorough analysis of the market, he discovered that the industry's problem emanated from the impractical franchise structure. Thus, when he decided to open Suds Laundry for franchising, he significantly lowered the required royalty fee from franchisees.
The business requires no royalty fee from franchisees who post a monthly income of less than P100,000. Those who generate monthly revenue of P100,000 and above may pay royalty fees ranging from 3% to 5% of income, still much lower compared to the industry average of 6%.
The combined management expertise and attractiveness of Suds Laundry franchise can be cited for its success. The business now has 23 locations, all franchised stores except for two, which Ang's family owns. Franchisees are given 6-year franchise contracts (renewable) and continuous support (advisory, marketing, and management).  
Ang offers to take care of his franchisees' business risks, which usually stem from lack of business management exposure. He trains each franchisee well before letting them manage their businesses on their own. His assistance doesn't end there as he has a system for constantly monitoring performance of every franchised store.
Threats
He asserts that a laundry business is always reliable, especially when managed effectively. But he clarified that laundry businesses are not spared from possible risks and threats to the industry.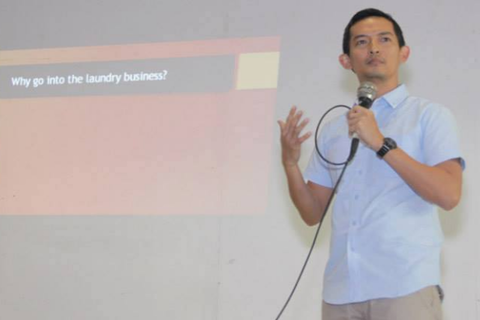 First on the list of threats in this industry is the volatility in prices of liquefied petroleum gas (LPG), which runs the dryers. According to Ang, laundry businesses use a lot of LPG. Unfortunately, just like everyone else, they can't control the energy price. To date, there is no logical alternative yet to LPG as using electricity to dry clothes would be thrice costlier.
The rising popularity of do-it-yourself laundry shops is another threat to the industry. Currently, there are just a few of those types of laundry businesses within the metro. The concept of doing one's laundry is instantly attractive. But not many entrepreneurs are expected to venture into this because it requires much higher capital investment as the machines to be used are expensive and many customers still prefer a full-service laundry.
Lastly, Ang thinks that the growing sentiment about environmental protection could be a threat. Some environmentalist groups criticize the use of detergents with non-biodegradable and harsh chemicals that may contribute to the worsening water, air, and soil pollution. But he is not totally worried about this because Suds Laundry has suppliers that produce detergents with organic ingredients and less harmful compounds.
Opportunities
Ang couldn't help but remain optimistic about the prospects in the industry. He asserts, "There are more opportunities than threats for laundry businesses."
First, the modern urban lifestyle calls for the proliferation of more laundry shops. Many individuals and families now reside in condominiums, which don't provide ample space for doing laundry. "More people are now more accustomed to paying for laundry services," he said.
The continuously rising tourism industry poses opportunities as well. As more hotel rooms get occupied, the demand for laundry services increases. The domino effect of a more active tourism sector extends to industrial and commercial establishments, which are also requiring laundry services.
Of course, the drastic changes in our weather pattern can be a positive factor for the laundry industry. Because of the unpredictability of weather, many households prefer not to do their laundry especially on cloudy and rainy days, when the sun is not out for hang drying.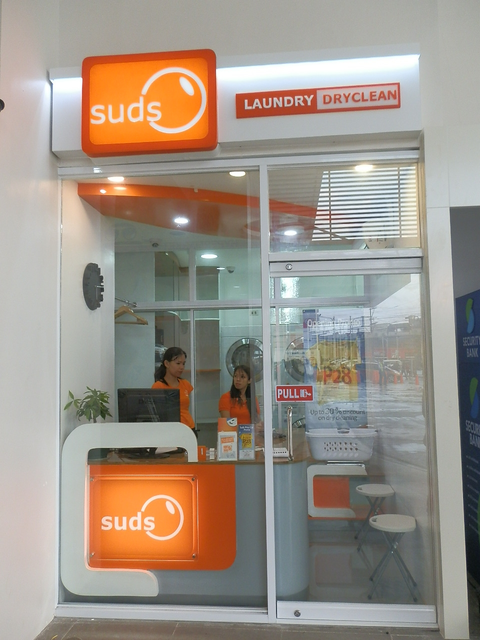 Ang sees the upcoming economic integration of the Association of Southeast Asian Nations (ASEAN) as an exciting and promising opportunity. The implementation of an ASEAN Economic Community in 2015 will lower tariffs and entice greater competition among businesses not just in the country but in the entire Southeast Asia region. With this, Ang declared his future goal: "We want to bring Suds Laundry abroad, possibly in Singapore and other countries in the region." This clearly indicates his confidence in the industry and in his business.
Advice to other entrepreneurs
Are you considering investing into the laundry industry? Ang shared this advice: "Compare the systems. Don't just look at the price. Consider the training scheme, software and management system, and knowledge used. Choose the business with the best value."
He asserted that Suds Laundry is an ideal business opportunity for entrepreneurs who prefer to launch a laundry venture. He emphasized that his company is really moving forward and is thinking of the future, not just of itself but also of all its franchisees.
Are you considering getting a lucrative Suds Laundry franchise? Find additional information and do an inquiry through its online directory listing. Follow this link.
ADVERTISEMENT - CONTINUE READING BELOW