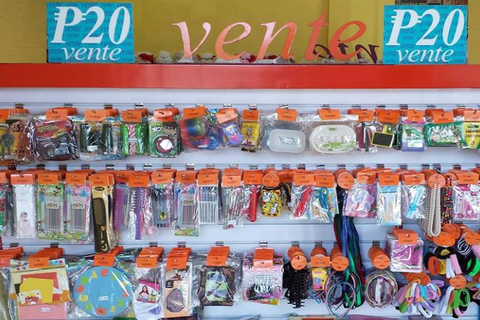 Franchising is not just all about food, salon, and drug stores. Surely, most franchising opportunities involve those three products and services. But along the way, a few businesses strive to make a difference.

That is what makes Vente a unique concept. To begin with, it is into retail, an industry that most franchisors would not dare to get into. It is one of the factors that make owner Prof. George 'GQ' Quitoriano very proud about his business.

Aside from that, Vente is selling items that are not usually found in other retailers. Surprisingly, each store sells goods that are not just cheap; the items are amazingly of good quality. As the brand name suggests, the retail chain intends to sell merchandise at P20.

But these days, Quitoriano admits that it is difficult, if not impossible, to keep all items at that price. "If we exert force to sell everything at P20, we'd lose at good products." Most of the goods in every store are imported, usually from China, Thailand, and South Korea.

Interestingly, aside from being a unique concept, Vente even makes it a point to introduce new merchandise every week. To this, Quitoriano admitted, "It's hard to find new items, but that's the skill of my wife. She's been in retail for more than 20 years."
ADVERTISEMENT - CONTINUE READING BELOW
Attractive factors
Aside from its concept, Vente is different in many other ways. First, the business can customize inventory or product lineup for stores depending on market demand. Quitoriano disclosed that they deliver goods according to the order of each store. For instance, several Vente stores may sell shades, while other shops may opt not to order such items because of lack of demand in the local market.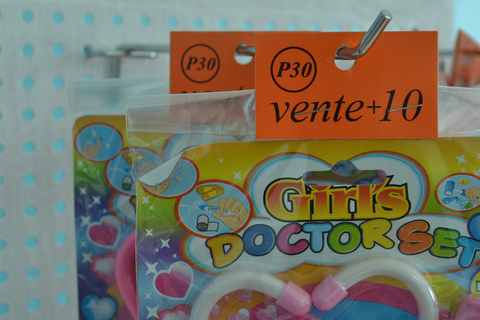 Second, Vente assures of high profitability, which is what all franchisees would surely rave about. In fact, he revealed that in many of the items sold in stores, the average mark up on price tags is about 40% to 50%, already reflected in the suggested retail price (SRP) that Vente puts in the price tags. Thus, store operators/franchisees don't have to modify prices anymore for greater profits. This system also facilitates easier accounting.

Third, Vente has a unique return policy for franchisees, who are allowed to return or exchange unsold goods within three months after delivery of the merchandise. This means that every centavo of the capital will surely return a profit. And because of the material composition of the items, possible damage is kept minimal and any form of spoilage of goods is avoided.

Quitoriano revealed that Vente has learned to keep unpopular items, deliver those to other markets, or recycle those based on seasonality. For example, Christmas decors would logically not be sold after Christmas. At this point, franchisees could opt to exchange those unsold products for other goods. Vente, in turn, would keep the items and release those again on the next Christmas holiday shopping season.


ADVERTISEMENT - CONTINUE READING BELOW
More advantages
What other factors make Vente an ideal franchising opportunity for the most discerning entrepreneurs? "Other than products, we offer wonderful customer experience. That's why we're not afraid of other retailers," Quitoriano declared. Price tags are comparable---and most of the time even cheaper---to prices of goods sold at a tiangge. But of course, Vente stores are more comfortable, spacious, organized, and mostly air-conditioned. "At the end of the day, what is best for the consumers matters," he added.

Vente takes care of most of the requirements, from packaging of goods to delivery of merchandise. There is even a team that evaluates franchising applications especially because there is a need to make sure that each store is in a strategic location. Most of its stores are in malls, but there are instances when the company approves franchised stores outside a mall, like one of its stores in Dumaguete (actually its first store outside a mall).

The franchised business also does not require additional capital after payment of the franchised fee. That is because the package includes initial supplies for inventory. But of course, a franchisee could opt to buy additional merchandise to offer more goods to customers.

Aside from the enthusiastic support of the business to startup entrepreneurs, it also facilitates training of each store's personnel. But this is kept minimal because it is logically easy to run a Vente store. "The tough part is sourcing of products, which is what we do," says Quitoriano. Aside from the delivery of goods, all materials and tools that stores would need are provided to them.

Lastly, although Vente keeps its brand identity intact, it gives its franchisees the freedom to improve their franchised stores. They can decide whether to use carts during peak retail season or to put up baggage counters for added security and convenience.
ADVERTISEMENT - CONTINUE READING BELOW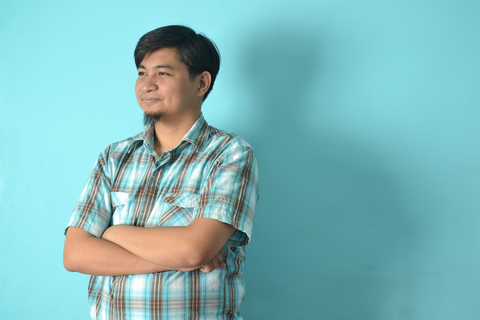 Rosy outlook
The future looks more interesting for Vente, its franchisees, and would-be franchisees. In the coming months, it would announce partnerships with other specialty retailers to further improve customer experience in every store. But don't expect the brand to go online as it won't go into that direction.

As a parting shot, Quitoriano shared an insight. "If you're an entrepreneur and you want to be different, here at Vente, we offer an opportunity that is different. After all, entrepreneurship is all about providing something different."
ADVERTISEMENT - CONTINUE READING BELOW

Be part of the growing network of Vente stores. Find out how to become a franchisee through following this link .