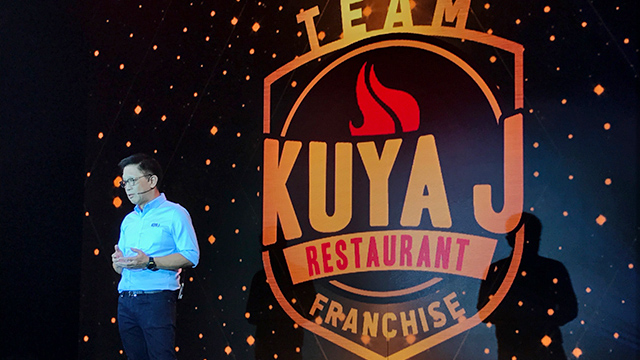 iKitchen Inc. President Winglip Chang speaks during the franchise launch event of Kuya J
After a massive two-year expansion, iKitchen Inc., the firm operating the Filipino dining brand Kuya J Restaurant, is opening its business for franchising to accelerate growth.
In a launch event on September 13, Kuya J unveiled its "innovative" franchising program that will allow partners to own a full-scale restaurant for as low as Php5 million of their own money.
ADVERTISEMENT - CONTINUE READING BELOW
Through in-house financing, franchisees may avail of a long-term loan from the company to open a Kuya J restaurant of their own. iKitchen Inc. Chief Finance Officer Francis Reyes said franchisees may avail of a loan amounting to as much as 70 percent of the required start-up capital to operate their own restaurant.
"For example, you have a location of 190 square meters inside the mall, of the most likely investment of up to Php14 million, Kuya J will be able to support up to 70 percent of that amount," he said. "[That means] the only portion of that will be required [from you] will be around Php4.2 million."
The loan is payable for five years with an interest rate of eight percent per annum. That is in line with what leading commercial banks offer in their small business loans. According to price comparison site MoneyMax.ph, annual interest rates offered by leading commercial banks for a loan to be paid in five years range from seven percent to as much as nine percent.
ADVERTISEMENT - CONTINUE READING BELOW
According to the company's sales officers, a standalone branch requires a minimum of Php10 million of capital to as much as Php20 million, with the budget varying depending on the store's location and size. A Php10-million capital can already put up an 80 square-meter restaurant with a seating capacity of about 80 people. Most Kuya J restaurants today are of this size.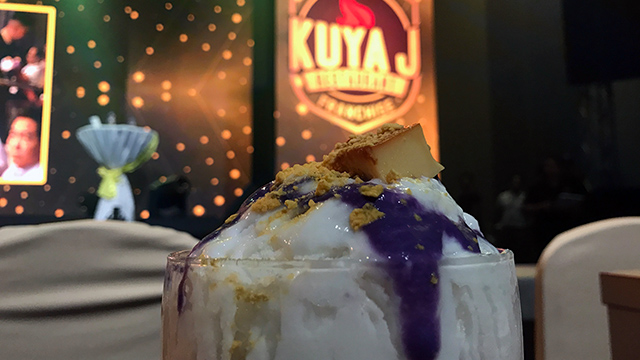 ADVERTISEMENT - CONTINUE READING BELOW
Kuya J is also known for its halo-halo
iKitchen Inc. President Winglip Chang said the payback period can be as quick as two to three years.
"Make no mistake about it, we welcome all franchisees but we also believe that there might be some people who are passionate about opening a Kuya J franchise but don't have enough capital at the moment," Chang told reporters. "And we don't want to pass up the opportunity especially (since) what we look for are those with passion to open (a business)."
Chang said the company isn't backed by any financial firm or bank as he credits all of its capital outlay for the franchising program to its internal funds.
"We are a very large business so we have no problems in terms of funds," he added.
In a span of two years, the Kuya J restaurant brand opened almost one new store per week, growing its network to 105 branches nationwide as of September 2018.
ADVERTISEMENT - CONTINUE READING BELOW
Related story: With 100 Stores and Counting, This Restaurant Proves that Lutong Bahay Will Never Go Out of Style
The company is now looking to maintain that expansion pace as it aims to open 100 more branches in the next two years. That will already put the brand at par with Max's Restaurant, the flagship restaurant brand under listed firm Max's Group Inc., which has 175 stores nationwide as of June 2018.
Kuya J started as a hole-in-the-wall eatery in the province of Cebu in 2005. Chang acquired the business in 2015 and never stopped expanding the brand. But even before the acquisition, the Cebu-native has been a serial food entrepreneur, operating a number of restaurant brands, which include Isla Sugbu Seafood City, Tsay Cheng Chinese Cuisine and Majestic.
The businessman also recently bagged the franchising rights to operate American fast food chain Popeyes in the Philippines.
Related story: Popeyes Making a Comeback in the PH Thanks to Kuya J
ADVERTISEMENT - CONTINUE READING BELOW
*****
Elyssa Christine Lopez is a staff writer of Entrepreneur PH. Follow her on Twitter @elyssalopz