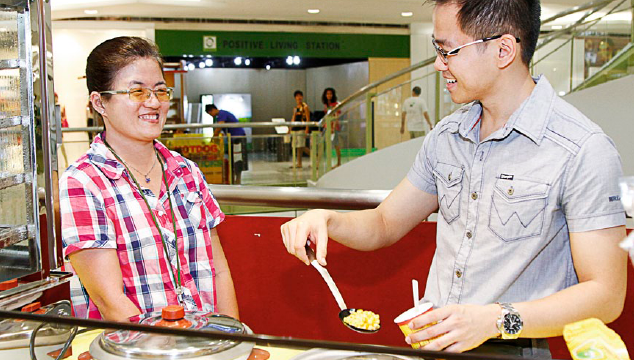 Tim Mervin Orille has a dream—to put up an auto services business. At 27, he knows he has a lot to learn before he can start his dream business, so he is taking a practice run—by buying a franchise. He now has a Sweet Corner food cart franchise, which he manages while he works as a line engineer at a multinational. 

Managing a franchise, he says, is challenging, especially since he has a day job. "Sometimes I ask myself why I [went] into business if I'm just going to be this tired. There must be something wrong, it's not supposed to be like this," recalls Orille of his first few months in operation.

Good thing his eldest sister, Marites, helps in running the business. "When your cart is in a mall, you really have to be competitive. With the amount of money you pay for rent alone, making a profit sometimes can be hard," Orille says. 
ADVERTISEMENT - CONTINUE READING BELOW

Value for money
That's why he tries new ways to market and improve the quality of the products—to boost sales and win customers. "It might just be a cup of shredded corn, but I want it to be worth the customer's money." 

Orille says they sell an average of 80 cups of corn a day or about P2,400 on weekdays, while on weekends, they sell more than 100 cups or about P3,000, especially if there's a sale or an event at the mall. A small cup costs P30 and the big cup, P55. 

Good start
With less than a year into his franchise term, Orille says he and his family have yet to recoup their investment. "We wanted our family to have our own business, so we agreed to learn from it, make it work, and not worry too much about the capital we've put in because it would really take some time—that's business." 

He's happy that he's learning how to run a business, knowing he can use the experience for his auto service shop. "That's what triggered me to go into franchising, to learn the business side."

*****
Franchise package
Total investment: P230,000
Contract term: 3 years
Inclusions: Use of trade name and logo; standard food cart; equipment, utensils, and small wares; personnel training; initial inventory; and marketing support 
ADVERTISEMENT - CONTINUE READING BELOW
This article was originally published in the March 2015 issue of Entrepreneur magazine. To subscribe, click here. 
 
Photo by Vincent Coscolluela