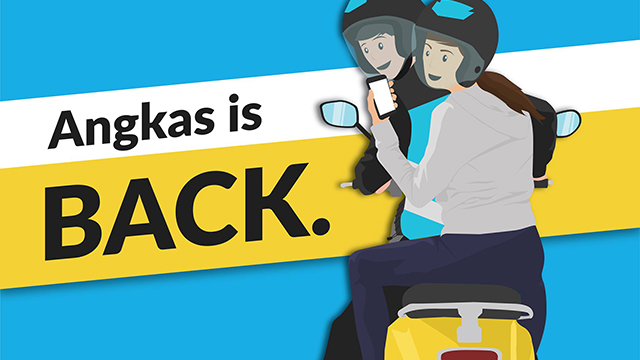 "Angkas is Back", announced the Facebook page of the motorbike-hailing company on September 6 shortly after news came out that a court granted the firm's petition for a preliminary injunction against a government regulator's order suspending the service.
Angkas' motorcycle taxi operations were suspended indefinitely by the Land Transportation Franchising and Regulatory Board (LTFRB) in November 2017 on the grounds that Philippine laws do not allow two-wheeled vehicles to transport fare-paying passengers. That prompted the company to shift its business to small parcel delivery instead of ferrying people.
ADVERTISEMENT - CONTINUE READING BELOW
The Mandaluyong City Regional Trial Court (RTC) has granted the company behind Angkas, DBDOYC Inc., a writ of preliminary injunction against the LTFRB order, according to the company. The court issued the writ on August 20, 2018, more than a month after the company filed a petition.
"With Angkas back on the road, our riding public will be able to experience once again our swift, safe, and affordable rides to and from their destinations. This also means we are restoring lost livelihood opportunities to some 17,000 of our Angkas driver partners," Angkas Operations Director David Medrana said in a statement. 
However, the preliminary judicial relief lasts only until the court renders a final judgment on the case and is subject to appeal from the LTFRB.
The Mandaluyong RTC's order prevents the LTFRB and the Department of Transportation (DOTr) from interfering with Angkas' operations.  They are refrained "from apprehending Angkas bikers who are in lawful pursuit of their occupation… and from performing any act that will obstruct its [DBDOYC Inc.] lawful business as operator of Angkas mobile application."
ADVERTISEMENT - CONTINUE READING BELOW
In a statement issued late Thursday, DOTr and LTFRB maintained that they were legally correct in suspending Angkas' motorcycle taxi operations. "Our position is that motorcycles registered in the service are not authorized to conduct business and offer public transport under Republic Act 4136. For them to be allowed, the law has to be amended by Congress," the two agencies said. 
They added: "The DOTr-LTFRB will exhaust all legal remedies to ensure that our roads are cleared of colorum vehicles, such as Angkas motorcycles." 
In November 2017, Angkas was forced to shut down its operations as a platform that connects passengers to private motorbike drivers for lack of franchise from the LTFRB. Its business model was deemed illegal as under Republic Act 4136 or the Land Transportation and Traffic Code, private motorcycles and scooters cannot be used to carry passengers.
A month later, Angkas relaunched its platform and introduced a same-day delivery service.
ADVERTISEMENT - CONTINUE READING BELOW
Over the years, several bills have been filed in Congress seeking to legalize the operations of motorcycle taxis for hire. However, all of the proposed laws remain pending as transport agencies seem to be against the idea for safety reasons. According to data from the Metropolitan Manila Development Authority (MMDA) last year, there had been 76,834 motorcycle-related road crashes since 2014.
"We are thankful for the court order but would continue to push for legislation that would provide dignity and livelihood opportunities to millilons of Filipino families who depend on motorbikes as their source of income," Medrana added. 
The Mandaluyong RTC order comes as other motorcycle -hailing platform seek to operate in the country as well.
Last month, the LTFRB said Indonesian motorbike-hailing giant Go-Jek has filed an application for a provisional authority (PA) or a temporary permit to operate in the Philippines. Go-Jek, which enjoys the support of Google of the US and Tencent of China, operates in 50 cities in Indonesia and announced plans to enter nearby markets such as Thailand, Vietnam and Singapore.
ADVERTISEMENT - CONTINUE READING BELOW
Related story: Indonesia's Go-Jek Seeks Provisional Permit and Forms Firm in PH, Says LTFRB Official
*****
Elyssa Christine Lopez is a staff writer of Entrepreneur PH. Follow her on Twitter @elyssalopz