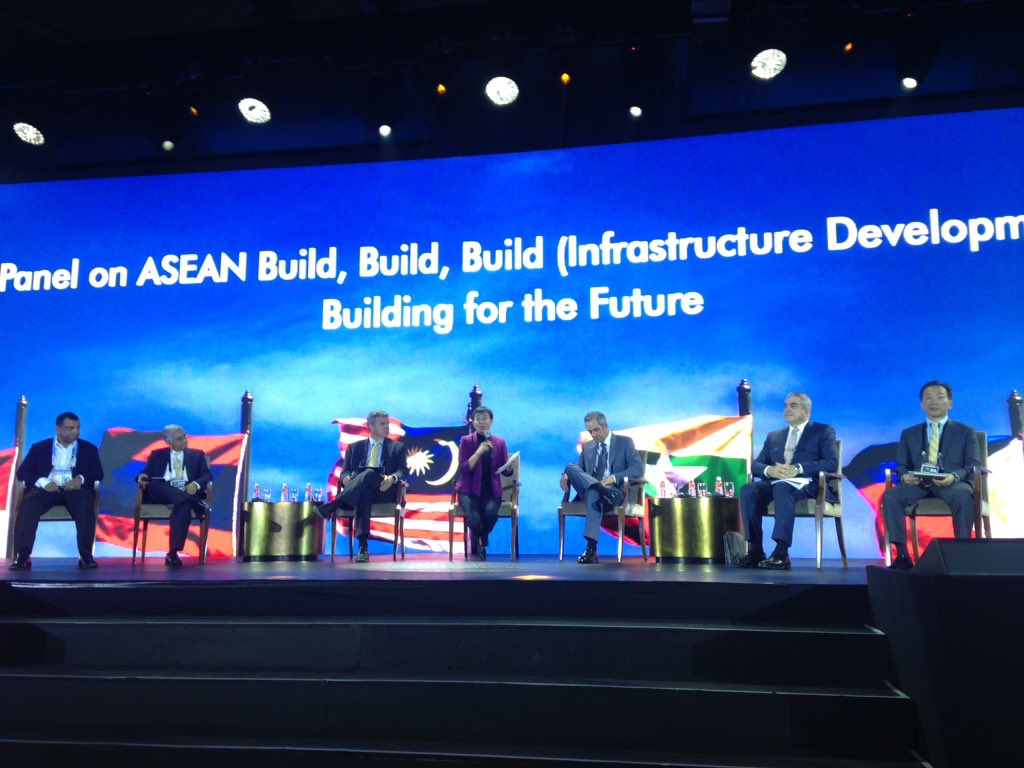 Based on the Global Competitiveness Index 2017 to 2018 of the World Economic Forum, infrastructure in the ASEAN region still has a long way to tread to be at par with the world's best. On average, nine of the 10 participating ASEAN members at the index just got an average grade of 4.4, with 10 as the highest rate. Singapore ranked the highest among the ASEAN members with 6.5 while Cambodia had the lowest rating with a mere 3.1.
ADVERTISEMENT - CONTINUE READING BELOW
Amid widespread concern on the poor state of infrastructure in the region, the second day of the ASEAN Business and Investment Summit 2017 began with a panel discussion on the issue. The panel was composed of some of the region's most prominent business leaders, including Ayala Corp. CEO Jaime Augusto Zobel de Ayala and International Container Terminal Services Inc. CEO Enrique Razon of the Philippines, and AirAsia CEO Tony Fernandes of Malaysia.
While everybody was on the same page regarding the role of infrastructure in development and the need for the private sector to invest more in helping build roads, airports, sea ports and other civil works, there was also a lively debate on the relationship between democracy, good governance and transparency and on government's ability to carry out infrastructure on time and on budget.
The following are some of the most interesting quotes on the topic during the panel discussion.
ADVERTISEMENT - CONTINUE READING BELOW
Democracy or Dictatorship: Which is Better for Infrastructure?
Razon
If you really look at it, those that have the most advanced infrastructure are the ones that are not democratic. The countries with the best infrastructure in the world are the dictatorships. I'm not saying I'm endorsing one or the other, but this is a fact. So, tying democracy to development, I don't think it really works.
I think the majority of ASEAN countries are not democratic. I slightly disagree with our Japanese colleague here. Philippines though is democratic. I say Indonesia… Transparency is a tricky thing. For us, what's more important is to get thing to achieve and to reach our objective. If we focus on things like good governance and transparency, we're still going to not get what we need to get done.
Zobel de Ayala
As what I mentioned in my opening remarks, the financing needs are going to be tremendous. You have your own government, public funds come in and private sector funds. But in the end, I think we're gonna get serious private sector funding and also from bilaterals and private investments coming in...
ADVERTISEMENT - CONTINUE READING BELOW
You have to have a global set of standards to live by. When you talk about governance and transparency, that's what it's all about. Our country is still low on the FDI list. We're getting our equal share of direct foreign dollar investments, but the potential is definitely there.
One of the great moves ASEAN is trying to make is basically to standardize the rules and regulations of the way we work… And that means cooperation from all of us—a set of standards that we can all live by across ASEAN. That can tremendously increase the comfort level.
Fernandes 
I do believe in the long run, democracy is the only way forward. And a free press is the only way for check and balance. Governments in ASEAN will have to find the balance between transparency and moving things quicker.
Infrastructure is always [portrayed as] a grandeur project. In airports for instance, everyone's talking about the biggest, the highest, the longest runways, etc. But really, for me, infrastructure is also building smaller things quickly… There's hundreds of little things that can be done to really grow local economies quickly.
ADVERTISEMENT - CONTINUE READING BELOW
What Should Come First: Growth or Equality?
Zobel de Ayala 
I've always argued that while politically it makes sense to spread development [and] money around the country, one has to overweight economic centers as well. I think the massive urban development you see in the whole Southeast Asia right now, be it Manila, Thailand, Indonesia, those urban centers are catalysts for innovative growth in many ways. And we need a great deal of infrastructure to support it. You need to overweight funding to that sector, a little bit, only because they're such a driver of economic growth as well when we move forward.
Fernandes 
I think we have to move away from just looking at the big cities. I think there's tremendous growth in secondary and tertiary cities around ASEAN and providing more direct connectivity to those cities. Don't just look at infrastructure within the big cities. Look at infrastructure outside.
ADVERTISEMENT - CONTINUE READING BELOW
I think people build airports sometimes and forget about the connectivity to the airport. In some cases, in some airports, it's actually more expensive to get to the airport than to fly in AirAsia.
Razon 
My own view is that, we need to build our infrastructure, our airports, our roads, the subway that the JICA (is funding)—I think it's the most important project for the Philippines. Second would be a new airport or several airports.
On the Importance of ASEAN to Businesses
Razon 
ASEAN's a good thing, about one week every year, there are these big meetings. I've been seeing it for the last 25 years, and everybody's united, 600 million people. But the other 51 weeks, no one does anything about it. People just concentrate on their own business, which is, to me, is really what my country has to get down to doing.
To be blunt about it, I'm not really concerned by what the other countries are doing for themselves. I'm more concerned about the Philippines since we have a lot to do, and a lot of catching up to do, whether it be certain models or certain infrastructure, which governments have to do. We have to really, once and for all, focus and invest in our own infrastructure.
ADVERTISEMENT - CONTINUE READING BELOW
Fernandes 
What I've found in dealing with ASEAN governments is those that are accessible [and] willing to listen have made the most progress.
If you think about the people, ASEAN definitely works, if you think of people in the country. Why have just one market when you can have 10 markets? If you're really gonna be able to compete with the giants in China and India that are coming along, and the US and Europe, a bigger marketplace makes sense.
On Inclusive Growth
Zobel de Ayala 
There are mechanisms that can be done and there has to be overt focus to get that per capita income going up without killing that economic fervor that grows economies. I believe in the capitalist system but that capitalist system has to be adjusted to the broader community and those two things can be married.
We've achieved a lot as a country and I don't think we give ourselves enough credit for what we've achieved. At five to six percent, it's almost as if we're walking on a treadmill. We'll be growing but standing still. We need to kick up that growth to seven, nine, 10 percent to lead full change to the population at large.
ADVERTISEMENT - CONTINUE READING BELOW
Razon 
You need to increase your capacity if you want to grow. Sooner or later it's gonna be strangled if you're not increasing capacity. The trickle down sustainability is really, that's what it's about, having the capacity to accommodate all the economic activity. People like us, we trickle down to the next level. The next level's gotta trickle down to the next. It's not just all business trickling down to everybody. It involves government.
My hope is that this administration is able to change the culture of how things get done in this country. The private sector, I think... we're able, capable and have proven that we can do things. So it's really the government organizations (that need) to, I use the word "alter", because that's what it is. Everybody's gotta be on the same book on this.
*****
Elyssa Christine Lopez and Lorenzo Kyle Subido are staff writers of Entrepreneur PH
ADVERTISEMENT - CONTINUE READING BELOW