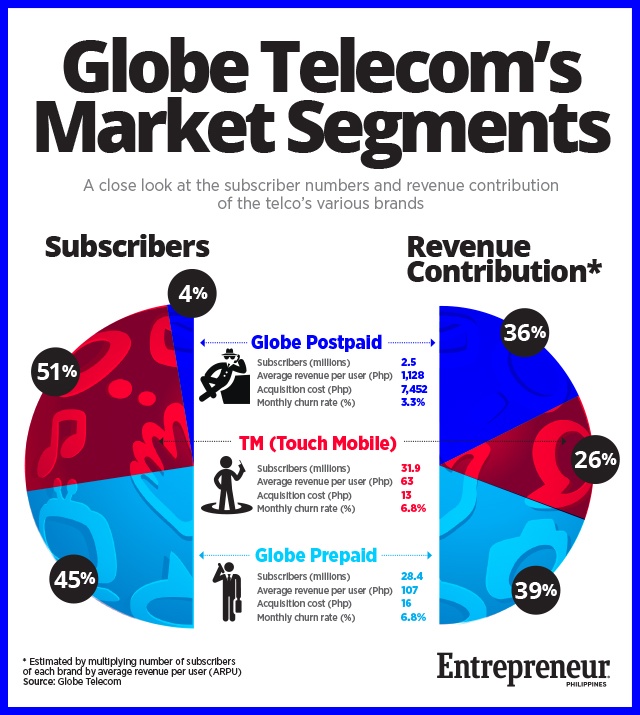 Globe Telecom, which reported record consolidated service revenues of close to Php120 billion last year, is reaping the rewards not only of investing early on mobile internet but also of learning to cater to the demands of the low-income market.
Last year, the number of subscribers of TM (formerly Touch Mobile), Globe's mass-market brand, rose by 15 percent to 31.9 million, accounting for more than half of its total subscriber base of 62.8 million, according to the company's disclosure filed with the Philippine Stock Exchange.
ADVERTISEMENT - CONTINUE READING BELOW
In sharp contrast, its postpaid subscribers fell four percent to only 2.5 million, or only four percent of total subscribers. Meanwhile, Globe Prepaid subscribers also rose by a tenth to 28.4 million or 45 percent of total subscribers.
Related story: How The Shift to Digital LIfestyle is Driving Globe's Mobile Revenues
Despite their large and growing numbers, Globe's TM users still accounted for only 26 percent of the telco's estimated revenues. That's mainly because of the low average revenue per user (ARPU) that Globe generated last year from TM subscribers, which amounted to only Php63 a month, according to Globe's disclosures.
In comparison, postpaid subscribers' ARPU reached about Php1,128 a month while Globe Prepaid users' ARPU was Php107 a month.
(Entrepreneur Philippines calculated each brand's revenue contribution by multiplying the number of subscribers with the segment's ARPU.)
Globe may be winning more customers in the mass market segment but it has yet to make them spend more. Last year, the ARPU of TM subscribers and Globe Prepaid users both fell by 14 percent while that of postpaid subscribers rose by a slight one percent.
ADVERTISEMENT - CONTINUE READING BELOW
*****
Lorenzo Kyle Subido is a staff writer of Entrepreneur PH