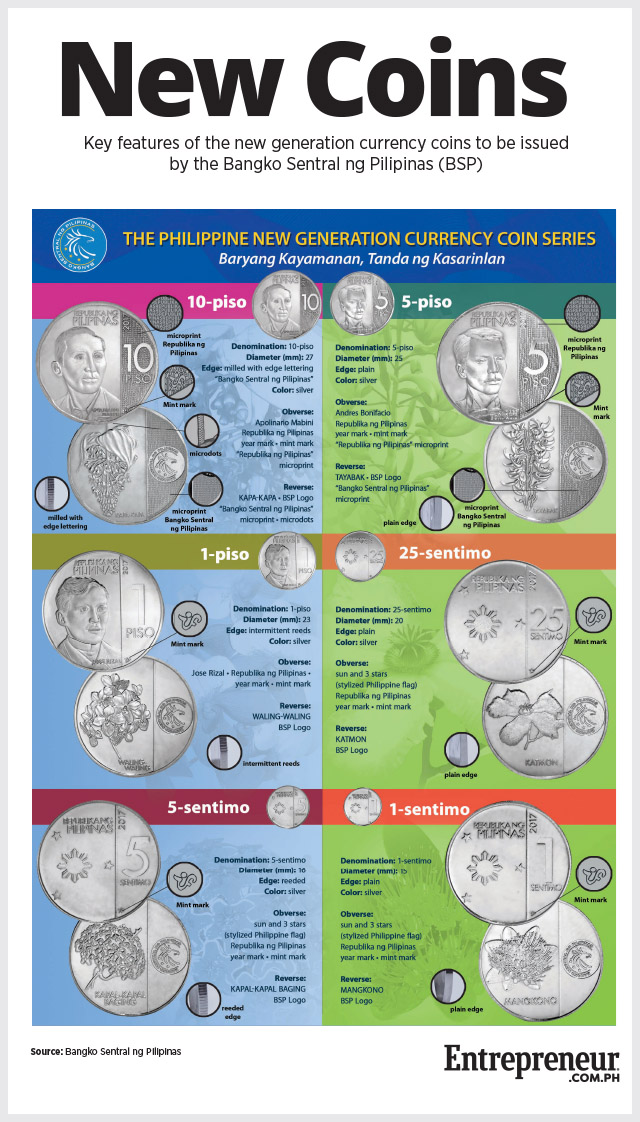 The Bangko Sentral ng Pilipinas (BSP) announced on Monday, March 26, it will start releasing the new generation currency (NGC) coins with enhanced security and design features to reduce counterfeiting. The Philippine coins with the old design will remain legal tender until further notice.
The new coins, comprised of 10-Piso, 5-Piso, 1-Piso, 25-Sentimo, 5-Sentimo and 1-Sentimo, will don a "metallic silver" color, in contrast to their previous appearances that vary in either gold and silver hues or rust.
ADVERTISEMENT - CONTINUE READING BELOW
"The differences between the NGC coins and the existing BSP Coin Series can be best appreciated through visual means and tactile familiarization," the BSP said in a statement. "With increased usage over time, the NGC coins with its features would gain greater popularity."
One of the new features of the NGC coins is the profile of their edges. The new Php10 peso coin's edge is milled with the "Bangko Sentral" lettering.
The 5-Piso, 25-Sentimo and 1-Sentimo all have plain edges but significantly differ in diameter and weight. Meanwhile, the 1-Piso and 5-Sentimo both have reeds on their edges, but also differ in diameter.
While the NGC coins appear silver in color, they are actually made from nickel-plated steel, seen to endure wear and corrosion, as compared to the easy discoloration of copper-made coins, according to the BSP. 
The existing 25-Sentimo, 10-Sentimo, 5-Sentimo and 1-Sentimo coins are made of brass and copper.
ADVERTISEMENT - CONTINUE READING BELOW
The metallic composition of the new coins also discourages the illegal practice of hoarding of large quantities of coins to extract their valuable metal content.
The NGC coins will feature the new BSP logo, three national heroes (Apolinario Mabini in the 10-Piso, Andres Bonifacio in the 5-Piso and Jose Rizal in the 1-Piso) and flora endemic to the Philippines. Meanwhile, the Sentimo coins will feature stylized three stars and a sun on their obverse, similar to the Philippine flag.
Related Story: Do You Get Confused by the New Php10 and Php5 Coins? You're Not Alone
The release of the images of the complete NGC coin series was originally scheduled for January 2018 but was delayed by a few months amid widespread complaints that greeted the initial release of the NGC Php5 coin in December 2017. Many confused the 5-Piso coin with the 1-Piso coins as both have silver color finishes.
Related story: Do You Get Confused by the New Php5 and Php1 Coins? You're Not Alone
ADVERTISEMENT - CONTINUE READING BELOW
Some senators had called on the BSP to conduct an intensive public information campaign before releasing the new generation coins series.
*****
Elyssa Christine Lopez is a staff writer of Entrepreneur PH. Follow her on Twitter @elyssalopz