<>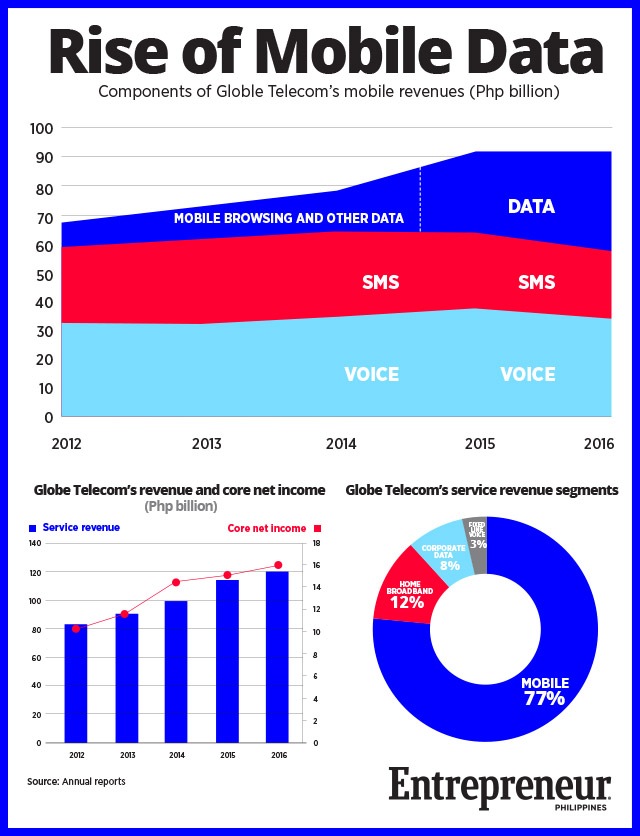 Globe Telecom just reported it ended 2016 with an all-time high consolidated service revenues of close to Php120 billion, up six percent from Php113.7 billion the previous year.
It said that the revenue momentum was sustained by solid growth in data-related products across all segments as well as robust subscriber growth for both mobile and broadband.
ADVERTISEMENT - CONTINUE READING BELOW
Indeed, mobile data services were the biggest contributor to its mobile revenues last year, outpacing voice for the first time. Growing 25 percent from the previous year to Php34.6 billion, Globe's mobile data revenue last year helped offset declines in revenue from voice and SMS. That helped overall mobile revenue post a slight one percent rise to Php91.9 billion last year.
"The sustained significant growth in mobile data revenues was driven by the increasing adoption of Globe customers to the digital lifestyle plus the wider availability of affordable smartphones in the market," Globe explained in a statement issued February 8.
Globally, mobile consumers are shifting from voice and SMS to internet-based and over-the-top chat applications to communicate, explaining the rise of mobile data.
The telco reported a core net income of Php16 billion, a six-percent increase from 2015. That's a sharp contrast with the performance of Globe's main rival, PLDT Inc., which forecast that its core income for 2016 will be the lowest since 2003. It suffered a 20-percent decrease in core income in the first nine months of last year amid reports Globe has overtaken it in terms of the number of mobile subscribers last year.
ADVERTISEMENT - CONTINUE READING BELOW
"As we move forward in 2017, we are optimistic that we will maintain our growth trajectory as we continue to strengthen our leadership in the digital space," Ernest Cu, president and CEO of Globe, said in a statement. "We are confident that our aggressive investments in our network will meet the country's future digital demands."
 *****
Lorenzo Kyle Subido is a staff writer of Entrepreneur PH