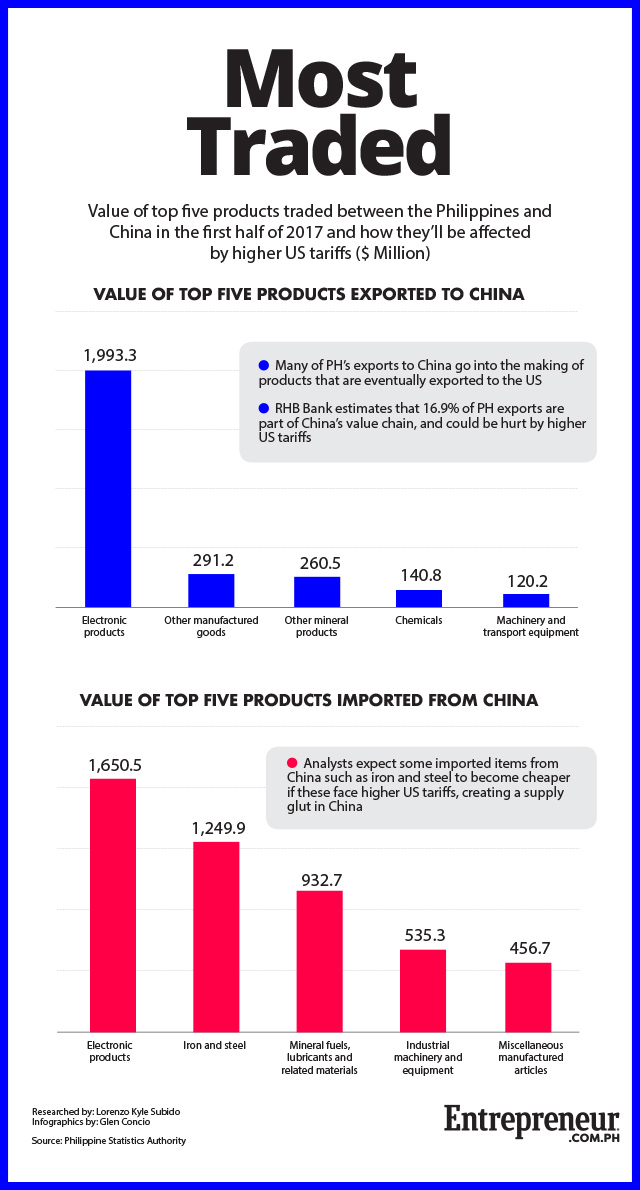 On July 6, both the US and China imposed tariffs on each other's products, which affected a combined $68 billion (Php3.6 trillion) worth of imported and exported goods. The US government later announced that it may soon apply tariffs to an additional $200 billion worth of Chinese products, while the Chinese government has said that it will retaliate should the latest round of tariffs take effect.
While the impact of these actions is most felt by the US and China themselves, the Philippines is by no means unaffected. A Bloomberg story published last April, when the first extensive proposals for tariffs from both sides came out, claimed that the Philippines would be the "most at risk in Southeast Asia from the worsening trade conflict between China and the US."
Bloomberg cited a study from Malaysia's RHB Bank Bhd which estimated that exports to China's value chain make up 16.9 percent of Philippine shipments abroad, the highest among six of the largest Southeast Asian economies. That's more than double the 7.3-percent average of the other five big countries in the region, namely, Indonesia, Malaysia, Thailand, Singapore and Vietnam.
ADVERTISEMENT - CONTINUE READING BELOW
Indeed, data from the Philippine Statistics Authority (PSA) show that China was the Philippines' largest trading partner in the first half of 2017, representing 15 percent of total trade value in the period. It was the country's fourth largest export market, where total goods shipped were worth $3.3 billion, 10.6 percent of all products traded in the period.
In addition, almost all of the Philippines' top five products exported to China are seen to be affected by the first round of US tariffs. These include electronic products, which reached almost $2 billion in value in the first half of 2017, as well as chemicals, mineral products, machinery and transport equipment. (See infographic)
"For some products that we export to China which are in turn further re-exported to the US, so in that sense there will be some effect on us," Presidential Spokesman Harry Roque was quoted by The Philippine Star as saying in a press briefing last July 9.
However, higher US tariffs on Chinese goods may also have a beneficial effect if these create supply gluts in China that would lead to lower prices for essential commodities needed by the Philippines.
The Philippines purchased over $8 billion worth of products from China in the first half of 2017. And many of the Philippines' top five imports from China are also affected by the higher US tariffs, which include electronic products, iron and steel, mineral fuels and lubricants, and industrial machinery and equipment.
Some analysts are of the view that a possible supply glut in these goods in China may prove beneficial for the Philippines as it could buy products such as steel and cement at lower prices. That could be a boost for the government's aggressive infrastructure push, which it calls the "Build, Build, Build" program.
ADVERTISEMENT - CONTINUE READING BELOW
Of course, that will likely expand the Philippines' trade deficit with China but that's another story.
*****
Lorenzo Kyle Subido is a staff writer of Entrepreneur PH