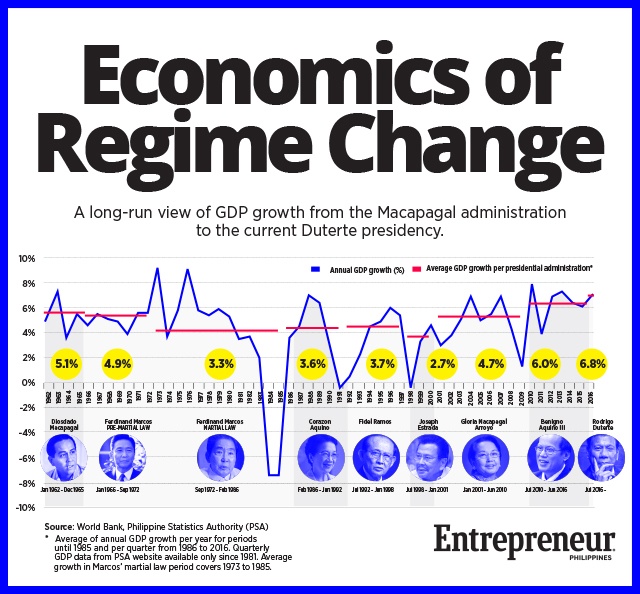 On February 25, the country celebrates the 31st anniversary of the EDSA People Power Revolution. The military-backed popular uprising is commonly credited for restoring electoral democracy and civil liberties, which people began to enjoy again soon after the fall of the Marcos regime.
Its economic impact, however, has not been as immediate or dramatic. The average GDP growth rate during the 13 years from 1973 to 1985 that the late strongman Ferdinand Marcos exercised authoritarian rule was 3.3 percent. The average growth rates during his two successors' terms were higher but not by much. It was 3.6 percent from 1986 to mid-1992 under the late President Corazon Aquino and 3.7 percent from mid-1992 to mid-1998 under former President Fidel Ramos. Average growth even fell during former President Joseph Estrada's brief term.
ADVERTISEMENT - CONTINUE READING BELOW
Related story: (Infographic) Amid Rising GDP, Is It Time to Launch Your Startup?
Long-term GDP growth began to climb sharply higher only in the early 2000s during the terms of former President Gloria Arroyo and former President Benigno Aquino III. Growth seems poised to rise further under President Rodrigo Duterte.
One big difference between the economy before and after the 1986 EDSA revolution is the narrower swings between economic booms and busts. While GDP growth in the early years of martial law spiked to record highs since the 1960s, it also fell to record lows in 1984 and 1985 in the country's worst post-war economic crisis. Economic volatility has eased considerably after 1986 and especially since the early 2000s.
Related story: China, Vietnam Overtake PH in GDP Growth in Q4 
*****
Lorenzo Kyle Subido is a staff writer of Entrepreneur PH