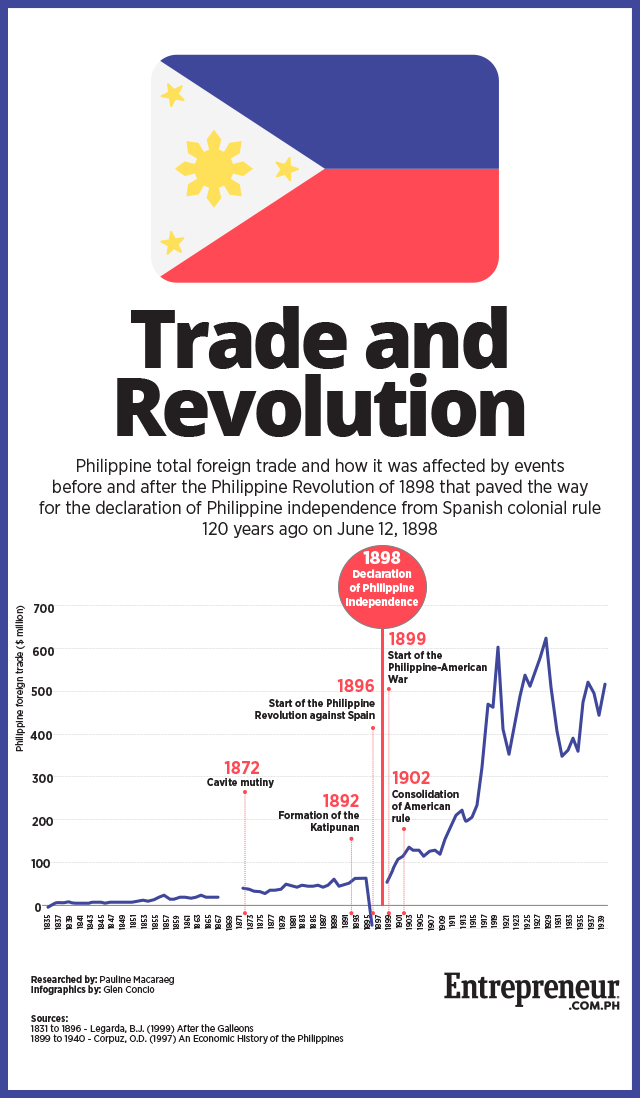 Every June 12, the whole Philippines celebrates Independence Day. All over the country, Filipinos take time out to commemorate the end of over three centuries of Spanish occupation with the declaration of independence on June 12, 1898.
The overthrow of Spanish rule brought with it a limited form of self-rule and freedom for Filipinos as the Philippine revolutionary government under Emilio Aguinaldo began to take shape and assume political power in various parts of the country.
ADVERTISEMENT - CONTINUE READING BELOW
However, it lasted only briefly as the United States military forces challenged and eventually overpowered the nascent revolutionary state, ushering in American colonial rule that lasted half a century.
Spanish colonial rule is commonly seen to have  stifled the Filipinos' freedom, political rights and civil liberties.
But beyond the political and social realms, it also subdued the country's economic potential. The infographic on this page, which plots the total value of Philippine foreign trade from the 1830s to the 1940s, shows how economic activity grew very slowly under the Spaniards.
Only after the Philippines declared independence in 1898 did foreign trade grow by leaps and bounds never seen in previous decades. Of course, much of the country's foreign trade by then was with the United States, the country's new colonial master.
Still, the contrast between the two periods is quite stark and shows how much the economy remained undeveloped for over three hundred years under Spain's flag.
ADVERTISEMENT - CONTINUE READING BELOW
Based on data compiled by Benito J. Legarda in his book After the Galleons, foreign trade of the Philippines had been slowly growing since 1835 until 1895, a year before the onset of the Philippine Revolution.
Though foreign trade fell drastically upon the start of the Philippine Revolution in 1896, it quickly recovered shortly after the end of the Spanish regime in 1898. The value of exports and imports rose by 221 percent in 1899 from 1896, and grew further by 104 percent in 1902 amid the war between the newly formed Philippine revolutionary government and American occupying forces, according to O.D. Corpuz's An Economic History of the Philippines.
From then on, foreign trade increased throughout American colonial period though there were periods of slump during the World War 1 and the Depression in the late 1920s.
*****
Pauline Macaraeg is Entrepreneur PH's data journalist. Follow her on Twitter @paulinemacaraeg