Days after Philippine business icon Washington Z. SyCip passed away on October 7, many of the country's biggest conglomerates and companies such as the SM Group, JG Summit Holdings and the Lucio Tan group, and many more, published full-page obituaries in several Philippine newspaper extolling the virtues of the business icon while highlighting the SGV & Co. founder's close relations with their respective groups.
ADVERTISEMENT - CONTINUE READING BELOW
To be sure, the groups that took out paid advertisements in several local newspapers to publish tributes to the country's foremost business icon are not the only companies where he served as a member of the board of directors. By our count, he was associated with close to 40 companies, both listed and unlisted, philanthropic and profit-oriented, at one time or another in the past several years.
Related story: Do Listed Firms Where Washington Z. SyCip was a Director Perform Better?
But even just considering the companies where he was still an active board member as of the end of 2016 and which filed updated general information sheets with the Securities and Exchange Commission (SEC), we still counted almost 200 corporate directors that he was working with. These were the people that he saw regularly while attending several board meetings of the companies in the course of the year. To get a sense of how big his network of fellow directors is, we turned the list into an infographic, a map. (The list does not include companies where he served as an adviser to the board)
ADVERTISEMENT - CONTINUE READING BELOW
Mapping SyCip's boardroom network also allowed us to identify a list of eight fellow directors who worked with SyCip in three or more than companies, making them quite special if only for the frequency of their interactions of the late SGV & Co. founder.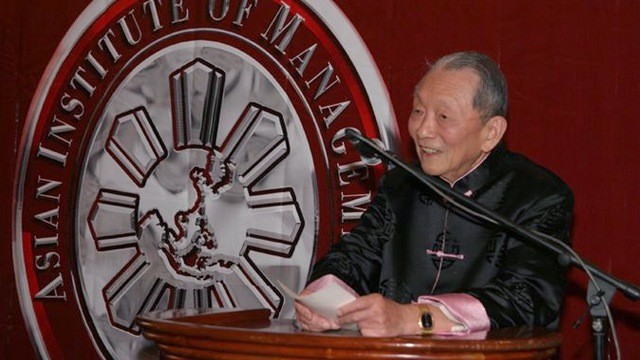 Considering that SyCip likely served in the most number of companies as director, independent director, adviser or trustee compared to any other Filipino business leader, it could be a worthwhile exercise for future business researchers to develop a variant of the Erdös Number for Washington Z. SyCip. Named after the late Paul Erdös, who is considered the most prolific mathematician for co-writing the most number of mathematical papers in his time, the Erdös Number measures the "collaborative distance" between Erdös and other mathematicians. Those who have co-written a paper with him are assigned an Erdös Number of 1.  Those who have co-written papers with somebody who has co-published a paper with Erdös are given the number 2, and so on.
ADVERTISEMENT - CONTINUE READING BELOW
If this sounds vaguely familiar, that's because it works almost the same way as the "Six Degrees of Kevin Bacon" game in the 1990s where participants use their knowledge of US movies to connect anyone to the American actor, who is considered one of the most prolific entertainers for appearing in a large number of films. While Erdös may be prominent in math and Bacon in American movies, Washington Z. SyCip is undoubtedly tops in Philippine business.
*****
Pauline Macaraeg is Entrepreneur PH's data journalist. Follow her on Twitter @paulinemacaraeg