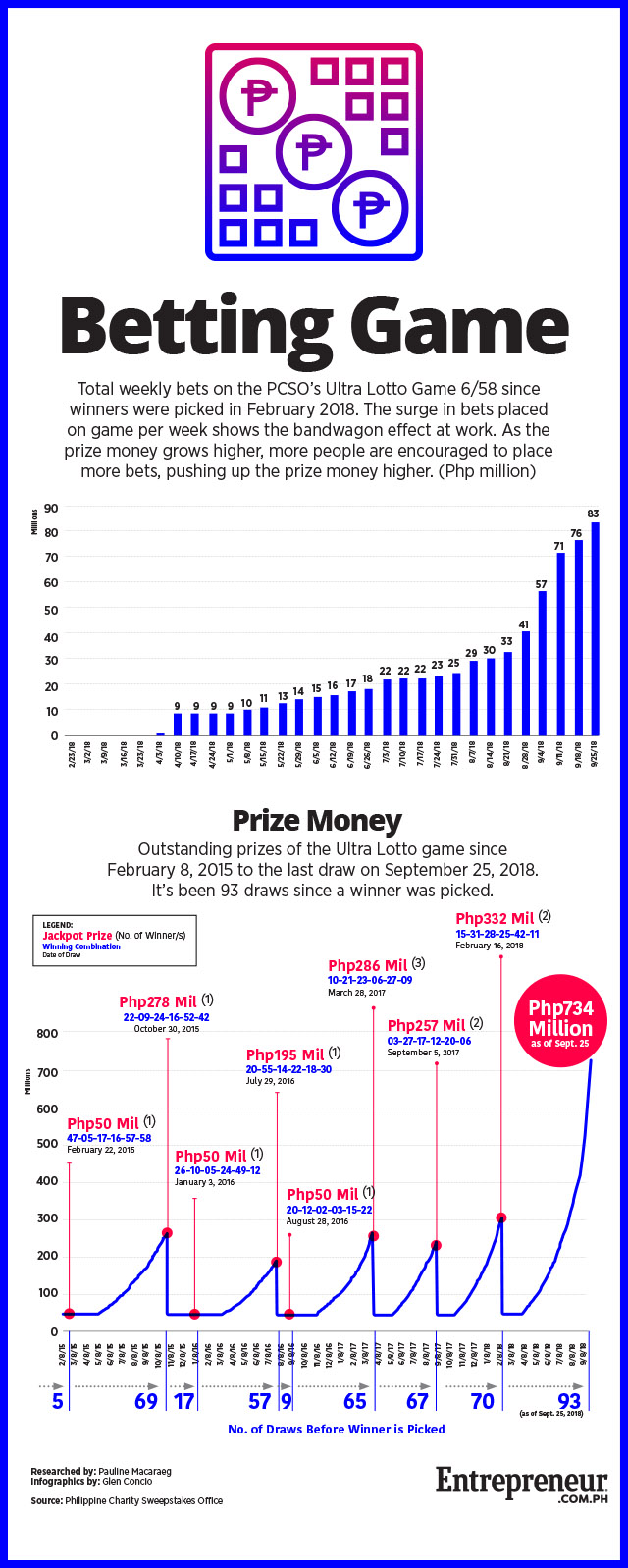 Lines at Philippine Charity Sweepstakes Office (PCSO) outlets have grown longer in the past three days as the jackpot prize for the Ultra Lotto 6/58 is expected to soar to record levels during the scheduled draw on Friday, September 28.
Since no bettor won the Php734 million grand prize during the previous draw on Tuesday, September 25, the total jackpot is expected to further rise based on lotto ticket sales from September 26 until September 28. ABS-CBN News Online reported that the estimated jackpot will hit at least Php760 million today, according to a PCSO official.
ADVERTISEMENT - CONTINUE READING BELOW
There have been a total of 93 draws since the last Ultra Lotto 6/58 game was won by two bettors in February this year, and the pot prize has continued to grow since then. However, the jackpot has only started to balloon in the last few months—a sign of how the bandwagon effect is working to draw more bettors to the game.
The higher the prize grows, the more people are encouraged to place bets, which pushes the cumulative prize even higher.
Over the past week to September 25 alone, total bets on the Ultra Lotto 6/58 game reached Php83.15 million. That's more than double the size of the average weekly bets of Php33.2 million in August, which, in turn, is much higher than the average of Php23.2 million in July and Php16.6 million in June.
The Ultra Lotto 6/58 game is drawn every Tuesdays, Fridays and Sundays. In the history of PCSO, the highest recorded jackpot won so far was Php741.2 million for the Grand Lotto 6/55 drawn in 2010.
ADVERTISEMENT - CONTINUE READING BELOW
*****