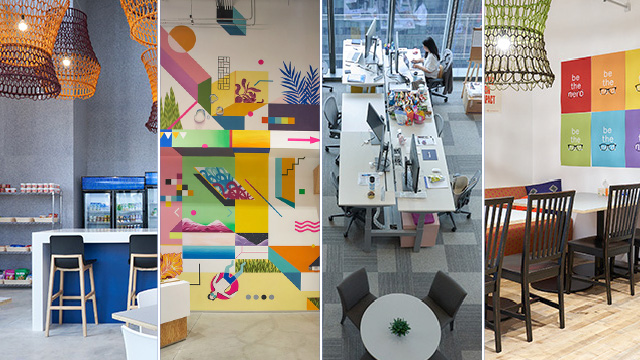 Facebook Philippines showed off their new office to media soon after they moved there in early May
The Facebook Philippines team moved into their new office in Bonifacio Global City in early May to further strengthen their presence in the country, one of the biggest users of the social media website. A loft-type space with high ceilings and industrial design for an "unfinished look," the new Facebook Philippines office reflects the company's motto: "The journey is one percent finished."
ADVERTISEMENT - CONTINUE READING BELOW
"It's a constant reminder for us that even if we think we've achieved a lot already, we realize that there's still a lot of work," said John Rubio, country director of Facebook Philippines, as he welcomed members of the press in their new home.
The office welcomes visitors with a vibrant mural behind the reception desk designed by Kris Abrigo which features traditional Filipino crafts, weaving patterns and festival buntings. The fun and festive colors are balanced with local flora and fauna. Abrigo got his inspiration from various provinces in across the archipelago.
True to the tradition of Facebook, they have a literal wall that asks, "What's on your mind?" All Facebook offices around the world have this wall and they encourage their staff and visitors to leave their thoughts on the "Write Something Wall."
The office has a micro-kitchen that reflects the collaborative nature of the organization. Here, employees come together over a cup of coffee to refuel and reenergize.
ADVERTISEMENT - CONTINUE READING BELOW
Another place where employees can bond are their play and relaxation areas. There is a treadmill, air hockey table, and even a karaoke booth designed like the LRT. It's hidden behind a bookshelf but is only a few steps away from the office area.
The names of the meeting rooms, chosen by the Facebook Philippines team, come from Filipino online jargons and catchphrases like "Walang Forever," "Petmalu" and "HM po?"
The office area also follows the open office model to foster collaboration and connectivity among teams. The tables are also adjustable to become standing desks. Aside from their office tables, employees can lounge in the cozy relaxation areas or even the outdoor patio.
The walls in these places are filled with colorful inspirational posters to keep employees motivated. Some of the posters also reflect Facebook's culture of diversity and openness. They are designed in-house, highlighting Facebook's mission to bring the world closer together.
ADVERTISEMENT - CONTINUE READING BELOW
Check out photos of the new office here: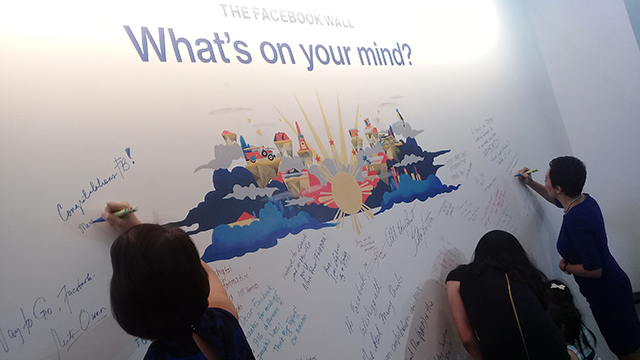 The Facebook Philippines office, like other Facebook offices around the globe, has an actual wall where visitors can write and answer the question, "What's on your mind?"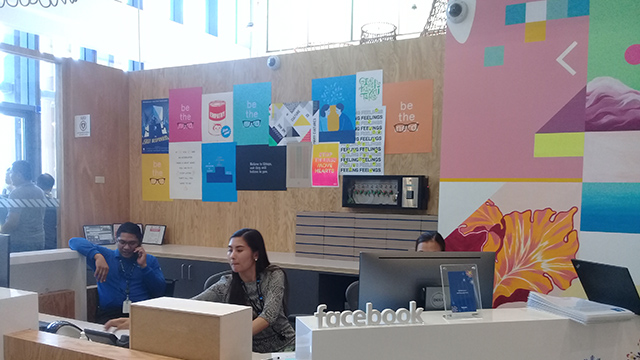 ADVERTISEMENT - CONTINUE READING BELOW
Visitors are welcomed by colorful murals and posters in the reception area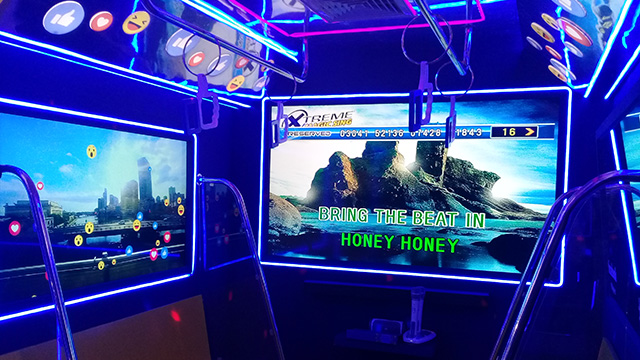 Need to vent or shake off your stress? The hidden room behind a bookshelf is actually a karaoke room designed to look like the inside of the LRT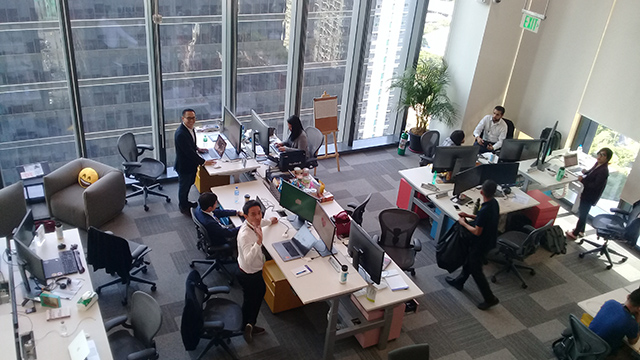 ADVERTISEMENT - CONTINUE READING BELOW
The open office model fosters relationship between employees and encourages dialogue and connectedness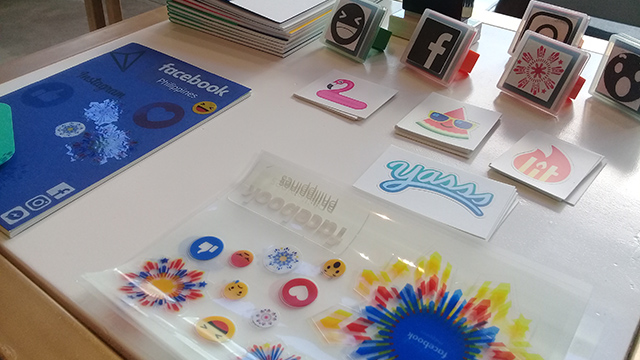 Visiting media were given notebooks they can customize with Facebook and Instagram's famous stickers and emojis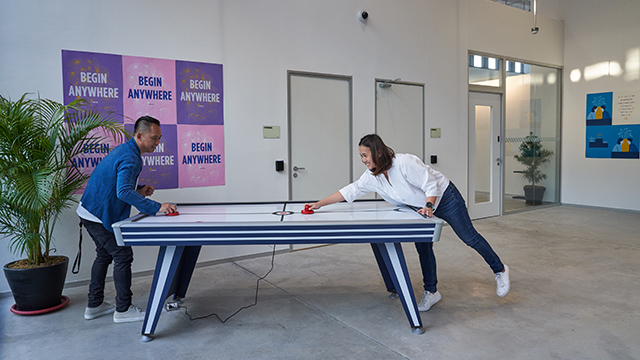 ADVERTISEMENT - CONTINUE READING BELOW
Time to play! The air hockey table is just a few steps away from the office area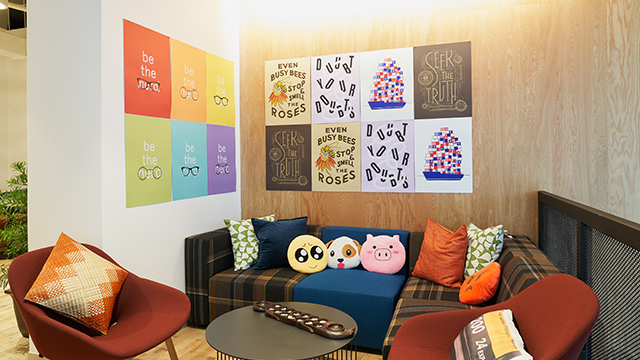 Colorful couches, throw pillows and posters in one of the relaxation areas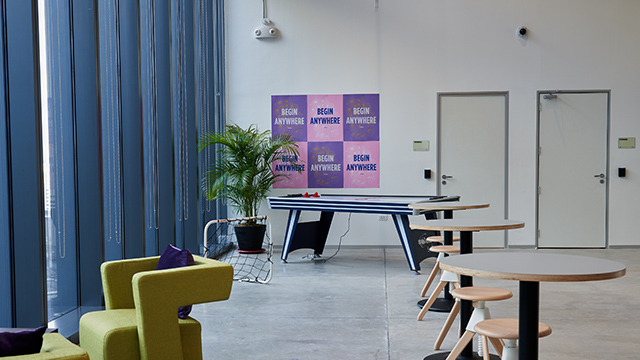 ADVERTISEMENT - CONTINUE READING BELOW
Standing desks are available for use to remind employees that it's healthy to get off their chairs every other hour or so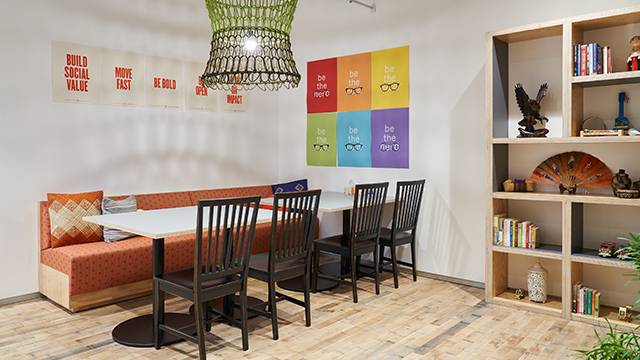 Employees can lounge around and pick up a book or two in areas like these in the office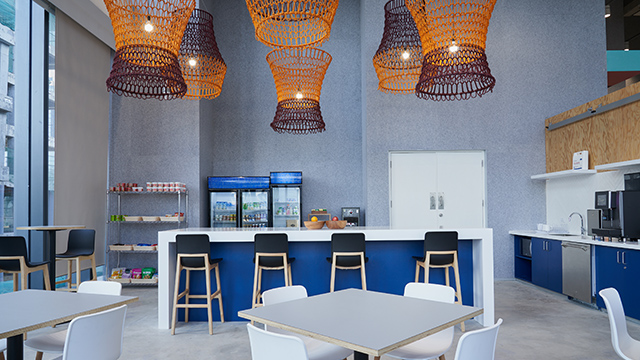 ADVERTISEMENT - CONTINUE READING BELOW
The micro-kitchen is a place where employees hang out, mingle, and enjoy yummy food
Facebook shows it prioritizes their employee's well-being by providing relaxation and play areas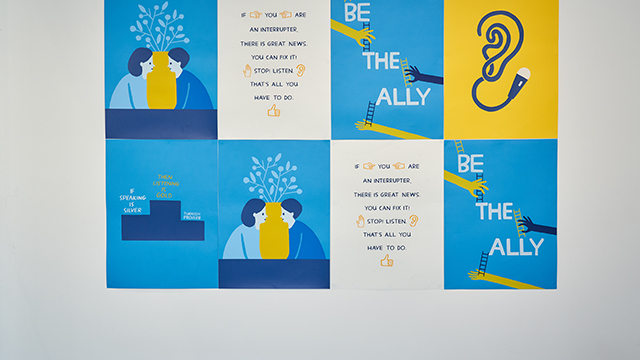 ADVERTISEMENT - CONTINUE READING BELOW
Motivational posters with messages of inclusion and diversity are posted all around the office. It reinforces Facebook's culture of connectedness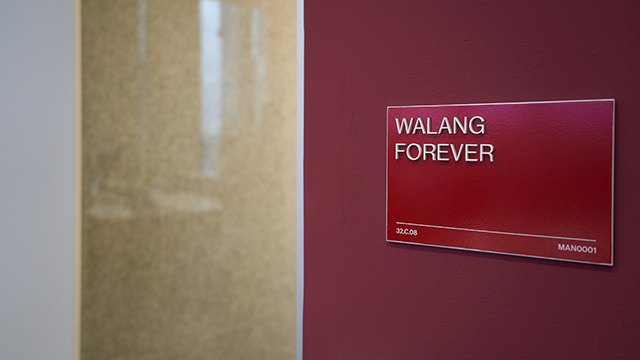 Meeting rooms are named after phrases popular in pop culture. "Walang Forever" is one of them, which also refers to what the employees hope the meeting would be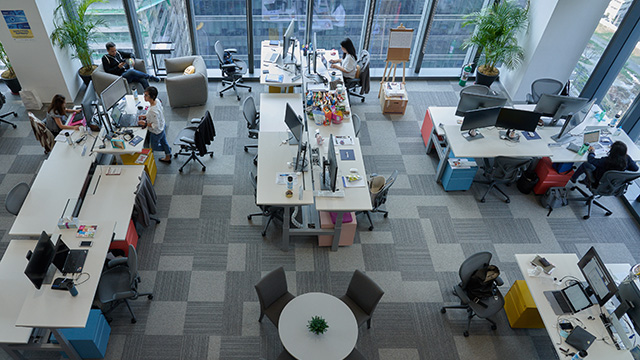 ADVERTISEMENT - CONTINUE READING BELOW
The open office model encourages collaboration and constant dialogue between employees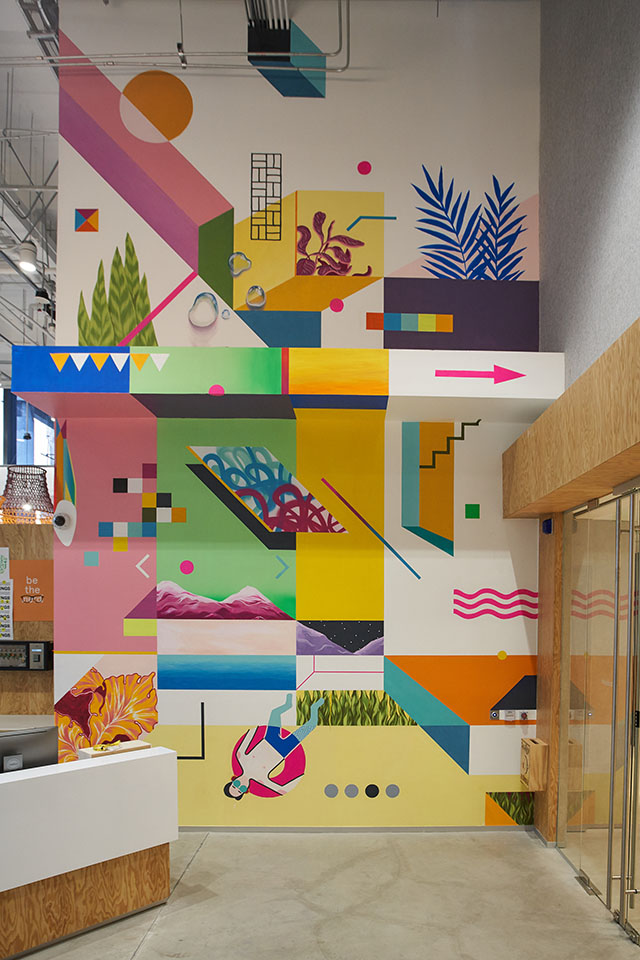 This wall mural by Filipino artist Kris Abrigo shows traditional Pinoy crafts, weaving patterns, and festival buntings
*****
Nicai is the marketing head of Rising Tide, a technology solutions company. She is also the Manila Bureau Manager of Probe Media Foundation's Mulat Pinoy-Kabataan News Network and a regular contributor for SPOT.ph. Follow her on Twitter, @nicaideguzman, and LinkedIn
ADVERTISEMENT - CONTINUE READING BELOW