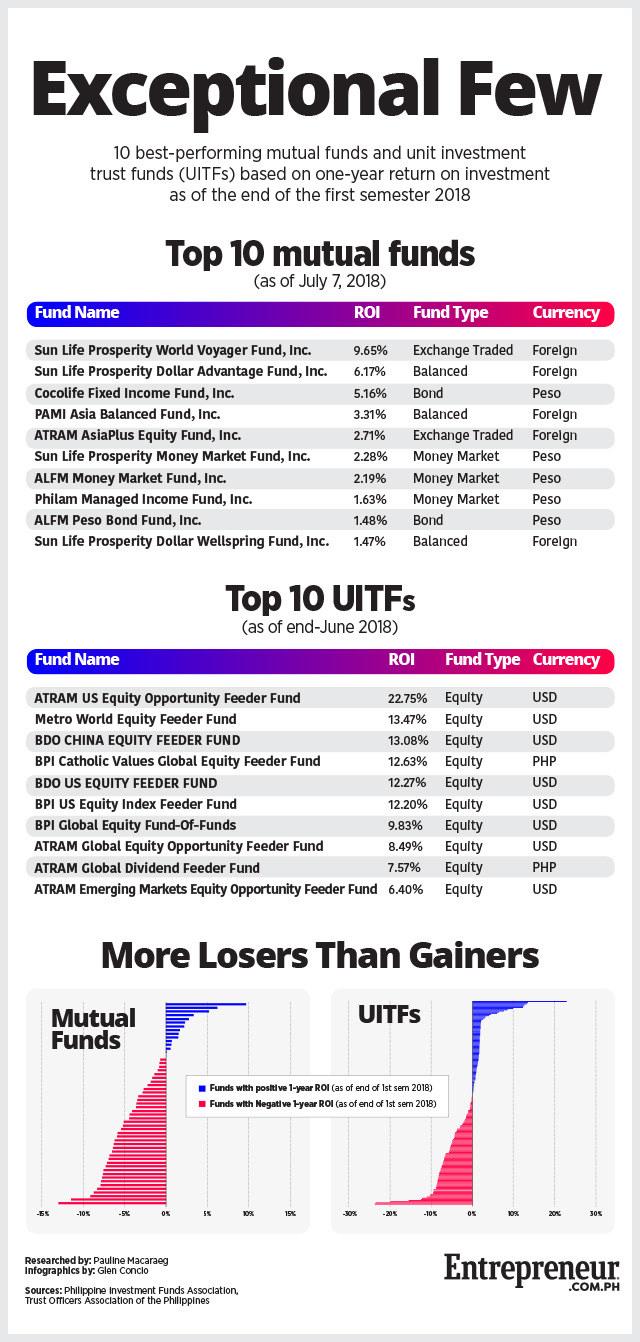 The first half of 2018 hasn't been a good one for portfolio investors. The Philippine Stock Exchange Composite Index (PSEi) fell 8.3 percent to just 7,193.86 as of the end of the second quarter this year from 7,843.16 in the same period last year. It plummeted 15.9 percent since the start of the year to end-June.
ADVERTISEMENT - CONTINUE READING BELOW
Not surprisingly, more than half of 229 investment funds in the country, consisting of unit investment trust funds (UITFs) and mutual funds, suffered losses as of the end of the first semester of 2018 from the same period last year.
UITFs, managed by banks and trust institutions regulated by the Bangko Sentral ng Pilipinas (BSP), are a type of pooled funds, so-called because they gather or pool together money from thousands of individual investors. Another type are mutual funds, which are managed by investment companies regulated by the Securities and Exchange Commission (SEC). A third type is variable unit-linked (VUL) funds, which are offered by insurance companies regulated by the Insurance Commission (IC). VULs are not covered in this report.
The Philippine Investment Funds Association (PIFA), the industry association of investment companies that put up and manage mutual funds in the country, listed 55 mutual funds as of July 27, 2018. Of the total number, 74.5 percent posted negative year-on-year returns as of the first week of July 2018. (See infographic)
ADVERTISEMENT - CONTINUE READING BELOW
The Trust Officers Association of the Philippines (TOAP), the industry association of trust executives that oversee UITFs, listed 174 funds. Around 54.6 percent of these posted negative returns as of end-June.
But the funds' performance is worse than it looks when one compares their returns to the inflation rate, the pace at which consumer prices are going up. The annual inflation rate hit 5.2 percent in June, the highest in more than five years. Investments are supposed to protect against rising prices but just a few of the funds earned annual returns above inflation in June: only two mutual funds and 11 UITFs. A glaring 94.7 percent of the funds failed to do so.
Only a handful of both UITFs and mutual funds posted positive returns, and the top 10 of these are listed in the infographic on this page. A close look reveals that many of them are US dollar-denominated funds invested in US and other international markets. This is not surprising as the Dow Jones Industrial Average rose by 13.7 percent from 21,349.63 in end-June 2017 to 24,271.41 as of end-June this year. International markets were rising as benchmark PSEi was falling during the period.
ADVERTISEMENT - CONTINUE READING BELOW
Related story: Which Investment Funds are Still Posting Returns Above the 4.5% Inflation Rate?
*****
Pauline Macaraeg is Entrepreneur PH's data journalist. Follow her on Twitter @paulinemacaraeg