One of the most welcome provisions in the Tax Reform for Acceleration and Inclusion (TRAIN) law is the reduction, and for some, even total elimination, of the withholding taxes that companies deduct from their employees' salaries beginning January 1.
Before the start of the new year, the Bureau of Internal Revenue (BIR) issued RMC 105-2017 on December 28, 2017 detailing the revised withholding tax table on compensation so affected companies can start preparing for the next payday in January.
BIR Commissioner Caesar Dulay even cautioned companies who fail to comply to the new tax scheme this month that they will face the corresponding penalties. "We have published the RMC (revenue memorandum circular). They should have checked that. They know the effect of non-compliance," he said, according to an ABS-CBN News Channel (ANC) television report on January 12.
Related story: Isumbong mo kay Dulay: BIR Chief Urges Staff of Employers Still Deducting Old Withholding Taxes to Blow The Whistle on Bosses
ADVERTISEMENT - CONTINUE READING BELOW
And while some large companies still struggle to update their payroll systems, employees of some micro, small and medium (MSMEs) enterprises have already enjoyed the tax benefit on the first payday of the year.
One of them is consulting firm Abrea Consulting Group (ACG), which shared with Entrepreneur Philippines a copy of one of its employees' payslips for January 15th. As a result of lower withholding tax deductions, the employee's take-home pay last January 15 was Php15,008.36 compared to Php13,227.26 before the TRAIN law came into effect last January 1. That's an additional Php1,781.11.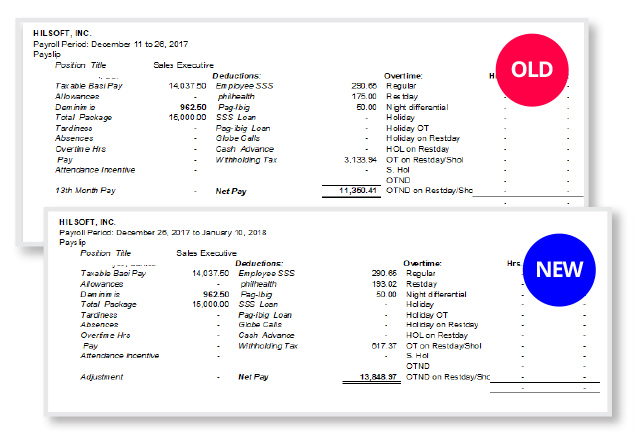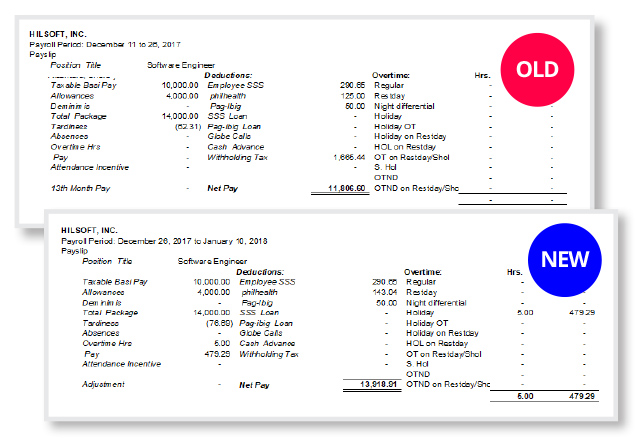 ADVERTISEMENT - CONTINUE READING BELOW
Likewise, Filipino software company Hilsoft Inc. shared that it was able to adjust to the new tax scheme on time, providing almost its entire employee pool of 60 people larger pay this January 15. Still, it admitted the transition initially made a dent in the company's cash flow.
"We have 60 employees and almost everyone has benefited. Half of them are now tax exempted, the other half got a significant tax decrease," Hilsoft Inc. founder Dennis Hilario said. "But in the end, we have a decrease in withholding tax payable and we were glad that the employees now receive much higher take-home pay."
Hilario credited the easier transition process of his company to its human resources and accounting team as its payroll system was easily tweaked to the new tax scheme. The software company develops payroll and accounting tools for MSMEs.
This, apparently, remains a challenge for a number of companies. In fact, the head of the Employers' Confederation of the Philippines (ECOP) has asked the Bureau of Internal Revenue (BIR) to give the group's members "extra time" to fix their payroll systems to reflect the new tax schedules.
"We would be asking Commissioner (Caesar) Dulay to at least give us a chance to give us time to convert our old program into a new program," said ECOP Chairman Donald Dee in a live interview aired by ANC on January 11.
*****
Elyssa Christine Lopez is a staff writer of Entrepreneur PH. Follow her on Twitter @elyssalopz