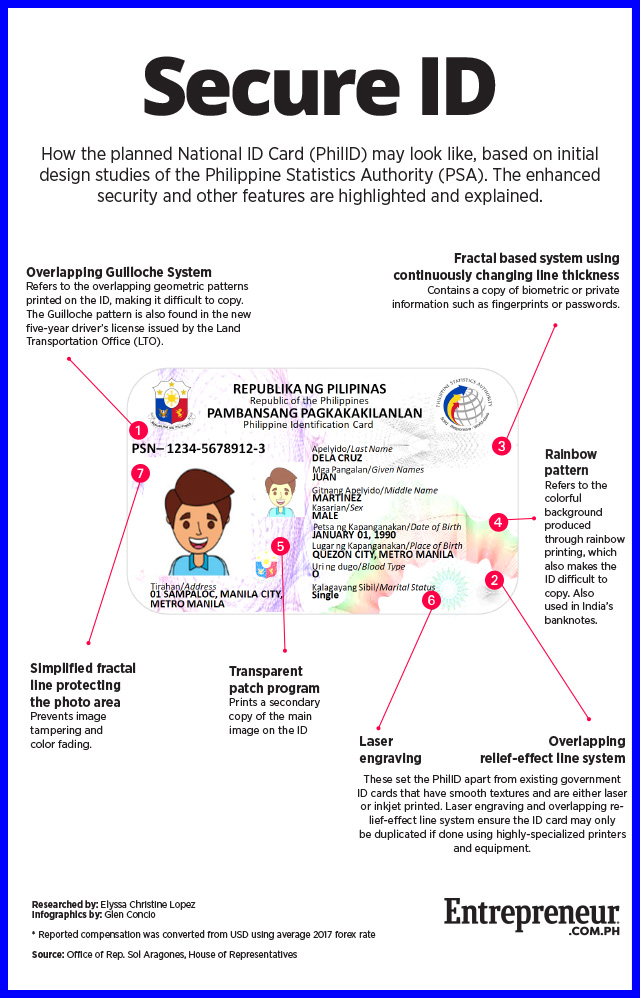 Following the Senate and House of Representatives' ratification of the Philippine Identification System (PhilSys) Act of 2018, it's only a matter of time before President Rodrigo Duterte signs the bill that will finally establish a National ID System in the country.
Related story: Will the National ID End the Long Lines for Birth Certificates?
ADVERTISEMENT - CONTINUE READING BELOW
The law aims to help smoothen transactions of Filipino citizens or residents with both government and private offices as the national ID will serve as one of the strongest proofs of identity for an individual.
The national ID, which will be called PhilID, will contain the applicant's PhilSys Number (PSN), full name, facial image, date of birth, permanent address and fingerprint information. The PSN will be a randomly generated, unique and permanent identification number that will be assigned to every Philippine citizen or resident upon birth or registration. 
Under the bill, the Philippine Statistics Authority (PSA) will serve as the custodian of the PhilSys registry and shall oversee the registration and maintenance of the data collected through the system.
With the important role it will play in facilitating transactions, it is only expected that the PSA will adopt advanced security measures to protect the PhilSys database and the PhilID cards to be released to the public as well.
ADVERTISEMENT - CONTINUE READING BELOW
The infographic on this page shows the proposed design of the PSA for the PhilID, which features seven kinds of security measures aimed at making it harder for fraudsters to make counterfeit copies of the ID.
One of the most prominent features of the proposed design is the overlapping geometric patterns printed on the ID called the guilloche and the colorful background produced through rainbow printing.
These security design features are used in banknotes, passports and other government issued-IDs worldwide. In fact, the guilloche system is found in the new five-year driver's licenses issued by the Land Transportation Office's while India's banknotes uses rainbow printing too. Aside from aesthetic purposes, these security measures are used to make the ID difficult to copy.
The proposed PhilID, unlike most government-issued IDs that have smooth textures and are either laser or inkjet printed, will also have laser engraving and overlapping relief-effect line system. These features may only be duplicated if done using highly specialized printers and equipment.
ADVERTISEMENT - CONTINUE READING BELOW
The fractal-based system in the National ID is another important security feature. Most governments utilize it in ID cards to create a copy of biometric or private information such as fingerprints or passwords.
Lastly, the transparent patch program, usually used to print a secondary copy of the main image on the ID, and the simplified fractal line protecting the photo area are used to prevent image tampering and color fading.
The PSA design is only preliminary and will only be finally approved after President Duterte signs the law and the relevant government agencies issue the implementing rules and regulations.
*****
Elyssa Christine Lopez is a staff writer of Entrepreneur PH. Follow her on Twitter @elyssalopz