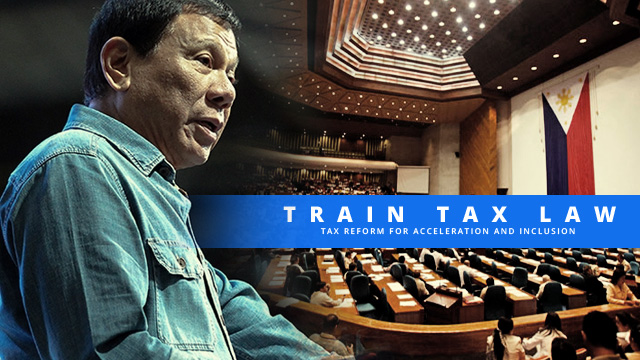 President Rodrigo Duterte has vetoed five provisions of the Tax Reform for Acceleration and Inclusion (TRAIN) law which he signed last December 19 and is set for implementation on January 1, 2018.
The law incorporates the first phase of his administration's tax reform program that aims to reduce the tax burden on the lower and middle classes while boosting overall tax revenues by imposing taxes on the consumption and income of the extremely wealthy segments of the population. Many analysts, however, fear that the first measure passed by Congress falls short of the objective.
Among the items that Duterte vetoed is line 12 of Section 38 that exempts self-employed persons and professionals earning less than Php500,000 a year from the three-percent percentage tax. These taxpayers are already exempt from the 12-percent value added tax (VAT) as their annual gross receipts or gross sales do not exceed Php3 million. Previously, the threshold was only about Php1.9 million.
ADVERTISEMENT - CONTINUE READING BELOW
"The proposed exemption from percentage tax will result in unnecessary erosion of revenues and would lead to abuse and leakages," Duterte wrote in his veto message released Dec. 22. "The subject taxpayers under this provision are already exempted from VAT, thus, the lower three-percent percentage tax on gross sales or gross receipts is considered as their fair share in contributing to the revenue base of the country."
A former top official of the Bureau of Internal Revenue (BIR) said the vetoed  provision in the TRAIN law grants a new exemption or privilege as these taxpayers were subject to percentage taxes under the current tax code which has a lower VAT exemption threshold of Php1.9 million.
Apart from practicing professionals such as doctors, lawyers, accountants, engineers and others, the provision in the TRAIN law would have potentially benefitted self-employed persons such as freelancers, especially those who are doing part-time work and earning less than half a million pesos a year. Thousands of Filipinos now find work as freelancers in fields ranging from writing, editing, photography to computer programming, web design and even management consulting.
The four other provisions in the TRAIN law vetoed by President Duterte affect special categories of employees and companies that are in specific lines or industries. These include:
1.Reduced income tax rate of employees of Regional Headquarters (RHQS), Regional Operating Headquarters (ROHQS), Offshore Banking Units (OBUS), and Petroleum Service Contractors and Subcontractors; [Section 7 (F)]
2. Zero-rating of sales of good and services to separate customs territory and tourism enterprise zones; [Section 31 and Section 33]
ADVERTISEMENT - CONTINUE READING BELOW
3. Exemption of various petroleum products from excise tax when used as input, feedstock, or as raw material in the manufacturing of petrochemical products, or in the refining of petroleum products, or as replacement fuel for natural gas fired combined cycle power plants [Line 25 Section 43]; and
4. Earmarking of incremental tobacco taxes. [Lines 20 to 29 of Section 82]
The Philippine president's power to veto or set aside any particular item or items in a budget, revenue or tariff bill is provided for by Section 27(2) of the 1987 Constitution. Other items in the law to which the president does not object are unaffected by the veto.
Related story: The Extremely Busy Person's Guide to the New Tax Law Just Signed by President Duterte
*****