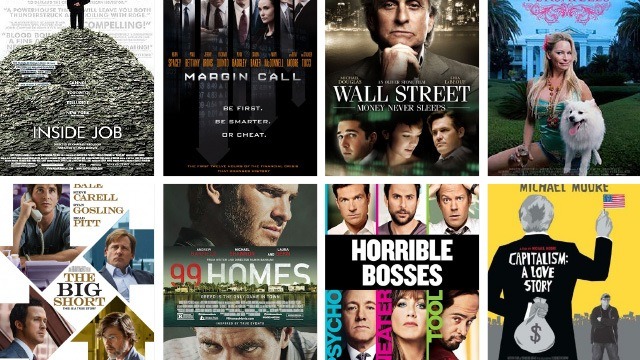 A good number of filmmakers were inspired to use the US market housing crisis as inspiration for their film or television episodes, according to a recent article in the Financial Times marking the 10th anniversary of the onset of the global financial meltdown in 2007.
According to the article, a total of 468 titles about the US financial crisis are found on the Internet Movie Database (IMDb) with keyword phrases such as "housing bubble," "economic crisis" and "foreclosure" in their plot summaries.
The majority of these films and series were documentaries accounting for 201 titles, followed by dramas with 169, short films at 158, comedies with 71 and news at 62 titles.
The report also examined relationship between the cost of producing the movies, how much they grossed at the box office and the reviews they got from viewers. Below is a list and synopses of these movies, ranked by the relative number of good reviews or bad reviews they received.
ADVERTISEMENT - CONTINUE READING BELOW
Inside Job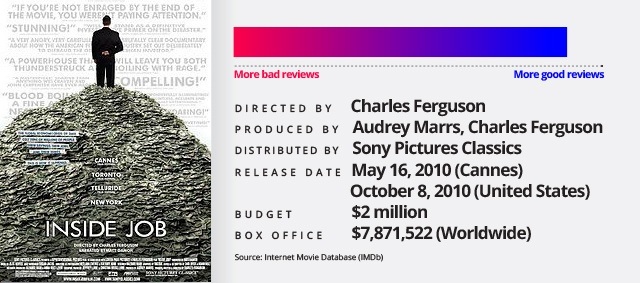 The Oscar-winning documentary provides a comprehensive analysis of the complex workings of the financial industry that led to the financial crisis. Through extensive research and interviews, Director Charles Ferguson examines how the development of complex trading, political lobby for deregulation and conflict of interest among financial industry players played a role in the global financial meltdown.
ADVERTISEMENT - CONTINUE READING BELOW
The Big Short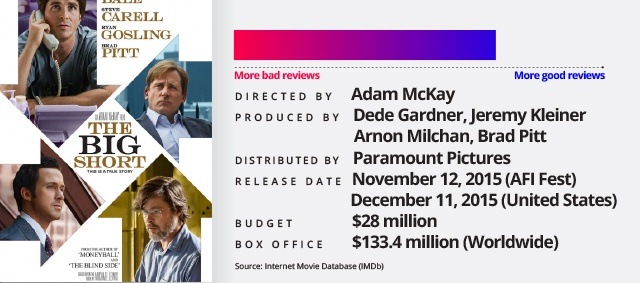 Based on Michael Lewis' book, The Big Short: Inside the Doomsday Machine, the film follows the story of Wall Street hedge fund manager Michael Burry, who bets against the housing market after realizing that a good number of subprime home loans are likely to default. Burry is later joined by Deutsche Bank salesman Jared Vennet and hedge fund specialist Mark Baum and other smart but greedy men who made a fortune by betting big against the housing market and profiting from the downfall of the US economy.
ADVERTISEMENT - CONTINUE READING BELOW
The Queen of Versailles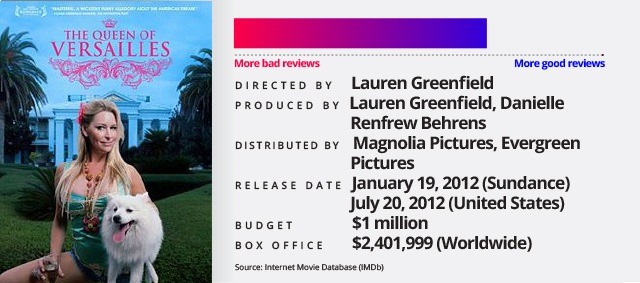 The documentary follows the Siegel family, owners of the Westgate Resorts time-share company as they start building the biggest single private family home in the US. After the US housing market collapse, the Siegels struggle to scale down their lavish lifestyle and avoid foreclosure of their unfinished mansion.
ADVERTISEMENT - CONTINUE READING BELOW
Margin Call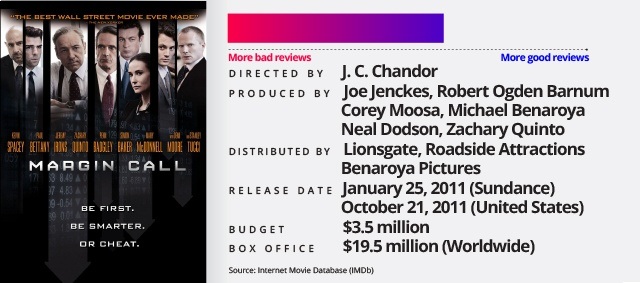 On the eve of the US housing market collapse, a team of Wall Street investment bankers scrambles to save their company within a 36-hour time frame. The team desperately tries selling off their assets after realizing that the value of their overvalued mortgage-backed securities will become toxic once the market opens.
ADVERTISEMENT - CONTINUE READING BELOW
99 Homes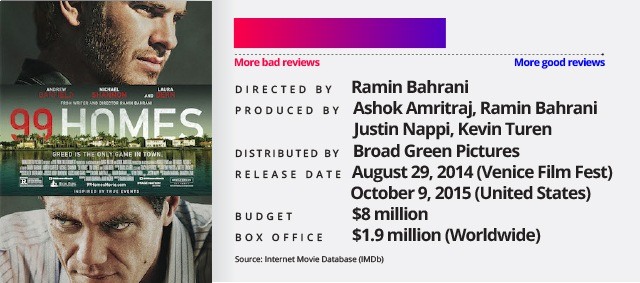 Recently-laid off construction worker Dennis Nash, along with his son and mother, was evicted from their home by gun-trotting, court-appointed agent Rick Carver. Desperate to get his home back, Nash joins Carver as his right-hand man in illegal activities. Nash decides whether to continue helping Carver executing his deals or listen to his conscience after Carver asks him to throw honest people out of their homes.
ADVERTISEMENT - CONTINUE READING BELOW
Capitalism: A Love Story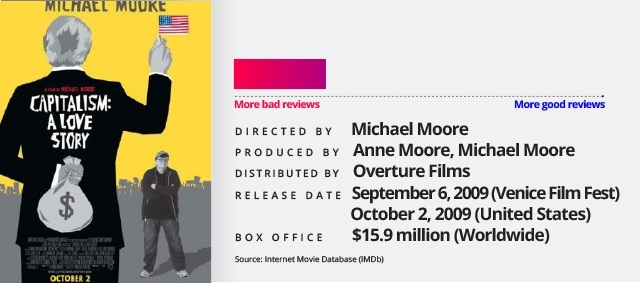 Director Michael Moore takes his viewers around America to examine the cost of American corporate greed. What he found were workers living below the poverty line and thousands of foreclosed homes. Moore searches for an explanation on how these happened in the government halls of Washington and trading floors of Manhattan.
ADVERTISEMENT - CONTINUE READING BELOW
Wall Street: Money Never Sleeps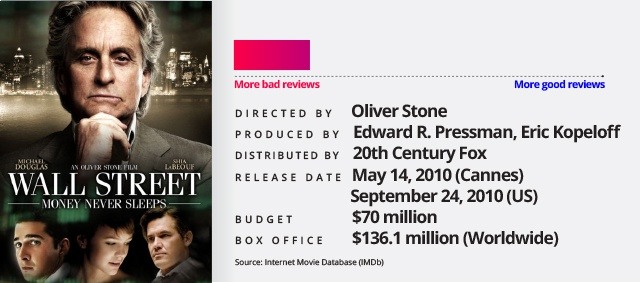 Disgraced Gordon Gecko, from the 1987 film Wall Street is back after 23 years. After his stint in prison for insider trading and fraud, Gecko warns the public of the upcoming US economic collapse. He also attempts to reunite with his estranged daughter, Winnie, by enlisting the help of her fiance, Jared, who also uses Gecko to suit his business agenda.
ADVERTISEMENT - CONTINUE READING BELOW
Horrible Bosses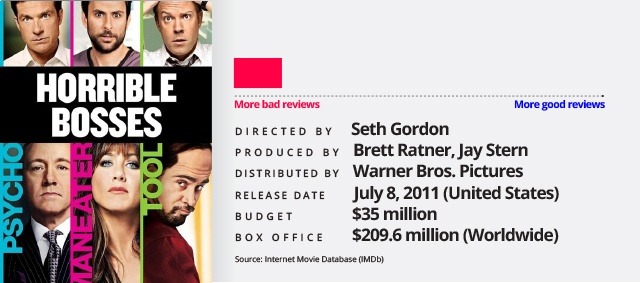 Nick, Dale and Kurt are three unhappy employees desperate to quit their jobs because of their bosses but can't, due to the US economic recession. Over drinks, they discuss how to kill their bosses hypothetically. The three friends eventually end up hiring a murder consultant to help them execute their plans.
ADVERTISEMENT - CONTINUE READING BELOW
Wanderlust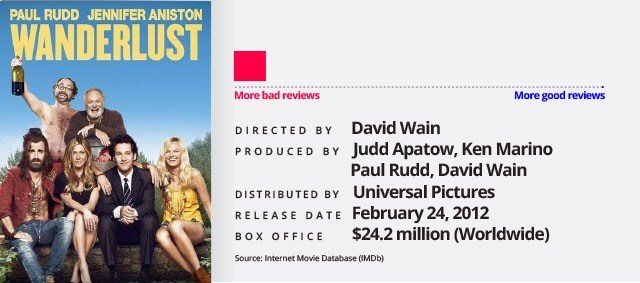 Manhattan-based couple George and Linda can no longer afford to pay the mortgage of their pricey loft in the West Village. They pack their bags and head to Atlanta, Georgia to live with George's brother until they can get back on their feet. Along the way, they discover Elysium, a hippie and vegan community. They stay with the community for two weeks, giving them time to mull if a simpler life is better than the fast-paced one they live in.
ADVERTISEMENT - CONTINUE READING BELOW
*****
Cherrie Regalado is a contributor to Entrepreneur.com.ph. Follow her on Twitter @cherrieregalado